September 3/11 14:49 pm - MTB World Championships: Elite Men's XC report and photos UPDATED

Posted by Editoress on 09/3/11

Jaroslav Kulhavy (Czech Republic) completed his perfect season by taking the Elite men's cross-country title at the world championships on Saturday, but not without the hardest battle of the year against Nino Schurter, who was trying to give host Switzerland the win. Schurter took the silver medal, with four-time champion Julien Absalon (France) finishing third. North American's had one of their strongest days of the season, with Todd Wells (USA) finishing seventh, and Geoff Kabush (Canada) tenth.

Kulhavy, after winning five of seven World Cups this season, looked to be an unstoppable force. Switzerland decided an all out attack was the best way to counter, and Schurter with team mate Florian Vogel did just that on the start loop of the seven lap race. The three quickly distanced themselves from the rest of the field. Vogel dropped back to a chase group by the end of the first lap, with Absalon, defending champion Jose Hermida (Spain), Maxime Marotte (France). Marotte flatted mid-race, putting him out of medal contention.

Schurter could manage to gap Kulhavy on the climbs, but the Czech never appeared to be struggling much, and closed it up on the descents each time. While the two were testing each other, Absalon and Hermida joined them on the fourth lap, just as it started to rain, making the rooty, technical sections that much more slippery.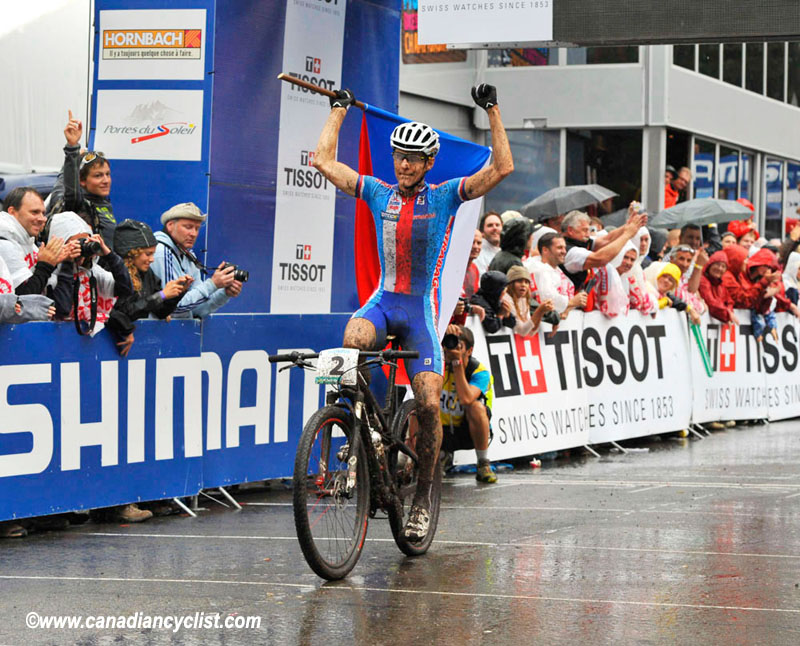 Jaroslav Kulhavy winning

The fifth lap saw Schurter attack once again, as Kulhavy seemed to be having problems in the slippery conditions. Absalon and then Hermida were dropped, with Absalon taking over third for good when Hermida flatted.

Lap six finally saw Kulhavy take control, and halfway through the lap he was ten seconds up on Schurter, and over seconds ahead of Absalon. Hermida was alone in fourth, but a minute back. The Czech rider proved that he had been holding back thus far in the race, as he began the final lap 24 seconds ahead of Schurter, and doubled that by the end of the final lap. Normally emotionless, Kulhavy appeared somewhat overwhelmed as he grabbed a Czech flag and rolled across the finish line.

"The beginning of the race was very hard for me because Nino was very strong on the climb," Kulhavy explained, "and I was dead there. But during the race I felt better and ended up feeling good. I attacked Nino after the drop because I felt really strong in the flat and then Nino was 10 seconds, 20 seconds behind me and I felt good so I kept going. I think the 29" bike was the best choice for this course. Maybe in the corners it's a little slower but over the technical parts and on the flats it was an advantage."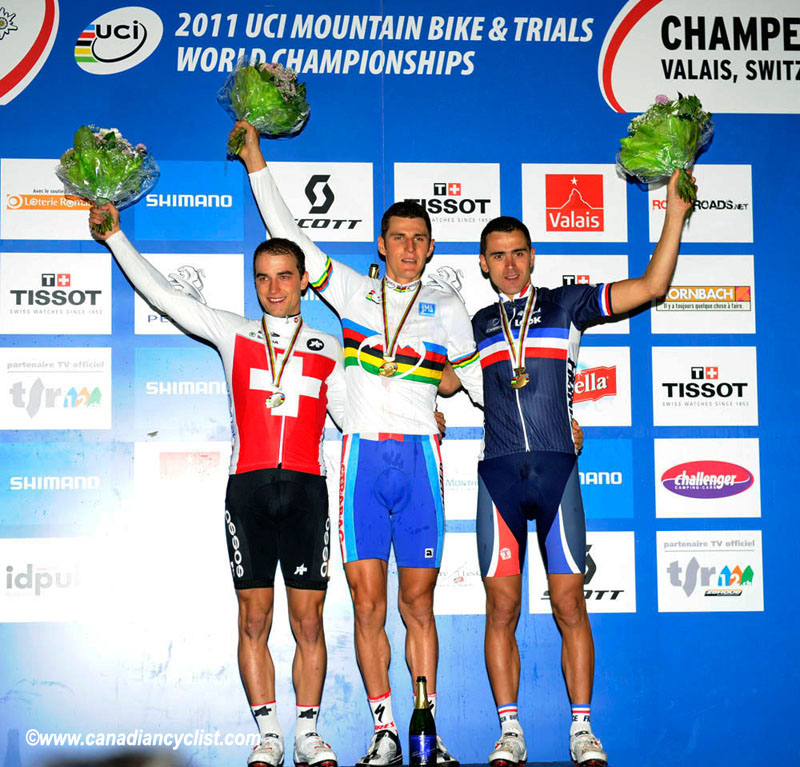 Podium: Nino Schurter (Switzerland), Jaroslav Kulhavy (Czech Republic), Julien Absalon (France)
Schurter was philosophical about losing, "Kulhavy was just stronger than me today but it was one of my most exciting races since it was in front of a home crowd. We [Florian Vogel and I] always try to ride together but we never choose a tactic before the race. If we have the chance we work together but unfortunately today he couldn't follow."

"At one point I was 5-6 seconds ahead of Jaroslav but I didn't attack on the technical descent because I knew Jaroslav was fast on the flats and would catch me."

Absalon admitted that his days of domination are over, "I did see the rain and think that this could be my chance to win but it's no longer possible for me to gain time on the descents. Finished are the days when I could gain 30 seconds on a downhill. Nino and Jaroslav are too good technically for that to happen. Now we all have similar splits on the downhill sections of the course."

"To win now you have to have the perfect race, and to beat Jaroslav you must be in peak shape as well. I fell during my second lap and had to work hard to bridge the gap after that so I used a lot of energy then. I also had slick tires like many of the other riders which made it difficult in the rain."

Wells, after a poor start, moved up steadily through the field, passing Kabush in 15th on lap four. Both riders began picking off riders in the slippery conditions of the second half of the race.

Todd Wells: "It started out horrible. I think maybe I was in 40th place after the start. And when you're back there there's nowhere to pass in the woods so you just have to be patient and save energy and then when the trail opens up, 5 people, 10 people, 3 people, and eventually I made it up there into the top-10. I was really hoping to get top-5 today because that is an automatic qualifier for our Olympic team but I ran out of laps - needed to be better at the beginning. The front's a crap shoot if you're not on the front row so today I just had bad luck at the start."

Geoff Kabush: "I was able to just keep my rhythm and pick guys off. First lap or so I kind of got bunged up in the singletrack but after that it was pretty smooth. The season I haven't been very satisfied with - the World Cup's been pretty up and down. The North American ones were pretty decent. It's nice to finish off with a good result."

"I've been watching the forecast all week and it's kind of been coming in and out. Started to feel a couple raindrops right before the start. Turned out the conditions really suited me. I'm pretty used to it so I was able to relax and let the bike move and not panic. Definitely I think the conditions helped me out a little in the second half. Helped me pick off a few guys."

"I suffered at the start since my season's been pretty average. My starting position wasn't great. So I was able to maintain my spot off the start and then get into the late twenties and then get my rhythm from there."

Max Plaxton (22nd) "I had a really good start and then I paid for it. I had to recover for a couple laps. That start was super hard. Just trying to stay with the top-10, top-15 guys up that first climb on the start loop was just so hard. Maybe I should have held back a little bit but I'm happy I finished strong. It's nice racing at these international races and not getting caught up in too many bottlenecks."

"I knew from the relay that going balls out is really hard on this course. There's just no rest. I think I had a smart race and my goal was to finish strong and I think I did that so I'm happy."

Derek Zandstra (26th): "It was a good race. It was tough. The start was fast and there were some pile-ups here and there. I ended up walking down the first hill. But besides that it opened up and it was a fun race."

"The course actually got better with the rain, at least the Canadians I know like this. The temperature dropped a little bit, the roots got a little slick, and it made it interesting."
more photos, links below
Below: Geoff Kabush finished 10th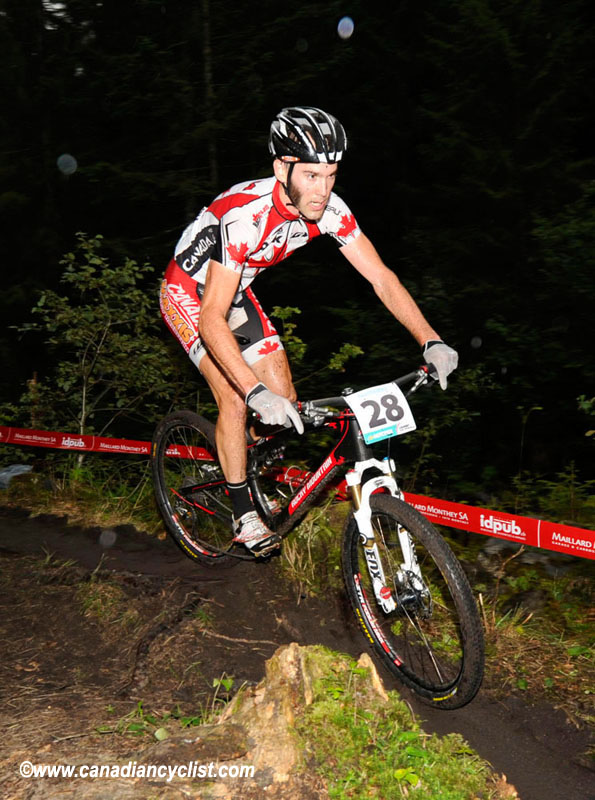 Fatal error
: Uncaught Error: Object of class PDO could not be converted to string in /home/canadiancyclistcom/canadiancyclist.com/public/modules/news.php:528 Stack trace: #0 /home/canadiancyclistcom/canadiancyclist.com/public/modules/news.php(517): getrelatedgallery() #1 /home/canadiancyclistcom/canadiancyclist.com/public/dailynews.php(58): getDailyNewsArticle() #2 {main} thrown in
/home/canadiancyclistcom/canadiancyclist.com/public/modules/news.php
on line
528