September 8/11 19:16 pm - GP Cycliste de Quebec Opens with Sprint Challenge

Posted by Editoress on 09/8/11

The Grand Prix Cycliste de Quebec opened with the Sprint Challenge, an event that was introduced last year. The format is a series of four-man elimination heats on an out-and-back course through the road race finish line that is just over one kilometre in length. After rolling down 600 metres from the start, riders make a u-turn and head back up a steady, shallow 450 metre climb to the finish.

The event began with the Canadian Sprint Challenge for Canadian domestic riders. Besides winning $1000, Remi Pelletier-Roy (Garneau-Club Chassures) won the right to participate in the Pro Challenge later in the afternoon. Joining him was second place finisher Ben Chaddock (Team Exergy).

For the main event, each team for tomorrow's WorldTour race entered one rider, plus Pelletier-Roy and Chaddock, making a total of 24 riders. After an opening round of three riders per heat, for the final three rounds four riders competed in each heat.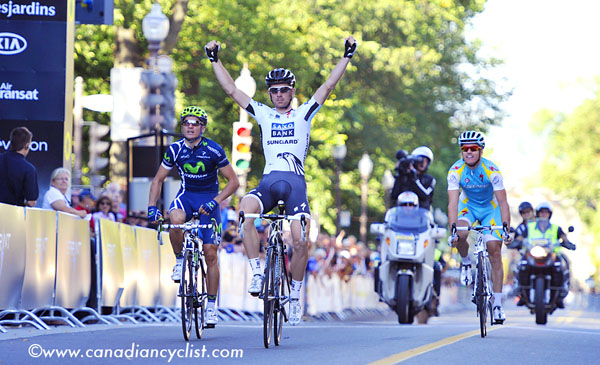 Michael Morkov (Saxo Bank Sungard) wins
The final came down to Simon Clarke (Astana), Robbie Hunter (RadioShack), Michael Morkov (Saxo Bank-Sungard) and Enrique Sanz Unzue (Movistar). Hunter was the clear favourite, but a sudden attack by Sanz Unzue took everyone by surprise, catching Hunter off guard at the back of the group, and the South African could not catch up.

Morkov, however, had little problem catching the Movistar rider, and rolled across the line with his arms in the air to win the Challenge and 4200 Euros prize money.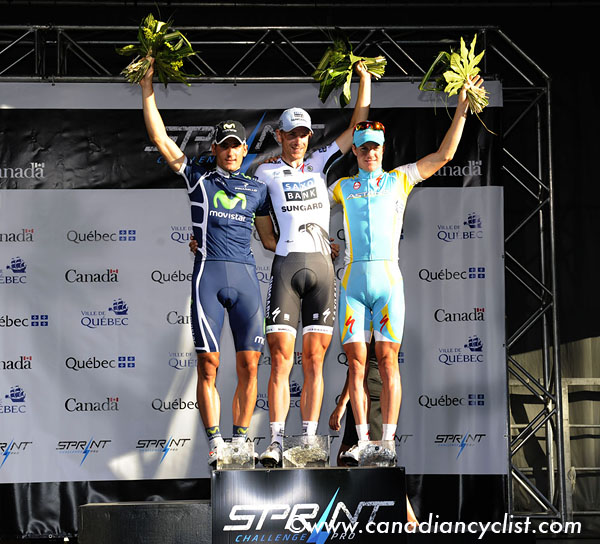 podium: Enrique Sanz Unzue, Michael Morkov, Simon Clarke
"My team asked me if I wanted to do this sprint and I said for sure," explained Morkov, "because I like these sort of events. I think my track experience really helped. The road sprinters are used to doing one sprint, and since I do the Madison and sprint over and over, I think that really helped me. I think we were all looking to Robbie Hunter to take charge, but when (Movistar rider) jumped, it set it up perfectly for me for the finish."

Astana's Australian rider Clarke commented, "I just tried to come and enjoy myself. It's not just about the sprint, it's about being able to do it four times in a row. I was a little surprised that I was picked to do the race, with our other Aussie on the team Allan Davis here. But Allan has been having some problems with his knees, so doing four standing start sprints probably wasn't what he really wanted to do."

Five Canadians participated in the Pro Sprint Challenge - Dominique Rollin (FDJ), David Veilleux (Europcar), Zach Bell (SpiderTech), plus Pellitier-Roy and Chaddock from the Canada Sprint Challenge. Chaddock and Bell didn't make it past the first round. Rollin won his first heat, while Veilleux and Pelletier-Roy qualified for the quarter-finals by finishing second.

In the quarter-finals Veilleux tried an early attack, which didn't work, and Rollin also was knocked out, while Pelletier-Roy made an impressive final surge to finish second and move on the semi-finals. In the semi's his luck finally ran out, when he finished third to Hunter and Sanz.