September 19/11 14:41 pm - Road World Championships: Day 1 report and photos

Posted by Editoress on 09/19/11

Ewart Seventh in Junior Worlds TT

The 2011 Road World Championships opened today with the time trial events for the Junior women and Under-23 men, with Australia victorious in both races. Canadian national Junior champion Annie Ewart improved siginificantly on her 20th place last year, to finish seventh, spending much of the race in the Hot Seat before the ninth rider from the end finally knocked her out of the bronze medal slot. Jessica Allen (Australia), the final rider to start, took the world title, followed by Elinor Barker (Great Britain) and Mieke Kröger (Germany), the early leader in the event. Canada's Allison Beveridge finished 11th.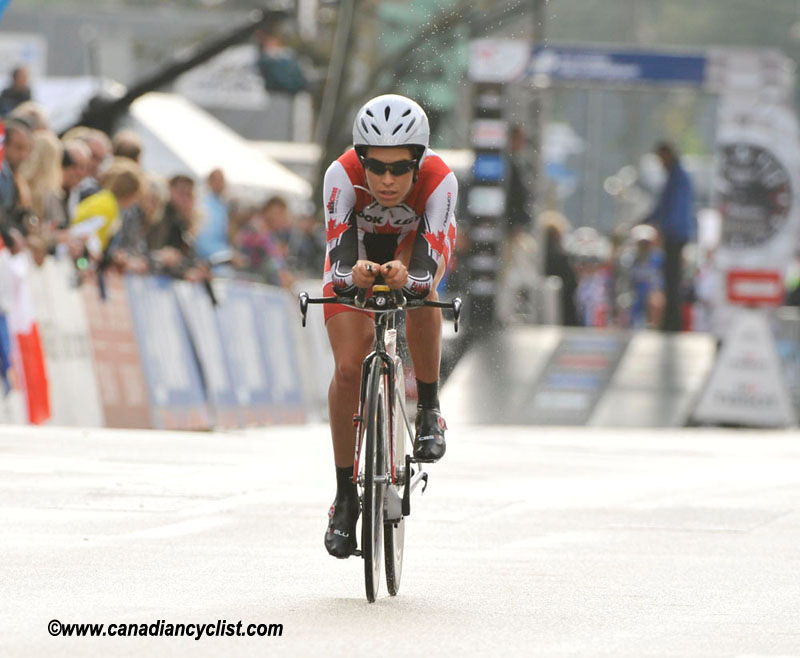 Annie Ewart on her way to a 7th place finish
"t was too fun to be up there [in the Hot Seat]. I wish I could have stayed all day. I was happy with the race. Everyone hopes to be a World Champion, but I came seventh. We had a bit of a tail wind on the first half, so I felt quite good for the first half. The second half was hard, really suffering. I know I had to keep pushing through if I wanted to stay up there."

"I was definitely hoping for the rainbow jersey. That was definitely the goal heading into the race. I am happy with seventh. It's a big improvement with last year. We have a local time trial [in British Columbia] that really helped me train for this race, organized by the Sidney Velo. They have been great to me, and supported me. I can't thank enough what they have done, especially the Tuesday Night Time Trials."

"After last year, I sat down and re-evaluated everything. I then decided to be up there for this year. That was a big goal, to finish a lot better. Erinne Willock and I train together, and I couldn't say enough good things about her, as a training partner, as a role model. We both have the same coach, Houshang Amiri, and the seventh place is largely thanks to him."

Beveridge, who spoke with Canadian Cyclist in an interview yesterday, easily met her goal of a top-15 result: "I haven't done too many time trials, so I think it was a pretty good ride for me. The course was really flat, which is better for me. It was definitely windy, but not too bad. It was actually quite fast. I didn't really know what to expect coming in, so it felt like a good race. It was kind of nice not to have any expectations. I was nervous about the pacing and how I would feel. It was kind of a relief to feel normal on a bike."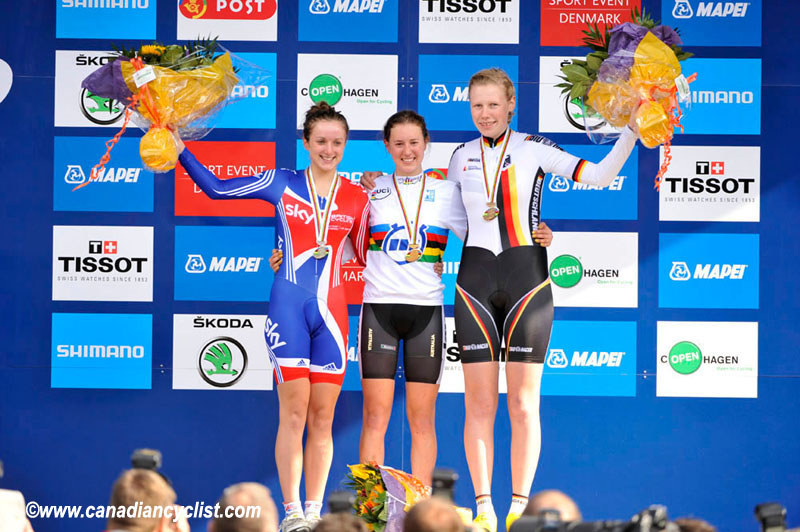 Elinor Barker, Jessica Allen, Mieke Kröger
U23 Men
In the 35.2 kilometre Under-23 Men's event, Canadian champion Hugo Houle finished 26th, 2:54.11 behind the winner, Luke Durbridge of Australia. Host Denmark took the silver medal with Christian Rasmus Quaade, while Australia also took the bronze with Michael Hepburn, despite a crash requiring a bike change. Canada's second entrant in the race, Stuart Wight, finished 61st, five minutes and 55.55 seconds in arrears.

Houle wasn't completely happy with his ride, "I think I could have better. In the first lap I had good feelings and good legs going. In the second lap, when I started the second lap, the wind made thing a little harder, the legs became heavier, and I struggled. There were a few turns where I was a bit hesitant. I lost precious seconds that could have made the difference. I finished about 40 seconds off my objective of a Top 15. I wasn't far out, and could have done a little bit better. I really improved in comparison to last year, closer to the top 10. I look at the positives."

"This season I raced a lot of big races and acquired a lot of experience with Team SpiderTech. I progressed a lot, especially in the team spirit area. I had stronger results this season in comparison with last season. I was able to distinguished myself at Canadian Championships, which was really good. I also had a very Tour de l'Avenir. I would have like to finish this season on a good note. We'll take some time off and start working on next year."

Wight, who just entered the Under-23 category this year, was happy for the opportunity to race Worlds, "It wasn't a bad ride. It's my first year as an Espoir (U23), and this was a really good experience for the years to come. I wouldn't say it was great from a results perspective, but a great learning experience.

"Riding the course yesterday was not ideal with the group atmosphere and the rolling closures, so we didn't really get to see the corners at race speed. We did get video of the course, which allowed us to see it over last night. It was a bit different today with the wind, which was a lot stronger, so that changed things a lot. It's definitely a "all-in-the-legs", horsepower course, just who ever can crank the pedals harder.

"It's been a great year, moving up from the Junior level last year. It was a big jump and I learned so much. Now I am ready to put in the big ring and go, as they say. I spent the year in Europe. Definitely a big jump, but I had spent some time in Europe as a Junior as well, so that prepared me very well. With the National Team and my Trade Team (Hot Tubes Development Cycling) I think I was well prepared. Thanks to everybody who supported me, to all the coaches here at Worlds."
Fatal error
: Uncaught Error: Object of class PDO could not be converted to string in /home/canadiancyclistcom/canadiancyclist.com/public/modules/news.php:528 Stack trace: #0 /home/canadiancyclistcom/canadiancyclist.com/public/modules/news.php(517): getrelatedgallery() #1 /home/canadiancyclistcom/canadiancyclist.com/public/dailynews.php(58): getDailyNewsArticle() #2 {main} thrown in
/home/canadiancyclistcom/canadiancyclist.com/public/modules/news.php
on line
528