September 20/11 21:02 pm - Road Worlds: Junior Men's TT report and photos

Posted by Editoress on 09/20/11

Denmark took their first world title of these Road Worlds today in the Junior Men's time trial, when Mads Wurtz Schmidt narrowly beat New Zealand's James Oram by four seconds. David Edwards (Australia) took the bronze.

Canadian riders did not fare as well, with Yohan Patry finishing 32nd, and Alex Cataford 53rd. Cataford suffered mechanical problems out of the start house, when the set screw on one of his rear dropouts bent and the rear wheel twisted into the chainstay. Cataford switched to his road bike while mechanics fixed his time trial machine, and then switched back, but the damage was done.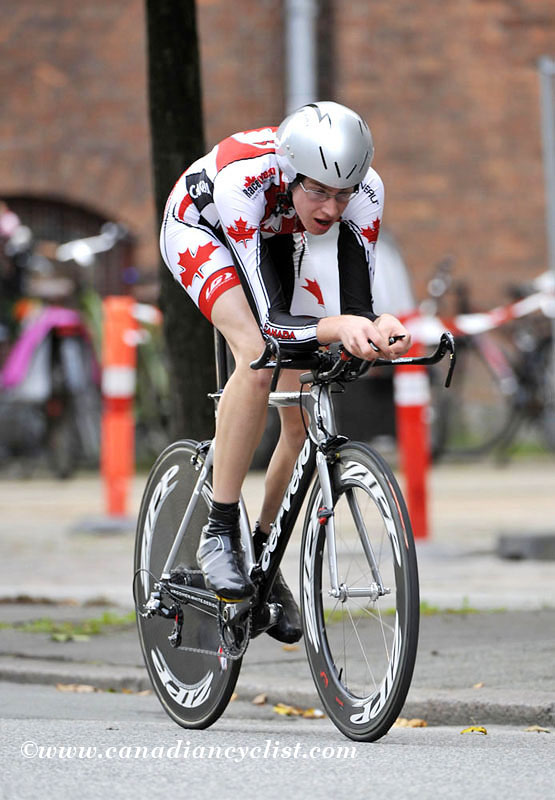 Yohan Patry
"Unfortunately, I had mechanical issues with my rear wheel at the start," explained Cataford, "which forced me to do two bike changes. It's a bit disappointing because it affected my results, but still all-in-all, I had a good ride. I was a bit off the rhythm at the start when I had to change the bike. I put in some very good splits in the second lap, so even thought the result didn't show, I had some good form and rode well at these World Championships."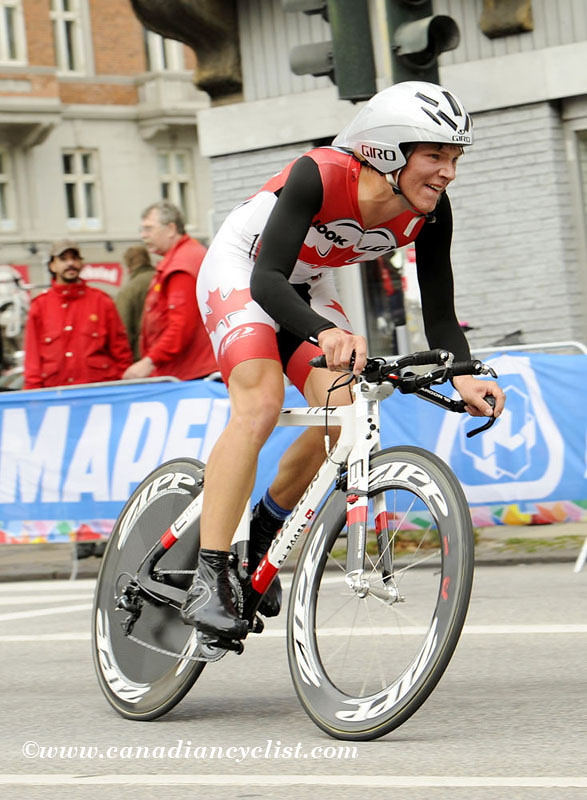 Alex Cataford
"The rear wheel and the horizontal drop-outs had slipped, and the wheel was rubbing against the frame. Originally I thought it was the brake, so I tried to play with the brakes and realized it was rubbing against the frame. I then made a bike change to my road bike, and once the Time Trial bike was repaired, I made the switch to the time trial bike since I had a long way to go."

"I had to forget about anyone else on the course, and focus on my own ride. Really, in a time trial, that's what matters. At the end, I was only about 25 seconds behind the Australian, which shows I had a pretty good second lap. The wind was definitely a factor. In some sections, you had to dig in and find shelter, while in some section you could recover benefiting from the tailwind."

"I certainly had a good season, with some good results; winning the Pursuit title at the UCI Pan-American Championships in track cycling, as well as the time trial Canadian Championships title at the Canadian Road Championships."

"I am moving up into the senior category for the track season, for the first time. I think I might race a few World Cups, and am in current discussion with the coaching staff. The goal is to slowly progress into the senior category, coming from the Junior ranks."

Yohan Patry said: "I'm very tired. The race was very difficult and quite a long time trial at 27 kilometres. I think I could have done a better race. The wind was definitely a big challenge. I'm not an extremely heavy and powerful rider, so the headwind was tough. In the turns, the wind gusts almost forced me off my bike a few times."

"The level of competition is much higher here than at home. This is not the same type of racing, and really difficult. We raced in four races in Belgium before arriving in Copenhagen. The 'inter-club' races have been difficult, and here it is even more difficult. Participating in the Worlds has sure been a different experience. Much has been learned."

Results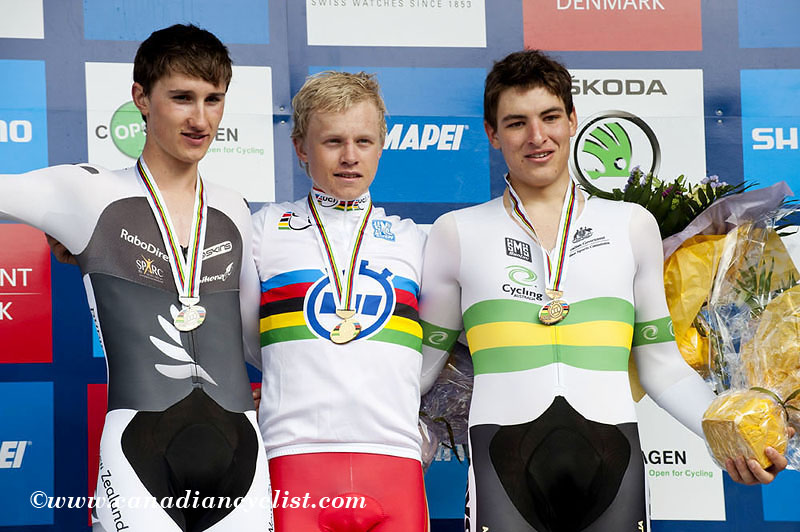 Fatal error
: Uncaught Error: Object of class PDO could not be converted to string in /home/canadiancyclistcom/canadiancyclist.com/public/modules/news.php:528 Stack trace: #0 /home/canadiancyclistcom/canadiancyclist.com/public/modules/news.php(517): getrelatedgallery() #1 /home/canadiancyclistcom/canadiancyclist.com/public/dailynews.php(58): getDailyNewsArticle() #2 {main} thrown in
/home/canadiancyclistcom/canadiancyclist.com/public/modules/news.php
on line
528