September 21/11 14:17 pm - Road World Championships: Elite Men's ITT report and photos

Posted by Editoress on 09/21/11

Canada's national time trial champion Svein Tuft finished 13th on Wednesday in the elite men's event at the Road Cycling World Championships. Tony Martin of Germany won the world time trial title with a time of 53 minutes and 43.85 seconds for the 46.4 kilometre race. Great Britain's Bradley Wiggins was second, one minute and 15.83 behind, while the defending champion, Fabian Cancellara of Switzerland, was third.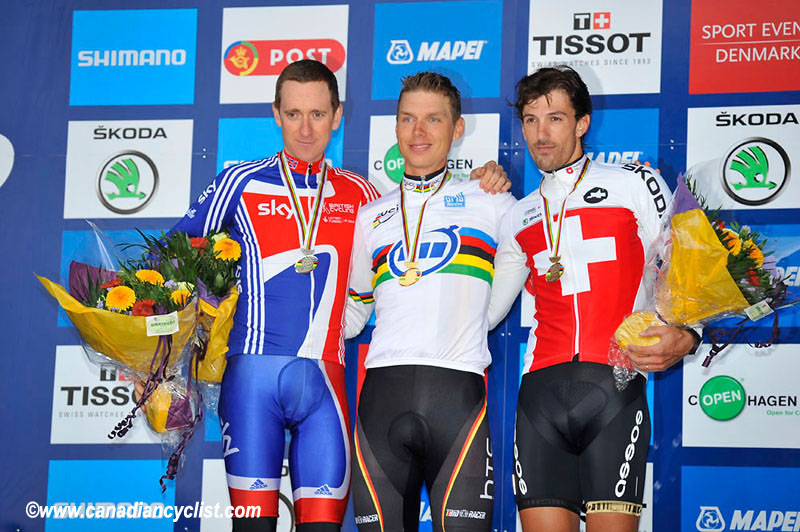 Podium: Wiggins, Martin, Cancellara
Tuft was third in the standings after his ride, with 18 riders remaining, but slipped out of the top-10 as the final three riders completed their races. The 2008 world championship silver medalist pointed to a lack of specific preparation as a possible reason for his result.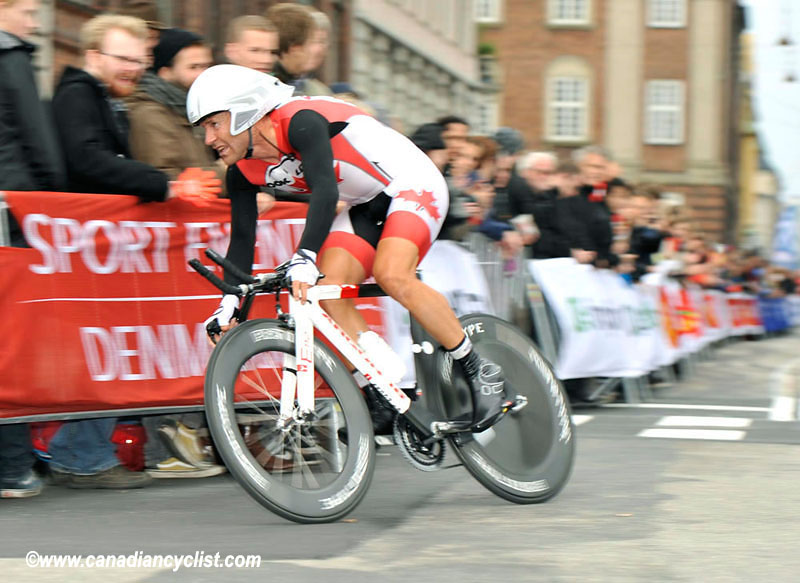 Svein Tuft
"The course suited me. It's just one of those days. I was hoping to have really good legs. I went out pretty hard, but I faded in the last 10 kilometres, probably from the lack of doing long time trials this season We focused more on the road racing this season. I think sometimes that working on the acceleration skills needed for the road races takes away from the time trials skills."

"This results shows that I have to work specifically to get back in the back of my time trial form. It's gonna be a work in progress. I look at the times and I am happy to be in the fighting times. That keeps me positive and focussed. On the day, you hope to feel good and have good legs."

"For the most part, I am quite content with how I went. I just wasn't super sharp, and accelerating into speed. A course like this really suits a guy that's on top of it, both physically and mentally. You need to focus for a really long times. That how she goes."

Jesse Sergent (New Zealand) was the first rider to spend an appreciable amount of time in the Hot Seat, before being replaced by Alexandr Dyachenko (Kazahkstan), the first to go below 58 minutes, and the eventual ninth place finisher. Dyachenko stayed in the lead until Jack Bobridge (Australia) bumped him by 1:05, only to be immediately replaced by 2008 world champion Bert Grabsch (Germany).

Grabsch would barely have time to look at the Hot Seat before Wiggins came in 16 seconds faster. All of this seat shuffling was academic, however, Martin was destroying all previous marks as he made his way around the 23.2 kilometre circuit on his first lap, completing 50 seconds faster than Wiggins, and knocking a further 25 seconds off on the second lap.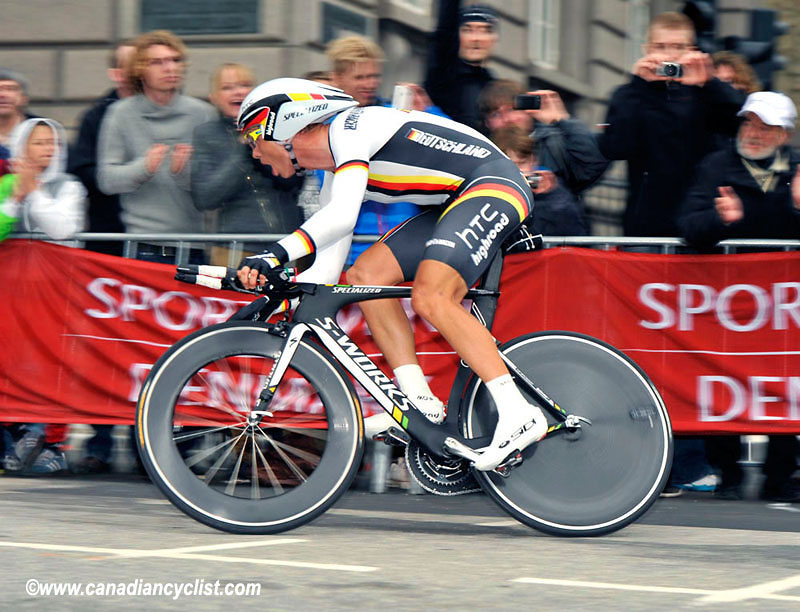 Tony Martin Scroll to bottom of page for more photos
Despite his astounding performance, no one was willing to concede the title to Martin while the four time champion, Fabian Cancellara, was still on course. The Swiss rider completed his first lap 19 seconds back, but started to lose further ground during the second lap. Cancellara was still in second place with seven kilometres to go, with 17 seconds on Wiggins, but lost 23 seconds in the final portion of the race to finish third.

Results
Fatal error
: Uncaught Error: Object of class PDO could not be converted to string in /home/canadiancyclistcom/canadiancyclist.com/public/modules/news.php:528 Stack trace: #0 /home/canadiancyclistcom/canadiancyclist.com/public/modules/news.php(517): getrelatedgallery() #1 /home/canadiancyclistcom/canadiancyclist.com/public/dailynews.php(58): getDailyNewsArticle() #2 {main} thrown in
/home/canadiancyclistcom/canadiancyclist.com/public/modules/news.php
on line
528