September 25/11 3:57 am - Elite Women & Junior Men Road Race Report and Photos

Posted by Editor on 09/25/11

Canada's Clara Hughes came within three kilometres of winning the women's title at the Road Cycling World Championships on Saturday. After Hughes was caught, Italy's Giorgia Bronzini won the sprint to successfully defend her title. Marianne Vos of the Netherlands finished second for the fifth consecutive year, while Ina Teutenberg of Germany took the bronze medal. Joelle Numainville, was the top Canadian finisher in 12th place.

Until Hughes attacked, the race was one of attrition. Emma Pooley (Great Britain) went to the front twice and upped the pace, but only succeeded in shelling some of the slower riders, as the major teams all seemed content to wait for a sprint finish after ten laps of circling the 14 kilometre circuit. The women had the best weather of the week, with the sun breaking out and temperatures going above 20 Celcius.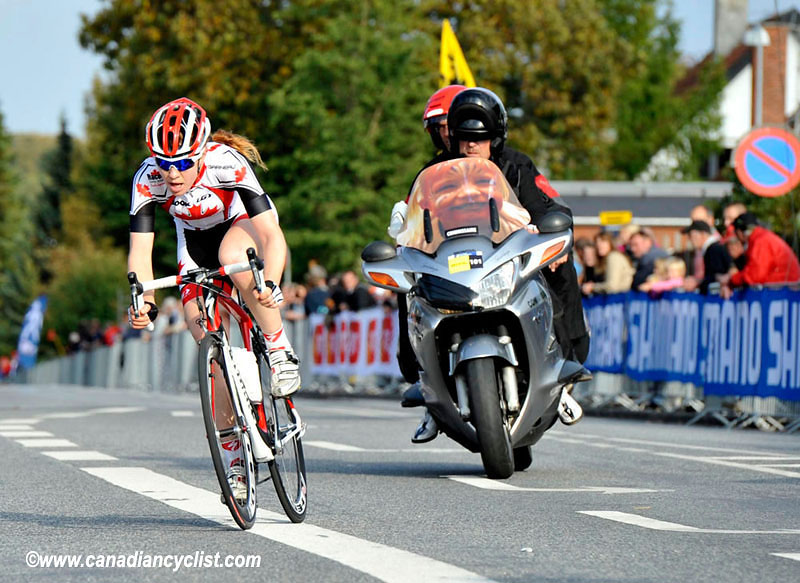 Clara Hughes - scroll to bottom of page for link to more photos
Hughes, who returned to cycling this year after retiring from speedskating following the Vancouver Olympics, broke away from the field with 35 kilometres remaining in the 140 kilometre race, and built a lead of 44 seconds with eight kilometres remaining. Initially, the field seemed disoganized, and the gap moved upwards of 30 seconds. New Zealand's Villumsen set off in pursuit, marked by an Italian, and the field sped up to chase the time trial silver medalist, but once she was caught the peloton eased up and Hughes started to gain graound again. However, Vos' Dutch team finally went to the front of the field and gradually brought Hughes back, setting the stage for a bunch sprint.

Hughes was upbeat despite narrowly missing victory. "I wanted to try something in the last few laps, and the moment was there, so I took it. I got a gap and tried to do what I could. I'm pumped. I'm back as a road racer, and this allowed me to prove to myself that I could still ride my bike. It was so hard out there, I had to ride so fast, and I just paced myself as best I could. I'm not surprised I got caught, but I'm really stoked I tried. Next year I'll be even better when I have some racing in my legs, and I'll be even better." (see our full interview with Clara Here.)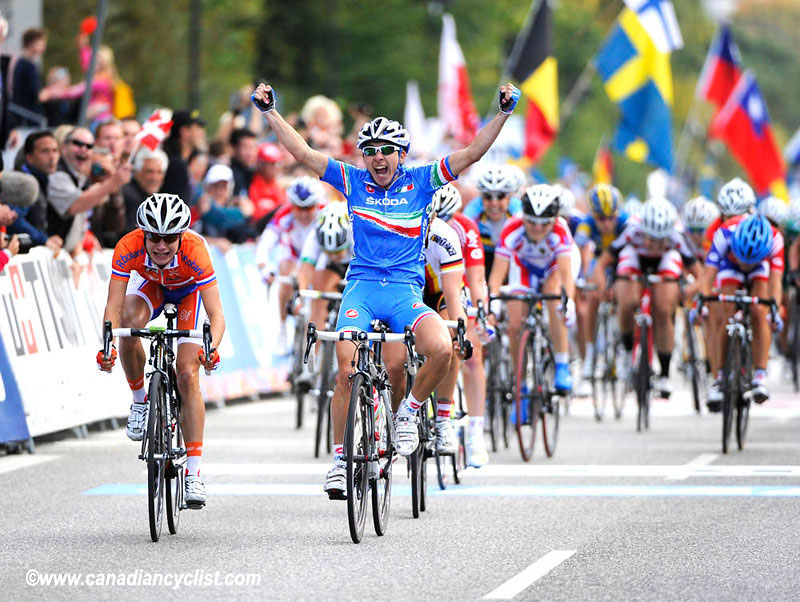 Giorgia Bronzini winning her 2nd World Championship - scroll to bottom of page for link to more photos
Shortly after Hughes was caught a crash took out or held up a significant portion of the field with less than two kilometres remaining, including Hughes, who had been moving up to support Numainville for the sprint. On the long uphill drag to the finish line the Italians set up Bronzini perfectly, with the defending champion coming off team mate Monia Baccaille's wheel at less than 200 metres to go. Vos started too late, catching and passing Bronzini a couple of metres past the finish line.

"When Clara went away I thought she would stay away for the whole time," explained Numainville. "But the Dutch brought it back, because I think everyone wanted a sprint. When I came out of the last corner I had to catch up quite a few positions. I think I spent too much time in the wind, and I cooked myself in the finish. I was up there by myself, and I did the best I could today. I should definitely have waited a bit more and had someone else to help me, but, you know, it's bike racing. You learn something more every day." (See our interview with Joelle Here.)

Junior Men
Earlier in the day, the Junior men raced 126 kilometres - 9 laps - with France taking their second gold medal in two days. Pierre-Henri Lecuisinier caught a fading Martijn Degreve (Belgium) metres from the line after the Belgian launched a gutsy last lap attacked that almost succeeded. The french had dominated the race, covering every move and setting Lecuisinier up perfectly for the final sprint. Steven Lammertink (Netherlands) took the bronze.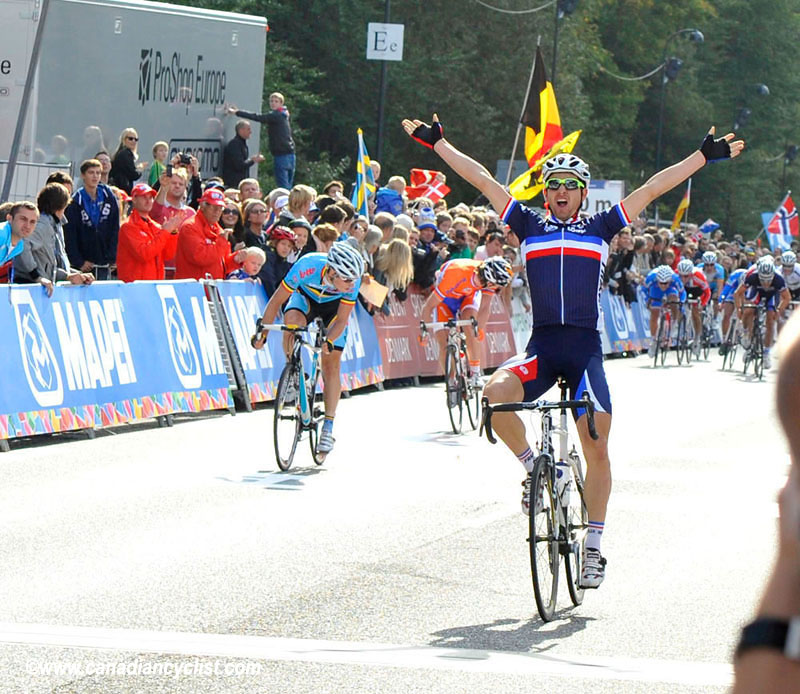 Pierre-Henri Lecuisinier wins - scroll to bottom of page for link to more photos
Canadians did not fare so well, with all but one of the five riders entered getting caught in or behind crashes. Adam de Vos was the only Canadian to avoid the hold ups, and finished with the field, in 65th place.

"We didn't have very position right from the start, so it was hard to move around in the bunch," explained de Vos. "There were a couple of places where it was better to move up, so I tried to do that every lap. I did actually get caught behind a few things but I was able to catch back up pretty quickly. I think I got a lot of experience racing against the top national teams. I would have definitely liked a better finish, but I cramped up quite a bit on the last lap. I'm happy to have represented Canada." (See our post-race interviews with de Vos and Ben Perry Here.)
Fatal error
: Uncaught Error: Object of class PDO could not be converted to string in /home/canadiancyclistcom/canadiancyclist.com/public/modules/news.php:528 Stack trace: #0 /home/canadiancyclistcom/canadiancyclist.com/public/modules/news.php(517): getrelatedgallery() #1 /home/canadiancyclistcom/canadiancyclist.com/public/dailynews.php(58): getDailyNewsArticle() #2 {main} thrown in
/home/canadiancyclistcom/canadiancyclist.com/public/modules/news.php
on line
528