September 28/11 14:28 pm - Andrew Pinfold Retires

Posted by Editoress on 09/28/11

It is official: Canadian road pro Andrew Pinfold has retired. When Pro Continental team UnitedHealthcare announced their squad for 2012 and 'Pinner' wasn't listed, we contacted him immediately to see what his plans were for next season. After asking us to hold off a few days, we talked with Andrew today from his home in North Vancouver, and he confirmed that he will be retiring from pro cycling as a career.

"In my mind, it became official a couple of weeks ago ... but rather than have it just peter out, it's better to announce it like this."

We spent a few minutes talking with Andrew about why he decided to call it a day, and what his plans are for the future.

Canadian Cyclist: So this is really it, you're done?

Andrew Pinfold: Yes, I'm calling it quits.

CC: Is this your choice to leave now, at this time, or is due to not finding a team to ride with?

AP: It's mainly family stuff. When I was talking with Unitedhealthcare in August about next year, it would have required a real commitment to being in Europe next year. They are spending a lot of time racing over there next year, and when I looked at the schedule I saw that the most time I would get to spend at home [during the season] was seven days. So I was thinking 'is it really worth it'?

In the middle of the year I could sense something was changing in my life; your perspective changes with having a kid. For the team it wasn't worth having somebody who didn't want to be based in Europe, and for me it was something I wasn't that interested in.

To my mind, it would have come sooner or later. At the beginning of the year I would have said 2012, but as the year progressed, being away [from home] became a bigger and bigger concern. Eventually it comes, you can't do it forever.

CC: Did you look at going to a different program, such as SpiderTech?

AP: I've talked with Steve [Bauer], Josée [Larocque] and Kevin [Field] over the past three years, but it's never been a good fit. They already have a lot of great sprinters and lead out guys like me. Plus, they're pushing towards ProTour team status, so they are doing more and more European exposure, and the guys are spending a lot of time in Europe.

CC: So what about future plans - do you have anything in the works? Will you stay in cycling?

AP: I haven't got anything set in stone. I knew this day would come, so I've been putting resources aside during my career and I don't have to jump into the first thing that comes along. I've got no fixed plans; I'm just exploring my options. My goal is to have something within the next four to six months.

I could use my graduate degree [in medical geography] or stay in cycling. I love riding my bike, and I will definitely do some stuff locally. I've enjoyed working with athletes, mentoring the young guys, and I think I have something to offer there, but whether I can pay the rent with it is another story.

CC: Finally, what about your career, what are the highlights for you?

AP: I'm happy with my career. Some of the highlights are obviously the podiums I got at the Tour of Georgia [third stage 7, 2008] and Missouri [two stage seconds in 2007, a stage second in 2009]. Those were some of the biggest international races we got to do outside of Europe, so I will always remember those performances.

There are other race wins as well: Tour of Mexico; wearing the Leader's Jersey in Wellington [New Zealand]; the Tour de Beauce [stage 6 in 2006] was a big one; and the Tour of Gastown - I remember watching that race on TV before I became a bike racer, so it was special to win there.

Also the camaraderie of the teams; with Symmetrics the legacy lives on. It's pretty cool looking at Svein [Tuft], Zach [Bell] and Will [Routley].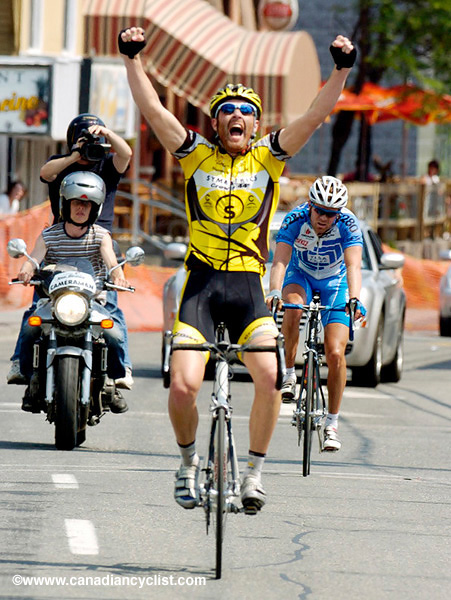 Winning Stage 6 Tour de Beauce, 2006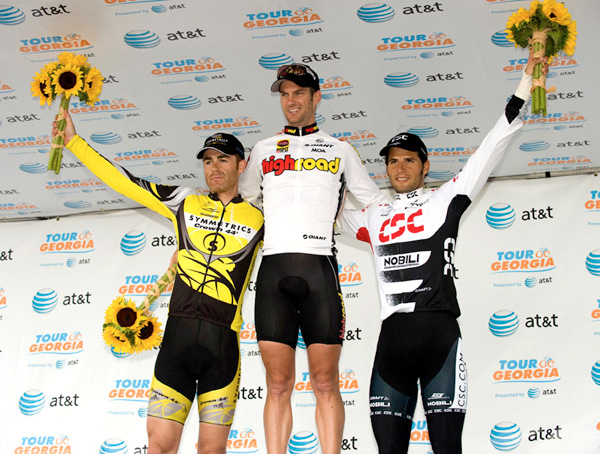 TOG stage 7 podium, 2008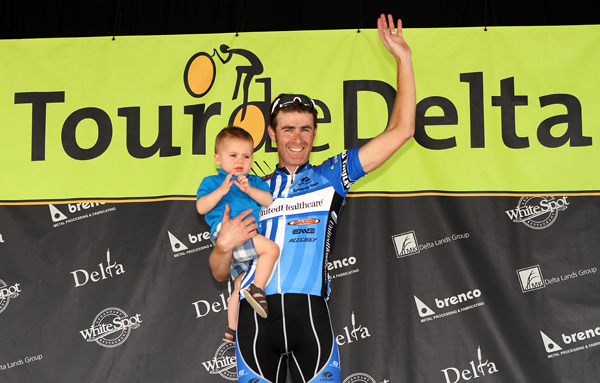 Andrew Pinfold (United Health Care) celebrates overall victory in the 2011 Tour de Delta with his son, James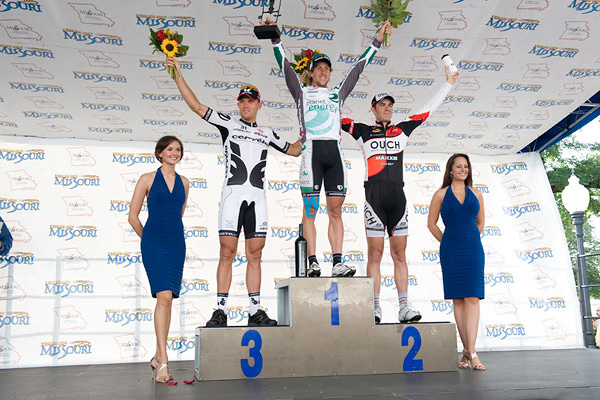 Podium: 2007 Stage 7 Tour of Missouri