October 27/11 14:42 pm - Rob Britton: The Grim Reality Facing a Canadian Road Racer

Posted by Editoress on 10/27/11

We reported yesterday that Rob Britton, one of Canada's rising road stars, is without a contract for next season, after he was not picked up by his former squad Bissell. We have had an opportunity to speak with Rob since then, from his home base in Victoria, where he is resting up after attending the Pan Am Games [where he was part of a the Team Pursuit squad that set a new Canadian record, finishing fourth] and preparing for what will, hopefully, be another season of racing in 2012.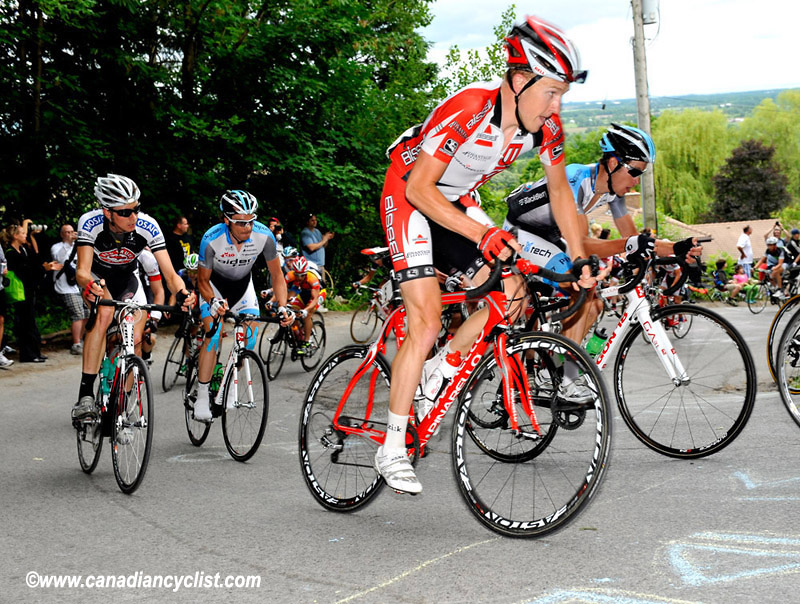 Rob Britton climbing Rattlesnake at 2011 Road Nationals
Britton, coming off of one of his strongest seasons to date, is getting caught in the squeeze caused by a number of factors:

• Downsizing of U.S. squads due to the recession and lack of sponsorship
• Doping in the news scaring off potential sponsors
• Disappearance and combining of teams adding to the pool of riders on the market
• UCI regulations on age and nationality of team composition

While all of these factors make it a tough time to be a pro bike racer, the last one - UCI regulations - are making it doubly difficult for riders such as Britton to continue to develop as riders.

The UCI rules state that, for a Continental team, the majority of riders must be under the age of 28 AND the nationality of the team is based on the nationality of the majority of the riders (Canada has no Continental teams, and the U.S. has approximately ten). So, Rob Britton faces a double whammy going into 2012: smaller teams mean less room for foreign riders, and he turns 28 next season...

"I was beginning to realize that it was going to be a problem when I didn't have any offers going into the fall," admitted Britton. "I had three or four U.S. teams sort of interested, but all of them had essentially the same problem - half the team has to be under 28. I turn 28 next year, so it's turning out to be not too easy for me to find a team."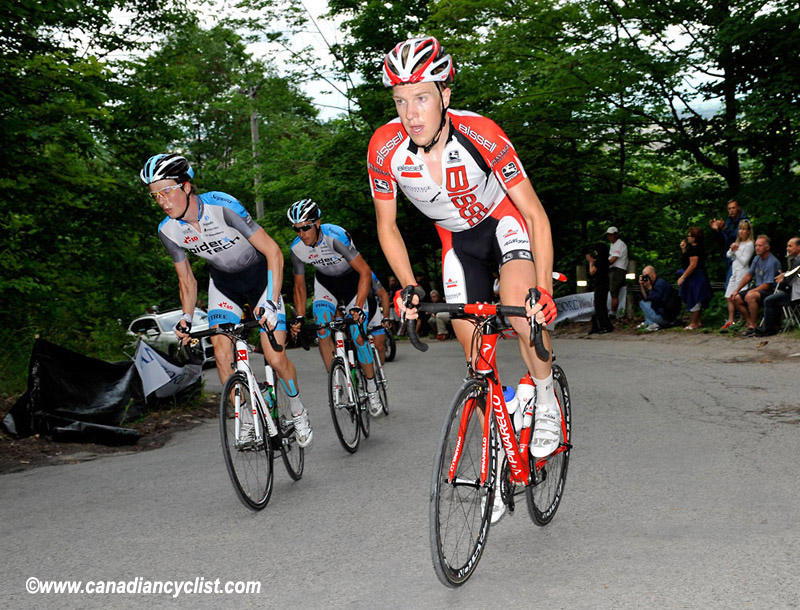 Rob Britton climbing Rattlesnake at 2011 Road Nationals
A Pro Continental team, the next step up the ladder, would be ideal, but there are very few of those in North America - SpiderTech p/b C10 in Canada, United Healthcare and TT1-Sanofi Aventis in the U.S. Plus, the dissolution of HTC-Highroad and amalgamation of squads such as Quick Step with Omega Pharma, Garmin with Cervelo and the Leopard-Trek with RadioShack situation have left a lot of ProTeam level riders (the highest level of team) looking for jobs, and willing to drop down to the Pro Conti level.

"I've talked with a few Pro Continental teams, but places are filling up quick. It's frustrating, because there are dozens of guys out there looking for jobs. I spoke with SpiderTech at the Tour of Utah, and had a positive conversation with them in the fall, but since then it has gone from positive to not so good of a chance."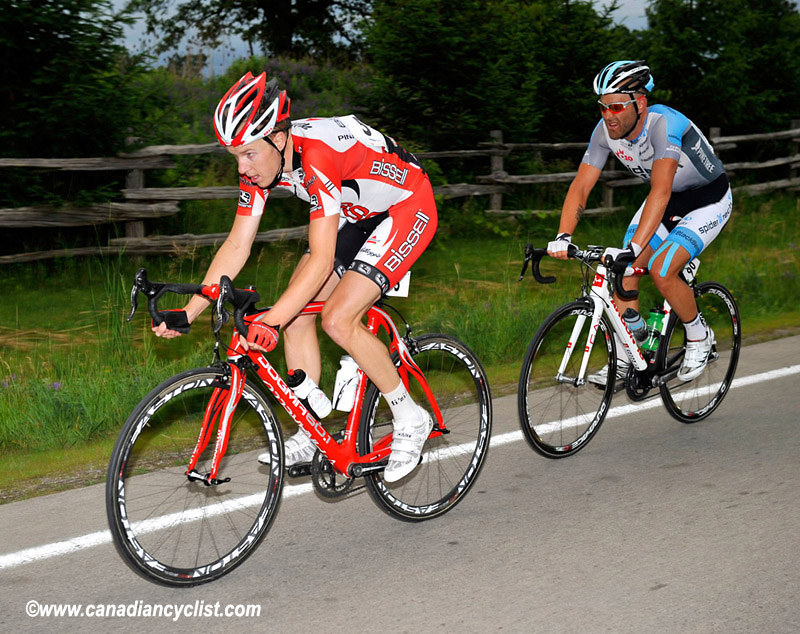 Rob Britton and Svein Tuft at the 2011 Road nationals
SpiderTech is not releasing their roster or announcing new signings at this point, but we believe that they have picked up some ProTeam riders from the fall out at the ProTeam ranks, leaving less space for a rider trying to move up from the Continental level, such as Britton.

And the problem is, that for a road racer such as Britton, going the independent route, maybe with personal sponsors (such as some mountain bikers are doing), is not a viable option.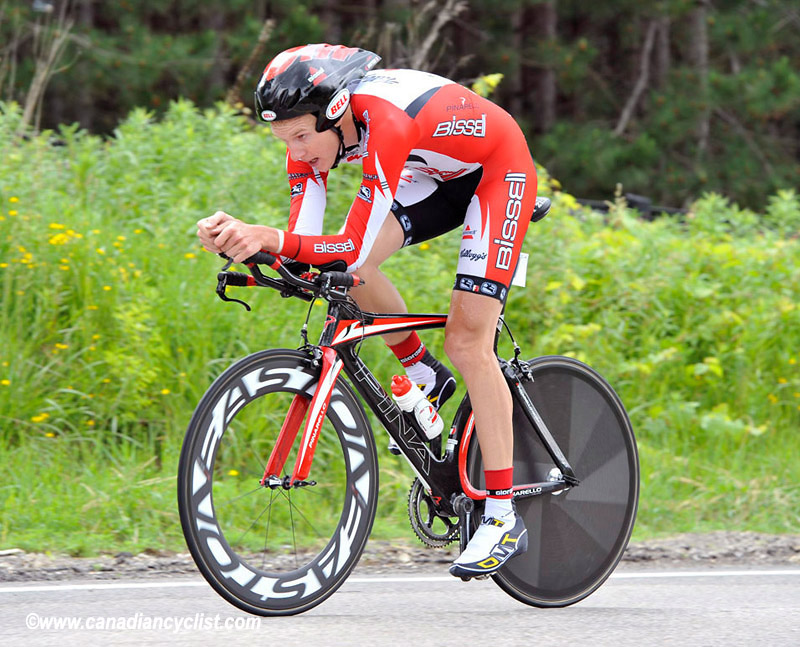 Britton was 7th in the Elite men's ITT
"You can't do it as a road racer," Britton agrees, "You aren't going to be competitive on your own, going up against teams and, rules-wise, you can't get into the bigger races."

"Right now, I'm just holding out for a last minute spot. There are a few teams that haven't said no, but if they come back and say no, then I honestly don't know what I will do for next year. I had the best year ever on a bike this year, and the harsh reality is if nothing pans out, then I just don't know ... I'm just holding my breath as long as I can."

Rob Britton is working with Mark Ernsting of M1 Sports Management, who is trying to help Rob with his search for a team in 2012. You can reach Mark Ernsting at ernsting@m1sportsmanagement.com.

Editor's Note: Just as I was finishing up this story, Rob Britton sent a follow up e-mail:

"Heard back from one of those teams I had mentioned and they have filled their roster. So things are looking much more grim now."