November 7/11 9:50 am - Team H&R Block 2012 Elite Team Announcement

Posted by Editoress on 11/7/11

Team H&R Block is excited to continue to be a growing and dynamic program, that has become one of Canada's premier cycling development squads for talented individuals who have the skill and desire to challenge themselves to attain the highest level they can in the sport.

Over the 2011 season the Team's growth objective was to have representation across Canada at most of the major races. This was accomplished by having riders take part in, among other events; Tour de Beauce, Canadian Road Championships, Banff Bike Fest and BC Superweek. The Team also competed at major events outside of Canada, including some of the larger US/NRC events such as Tour of Redlands (California), Mt. Hood Cycling Classic (Oregon) and the Cascade Cycling Classic (Oregon).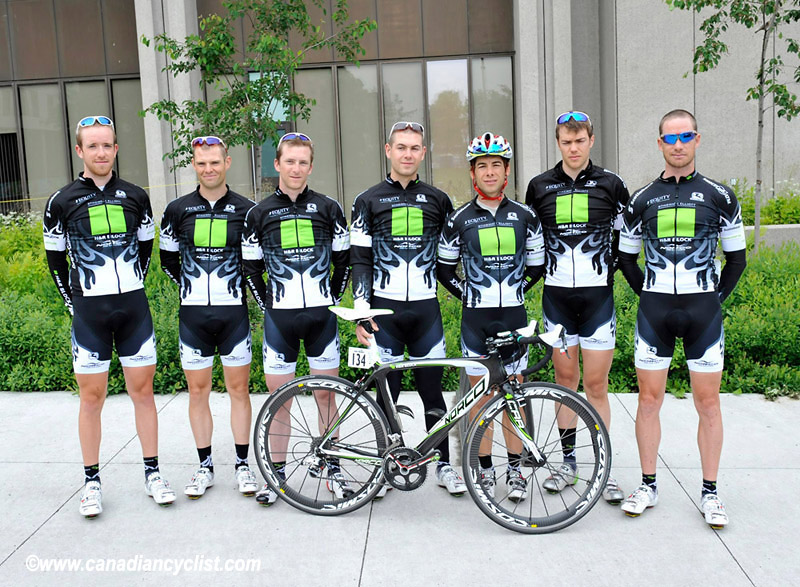 2011 Team at Tour de Beauce
The 2012 plan is to continue to grow as a program by attending high level events and working with the most talented young riders in the country. The program looks for riders who can bring the following attributes: leadership, honesty, loyalty, a strong work ethic and the talent to win races. The riders who have been selected have been offered this opportunity because they have demonstrated these attributes. This should culminate into a winning combination for 2012.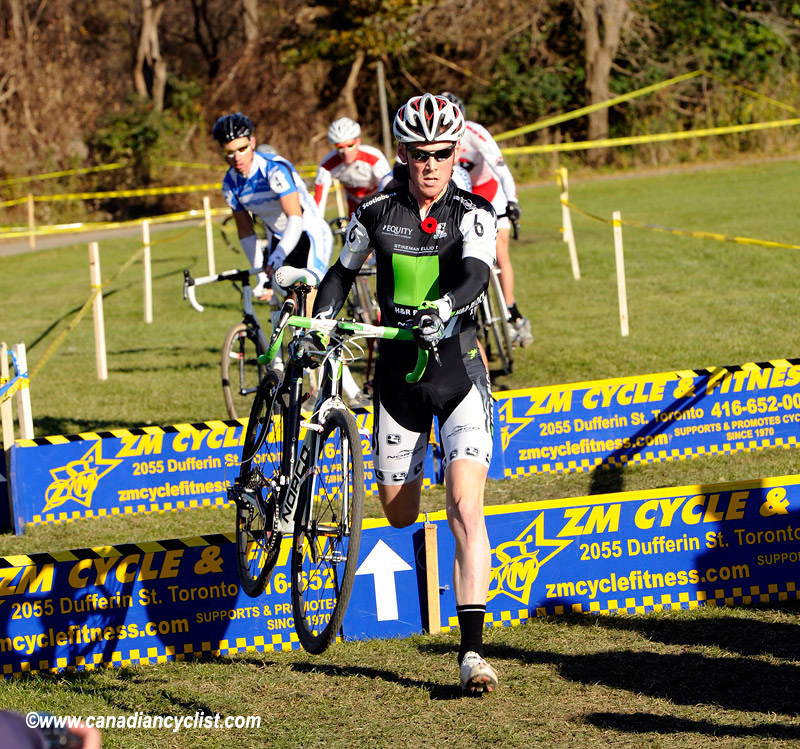 Aaron Schooler racing 2011 `Cross nationals

For the 2012 season the returning Elite riders are (in alphabetical order);

Aaron Schooler - An Alberta-based rider who is known for his bike handling skills in Criteriums and has shown this by winning back to back years at the downtown Banff Bike Fest Criterium, as well as being one of Canada's best Cyclocross riders with multiple National CX podiums. Aaron also holds a diploma in Mechanical Engineering Technology.

Garrett McLeod - Nova Scotia rider, who is graduating with a degree in Environmental Engineering. A former U23 National Criterium Champion who will be one of our young talented tour riders as he enters his first year as an Elite rider.

Jordan Cheyne - Ontario rider, who had two promising Junior years that included a win at the Junior Tour of the Battenkill, as well as winning a Bronze medal in the U23 ITT National championships. He has the potential to be one of the stronger U23 TT and tour riders in Canada. He is also attending the University of British Columbia, Okanagan Campus for a degree in Human Kinetics.

Justin Kerr - New Zealand rider, who holds a Masters in Geology and has raced on a team in Europe, won races at events such as BC Superweek and is a pilot for a countryman aiming for a spot on the New Zealand 2012 London Paralympic Games team.

Kristofer Dahl - Alberta rider, who is the youngest member of the Team and also a Mechanical Engineering student. Kris has shown that he has the maturity and talent to take his cycling to the next level. Therefore, 2012 should be an interesting year for him as he looks to also be one of Canada's most promising U23 riders.

The Team is also very excited to add to the Elite roster a crew of talented and ambitious riders (in alphabetical order):

Adam Thuss - Ontario rider, who is just a season away from turning Pro after top results such as his most recent ninth place at the Univest Grand Prix (PA). Adam has a degree in Mechanical Engineering and is ready to take the next step as a Pro in 2013 after a successful 2012 season.

Andrew Pinfold - British Columbia rider, who needs no introduction, will use the 2012 season as a transition year from the Pro ranks where he most recently represented a top level Pro Continental team. His role will be to mentor and help the Team's young talent and represent the program at select events, as he transitions to spending more time with his family and a new career outside of his cycling. He holds a Masters in Medical Geography.

Craig Jones - U.K. rider, who is doing his PhD at the University of British Columbia. He has shown that with little to no racing experience that he is capable to come top-3 in big events this past season, so he has ridden his way onto the Team based on his strong potential in the sport.

Laurent Dallaire - Quebec rider, who is doing a Biotechnological Engineering degree while being recognized for his cycling performances as the Black Jersey (most combative rider) at Mardis Lachine, first U23 at Classique Montréal-Québec and just missing the podium of the U23 road race at Canadian Nationals to mention a few solid results that reflect what is to come in 2012 for this talented U23.

Mike Sidic - Manitoba rider, who is returning to the program after a year of racing in Europe where he took part in events such as Zelik Gelmaarden and the Tour of North Holland. Mike's "never give up" mentality is going to be a strong asset moving forward.

The board members continue to be Todd McCallum and Gary Clarke out of Calgary, as well as Paul Blanchette and Carl Jacobson out of Vancouver, BC, with Mark Ernsting continuing on as the Team Director. During the 2012 season the Team also hopes to be able to continue to work with Jeff Crombie as the Head Mechanic during times of the season when he is not being contracted by a Pro Team, as well as several other notable former Canadian riders who are being approached at this time to guest Director during select Tours throughout the year.

Team H&R Block will once again continue to be a part of CCA's Trade Team program. It is important for the Team to abide by the rules and regulations, as well as support the National Cycling Association's mandate.

Team H&R Block would like to thank the following sponsors for continuing their support because without their help and direct involvement this program could not exist and perform at the level that it does:

H&R Block - Norco Bicycles - Scotiabank - Direct Cash Income Fund - Equity Transfer & Trust Company - Stikeman Elliott LLP - Student Price Card - BGI Graphics - Giordana - Full Speed Ahead - Fi'zi:k - Rudy Project - Sidi - Hammer Nutrition - Yakima Racks - Minoura - Curious Communications - Defeet - Axiom - Sigma Sport - Minoura - John Henry Bikes.

If any company, business or individual would like to become involved and support the growth of this program and these talented young athletes please contact Mark at ernsting@m1sportsmanagement.com.

For more information about Team H&R Block visit the Team's webpage www.teamhrBlock.ca or follow them on Twitter @teamhrBlock .