November 30/11 15:01 pm - TIBCO Announces 2012 Squad

Posted by Editoress on 11/30/11

To the Top Cycling, the operator of the TIBCO Women's Pro Cycling Team, is proud to announce its 2012 Elite roster. The Team returns with a strong core of riders from the 2011 squad, while adding specific depth and strength with new riders. The team will be riding the Specialized Amira SL4, equipped with SRAM Red and Reynolds carbon race wheels. A full list of corporate and product partners will be announced soon.

The new riders add significantly to the Team's stage racing strength, with emerging star and 2010 Team TIBCO member Amanda Miller leading the group. Miller had a breakout year in 2011 on the international scene, winning a stage of International Thuringen Rundfahrt, and posting consistently strong results in Europe, leading to a spot on the U.S. World Championships team.

"We knew Amanda was a special rider when we brought her onto the team in 2010," said Team TIBCO founder and manager Linda Jackson. "This season, she continued to develop into a top-flight talent."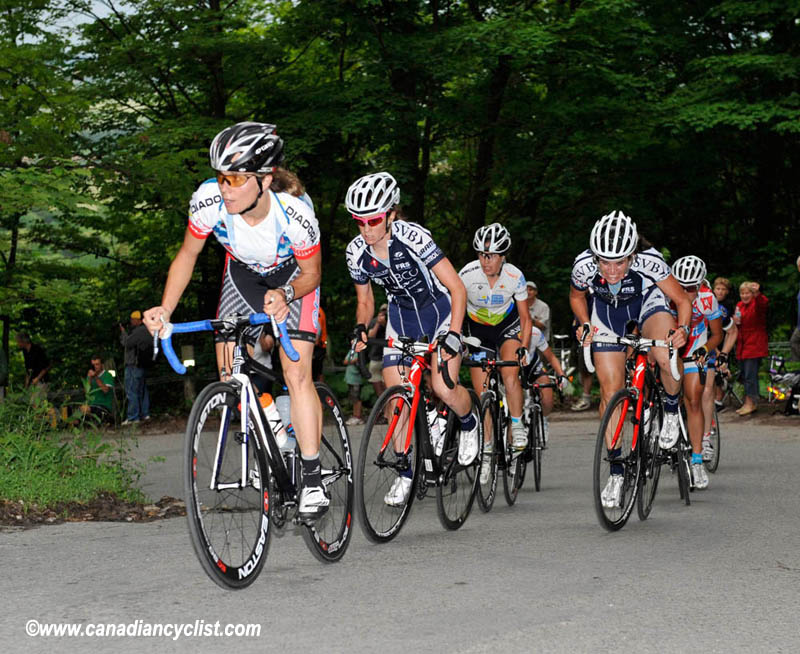 Veronique Fortin leading Erinne Willock at 2011 Road nationals

The Team also adds 2011 Canadian National Road Champion Veronique Fortin. The 31-year-old is one of the rising stars of Canadian cycling, taking the title while working full-time as an anesthesiologist.

"Vero is an exceptional climber, and a rider whose talent is only starting to emerge," Jackson said. "We're really excited to have her and to see how she continues to develop." Rounding out the climbing talent is Lindsay Myers, who was a teammate of Erinne Willock on Webcor in 2010.

Team TIBCO bolstered its sprinting capabilities for 2012, adding Lauren Hall and Jen Purcell. Hall put up a strong year of results in 2011, including a pair of wins and the overall title at the Gateway Cup in St. Louis in September, while Jen Purcell showed consistent strength, including a third place finish at the Liberty Classic in Philadelphia.

Building around a strong core

The Team retained a strong core of riders, including Olympians Erinne Willock and Joanne Kiesanowski, Meredith Miller and Megan Guarnier, who closed her season with the overall win at the Giro Toscana.

"Everything came together for Megan at Toscana," Jackson said. "This is only the beginning for her. Megan is an incredibly talented rider who is just starting to see the fruits of her dedication and passion for the sport."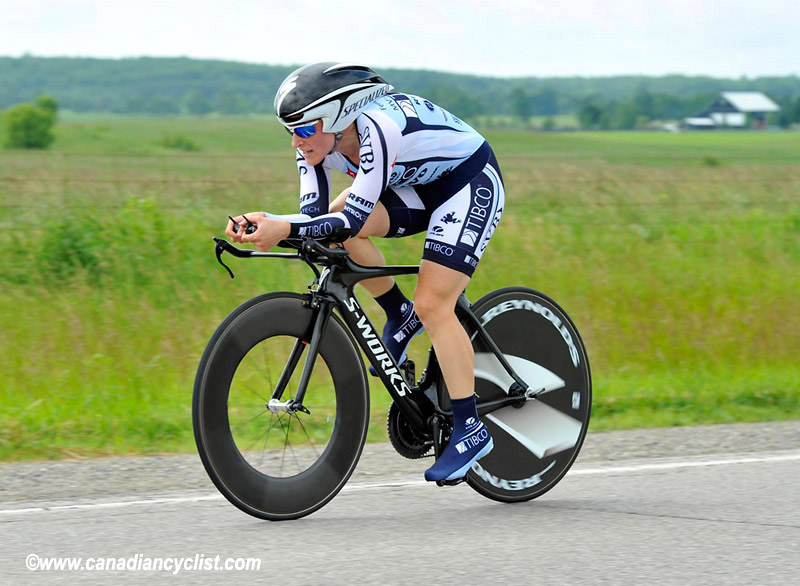 Tara Whitten
Three-time Track World Champion Tara Whitten also returns to the squad. In addition to taking her third rainbow jersey, she showed her road abilities in 2011, taking the leader's jersey in a pair of races after storming to prologue wins.

"Tara will be focused on the track again with an eye on Omnium gold at the London Olympics," Jackson said. "We're really proud to have her on the squad and we want to support her efforts to win gold in 2012."

Three-time U23 national champion Samantha Schneider, young talent Kendall Ryan, and overall powerhouse Jennifer Wheeler also return.

"Jennifer had a great first pro season in 2011," Jackson said. "She has continued her rapid development and we think she is going to be on fire in 2012."

The team will be focused on the NCC and NRC race calendars, while also helping their athletes pursue their objectives of making the 2012 Olympics.

"The U.S. [and Canada] needs to finish as one of the top five countries in the UCI rankings by May 30 in order to send a four-rider squad to the Olympic Games," Jackson said. "To support the goals of ... our athletes, we will be sending Team TIBCO to Europe for two solid blocks of racing in the spring. These races will prime our riders to come back to the U.S ready to kick off the NRC calendar with Redlands."

Team TIBCO Juniors and Team TIBCO II continue to build for 2012

To the Top Cycling will continue to support the Team TIBCO Juniors and Team TIBCO II squads, both of which enjoyed great success in 2011. "Both of these teams are important to our organization's mission of providing opportunities for women to develop as athletes and people, so they can reach their full potential," Jackson said. "We're all really proud of the achievements both teams had in 2011 and we're looking forward to more for 2012."

The five-rider junior squad brought home four U.S. junior national championships, led by a pair of younger sisters of elite-team members: Alexis Ryan and Skylar Schneider, who both collected two each. Both are back, along with Aliya Traficante, Page Robertson and new additions Shannon Bhatia and Bailey Semian.

Team TIBCO II, the organization's Bay Area amateur squad, proved to be a formidable team in the category 3 and 4 races in 2011. The squad won the Bay Area Women's Cycling Series Category 3 team category with Bobbi Jo Price winning the individual title and Ann Kodani finishing fifth. Jill Eyres was the #1 ranked Category 4 rider. The team is expanding for 2012 and looking to continue their impact on the Northern California racing scene.