January 29/12 6:50 am - Cyclo-cross World Championships: Women's report, photos and results

Posted by Editoress on 01/29/12

Results, report and photos from today's Women's CX held in Koksijde, Belgium
Coverage Sponsored by Paris To Ancaster: Canada's Spring Classic
Marianne Vos continued the Dutch domination of the Cyclo-cross Worlds in Koksijde, Belgium, winning her fourth consecutive title in the Elite Women, and the fifth of her career. Vos dominated the race, holding an 11 second lead after the first lap and steadily riding away from the rest of the field. Team mate Daphny van den Brand took second, with a surprise third by Belgian rider Sanne Cant, to the delight of the crowd. Cant came close to outsprinting van den Brand in the final 100 metres. Canada had no entries in the race.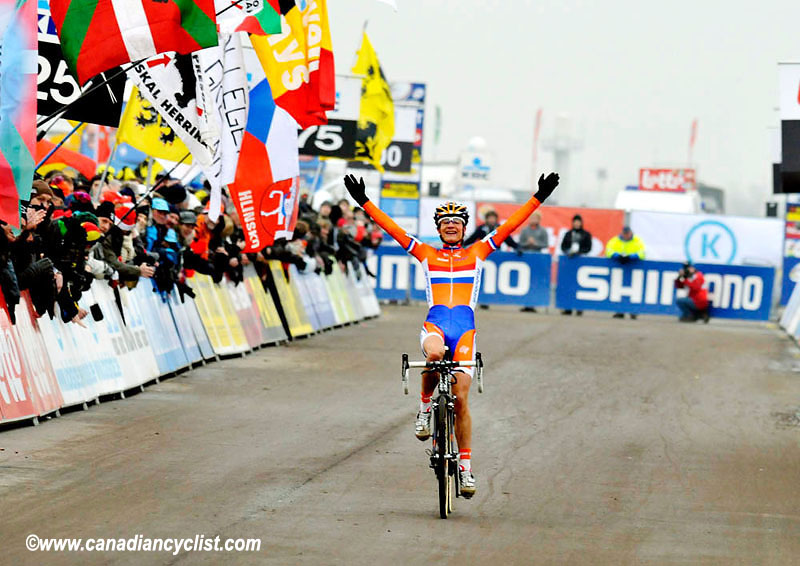 Marianne Vos wins


American Katie Compton, a two-time winner at Koksijde, ran into difficulties at the start of the race, a crash, requiring a stop in the pits and dropping her to last place as the riders hit the longest section of sand dune. However, she fought back impressively, turning in the fastest splits in the second and third laps to rocket back up to join van den Brand in second. Unfortunately, she then faded in the final two laps to finish fifth.

The venue is heavily over-subscribed with spectators. Organizers cut off ticket sales yesterday, but estimates are that there will be well over 50,000 spectators on-site. Already, they have decided to close crossing points on the course for the men's race, since they can't clear them quickly enough when riders come through.

Elite Women, 14.79 km (5 laps)

1 Marianne Vos (Netherlands)
0:41:04
2 Daphny van den Brand (Netherlands)
at 0:37
3 Sanne Cant (Belgium)
0:38
4 Sanne van Paassen (Netherlands)
0:49
5 Katherine Compton (United States of America)
0:53
6 Nikki Harris (Great Britain)
1:03
7 Sophie De Boer (Netherlands)
1:05
8 Katerina Nash (Czech Republic)
1:11
9 Jasmin Achermann (Switzerland)
1:12
10 Lucie Chainel-Lefevre (France)
1:54
11 Pavla Havlikova (Czech Republic)
2:43
12 Sabrina Stultiens (Netherlands)
2:43
13 Helen Wyman (Great Britain)
2:45
14 Christine Majerus (Luxembourg)
2:46
15 Linda van Rijen (Netherlands)
2:52
16 Arenda Grimberg (Netherlands)
3:01
17 Gesa Bruchmann (Germany)
3:30
18 Caroline Mani (France)
3:36
19 Nicole Duke (United States of America)
3:40
20 Meredith Miller (United States of America)
3:54
21 Olga Wasiuk (Poland)
4:52
22 Martina Mikulaskova (Czech Republic)
5:04
23 Amy Dombroski (United States of America)
5:21
24 Joyce Vanderbeken (Belgium)
5:34
25 Kajsa Snihs (Sweden)
5:39
26 Kaitlin Antonneau (United States of America)
5:41
27 Rocio Gamonal Ferrera (Spain)
5:43
28 Sabrina Maurer (Switzerland)
5:56
29 Nikoline Hansen (Denmark)
6:19
30 Asa Erlandsson (Sweden)
6:34
31 Alice Maria Arzuffi (Italy)
6:55
32 Ayako Toyooka (Japan)
-1 Lap
33 Sakiko Miyauchi (Japan)
-1 Lap
34 Lise-Marie Henzelin (Switzerland)
-1 Lap
35 Genevieve Whitson (New-Zealand)
-2 Laps
36 Madara Furmane (Latvia)
-2 Laps
DNF Sabrina Schweizer (Germany)
DNF Valentina Scandolara (Italy)
DNS Annie Last (Great Britain)