March 2/12 14:10 pm - Come Have a Shot with CC at the Toronto Bike Show

Posted by Editoress on 03/2/12

Once again, it is time for that season opener to te Ontario cycling season - the Toronto International Bike Show at the Better Living Centre in the CNE grounds on the lakeshore. Canadian Cyclist is here, and working with Cafe Domestique to raise money for good causes. This year, a small donation gets you a shot of Jet Fuel coffee, expertly poured by Krys Hines from Cafe Domestique. Your donation goes to either the OCA Youth Development program (Road) or IMBA Ontario (Mountain Bike).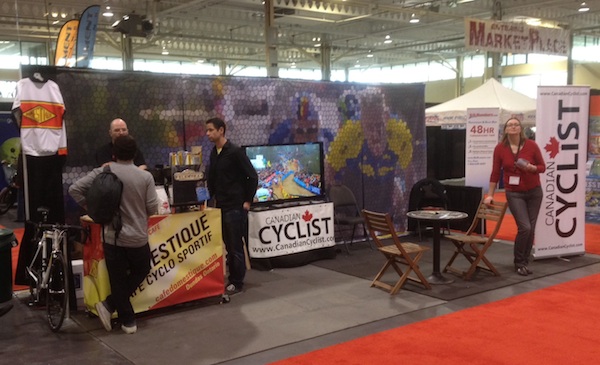 The booth saw a surge of traffic when the show opened at 1:00 pm, as staff from all the booths lined up for a shot. Since, then we have seen a steady stream of readers and coffee enthusiasts drop by. Currently, the first 20 people that drop by to get a shot and ask for a hat, get a cycling cap, courtesy Ryeka Sports. So, when you get your shot, ask for a hat.

It is also time for the Canadian Cyclist Fantasy Contests, presented by Specialized. This year, we have two spring contests - our traditional Classics pool, and a new Women's Classics pool. We've also tweaked the rules a bit, based on feedback from our readers. Everyone gets one team (per e-mail address). If you want two additional teams, then you need a code - pick one up at our booth or, within the next week, at your local Specialized dealer (a list of participating dealers will be posted next week).

So, there are lots of reasons to stop by and say hi.