March 9/12 11:48 am - Pan Am ITT Championships: Women ITT results and report, Silver for Shaw

Posted by Editoress on 03/9/12

Shaw Wins Pan Ams ITT Silver

Rhae Shaw extended Canada's success at the 2012 UCI Pan-American Championships in Mar Del Plata, Argentina, winning the silver medal in the individual time trial race.

Shaw posted a time of 27:47.38 on the 20 kilometre course stretching along the Atlantic coast. The riders enjoyed a tailwind on the first 10 kilometre stretch, and suffered from a strong headwind on the way back to the finish line.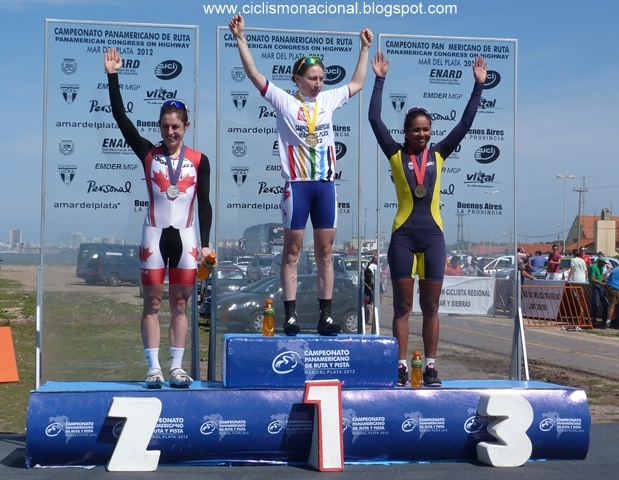 Photo courtesy Daniel Fulgenci, Ciclismo Nacional
"I'm really excited to have brought home the silver medal back to Canada. It's my first International Championship medal," said Rhae Shaw after the race. "It was really windy out on the course, a very difficult ride and I gave it my all. For my first time trial of the year, it's a good indicator that training is going well and we learned a lot today to continue to improve."

"I'd like to thank the staff for all their help," added Shaw.

Shaw came in seventh in the individual time trial at the 2011 UCI Road World Championships in Denmark.

American rider Amber Neben took the gold medal race, posting a time of 26:50.86, while Clemilda Silva of Brazil took the bronze medal with a time of 27:57.00.

Canadian rider Denise Ramsden of Yellowknife crossed the finish line with a time 29 :37.94 to take sixth place.

The silver medal by Shaw comes after five medals won at the velodrome by the Canadian Track Cycling Team.

The Pan-American cycling championships end on Sunday with the mass-start road race. Canada will have six riders on the start line.
Report Courtesy CCA
OFFICIAL Results from today's Women's ITT in Mar del Plata, Argentina
Time Trial, 20 km

1 Amber Neben (USA)
0:26:25
2 Rhae Shaw (Canada)
0:27:47
3 Clemilda Silva (Brazil)
0:27:57
4 Fernanda Souza (Brazil)
0:29:05
5 Valeria Muller (Argentina)
0:29:09
6 Denise Ramsden (Canada)
0:29:37
7 Claudia Leal (Mexico)
0:29:47
8 Lilibeth Chacón (Venezuela)
0:30:23
9 Ana Teresa Casas (Mexico)
0:30:36
10 Dolores Rodríguez (Argentina)
0:30:38
11 Katerine Herrera (Costa Rica)
0:31:35
12 Natalia Navarro (Costa Rica)
0:32:04
13 Flor Palma (Chile)
0:32:05
14 Gabriela Rojas (Chile)
0:33:16
15 Tamiko Butler (Antigua and Barbuda)
0:33:24