March 12/12 12:39 pm - Blizzard Bike Club News

Posted by Editoress on 03/12/12

Roubaix Cup race #1 in Fort St John BC, Sunday March 11th

Defending Roubaix Champion Pat Ferris came up with a surprise win in Sunday's 2 lap Baldonnel Race. He won the 46 km pavement, gravel event with a time of 1:41:19 hours. Kevin Shaw was second at 1:43:17 and George Gamble third at 1:43:42. Dan Webster edged out 2010 Cup winner Gary Hilderman in the sprint for 4th at 1:44:58.

Hilda Bilodeau won the 1 lap with 56:29 and Kelsey Young second 1:04:12.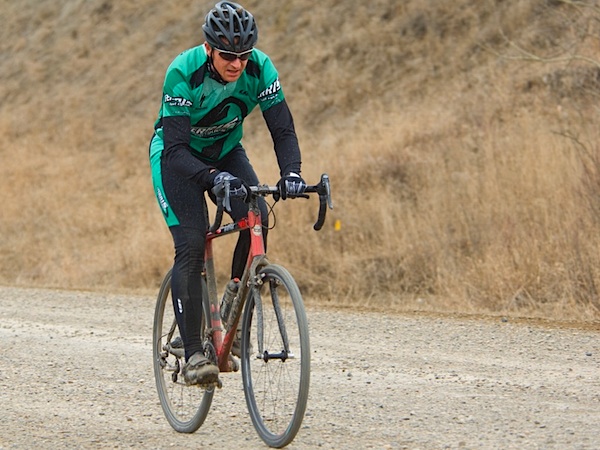 Conditions were good at +7 for this on road, off road event. The 15 km gravel section alternated mud, snow and puddles with dry dusty loose gravel. Riders had to pay attention to these slippery conditions, particularly on the soft, muddy one km. climb up the Baldonnel hill.

Thank you Sandy McDonald for timing and supplying hot chocolate and cookies for the cold, tired riders!

A dozen riders were on the start line. The pace quickened on the first 5 km's of the gravel section when five riders pulled clear of the others. Gord Harris, Pat Ferris, Kevin Shaw, Gary Hilderman and George Gamble stayed together until the muddy and tough Baldonnel hill. At the half way mark, the elder Ferris pushed the pace in the soft traction conditions to cause a split with the group. His lead went from thirty seconds to a final two minute lead over chasers Kevin and George.

Other finishers were Roger St. Jean 6th and Gord 'The Hammer' Harris 7th, both at 1:45:57, Celeste Pakstas 1:54:49 and Barb Polehoykie 1:59: 32.

Next Sunday is Roubaix Cup race #2 starting at the Baldonnel School. It features 3 laps of the 'Martens 'loop. Race time is 2 pm.

www.ferrisfastcycles.com