March 17/12 19:02 pm - Pietermaritzburg MTB World Cup: XC Report and photos

Posted by Editoress on 03/17/12

The 2012 UCI Mountain Bike World Cup got off to a strong start with exciting and close finishes in both the women's and men's Elite Cross-country races in Pietermaritzburg, South Africa on Saturday. Poland's Maja Wloszczowska (CCC Polkowice) held off the determined Canadian duo of Emily Batty (Subaru-Trek) and Catharine Pendrel (Luna) to don the leader's jersey for the women, while Switzerland's Nino Schurter (Scott-Swisspower) repeated as the Pietermaritzburg men's winner, ahead of local favourite Burry Stander (Specialized) and Manuel Fumic (Cannondale Factory). Canada's Derek Zandstra (Scott-3Rox) was the top North American, in 29th.
Women
Despite worries of a muddy course after rain overnight, race day was hot and sunny, giving the riders a fast track to race on. British champion Annie Last (Milka Brentjens) took the early lead in the women's race before Pendrel, the reigning world champion chased her down and took the lead on the second lap of five. Wloszczowska and Batty were part of a chase group that bridged up to Pendrel, and by the third lap the three were clear of all chasers. In the final lap, the leaders began to play a tactical game, with Batty attacking before the final rock garden, only to have Wloszczowska counter and take the front into the final straightaway to win by four seconds.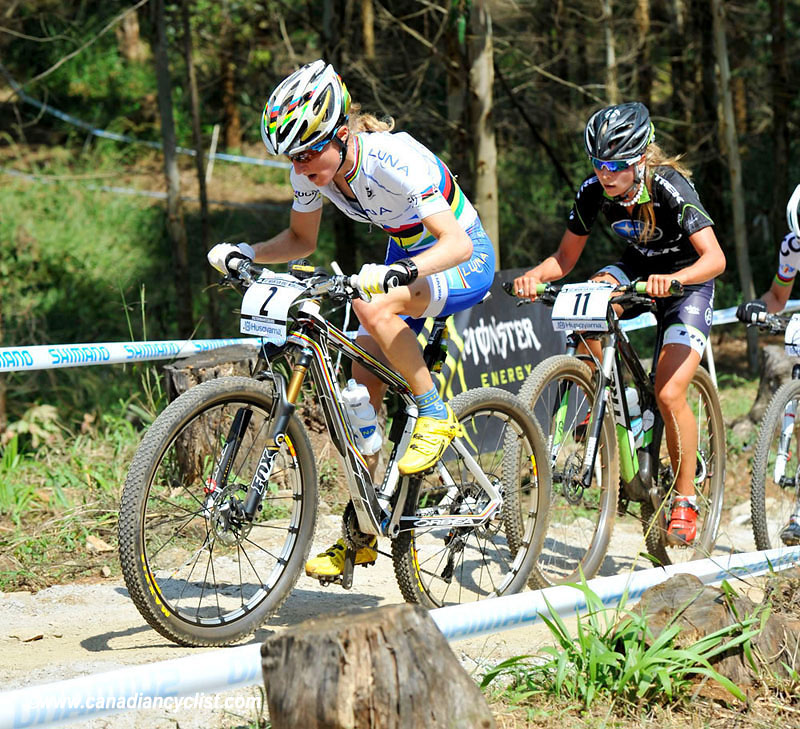 Catharine Pendrel leading Emily Batty scroll to bottom of page for MORE photos
"I'm really happy," said Wloszczowska. "I definitely didn't expect to get a win this early in the season. But I changed my coach last year, and this showed that it is working. When Emily attacked, I knew I had to get by her, so I took a chance. Emily was leading going into the final rock garden and she took my normal line. I decided to take the other line to the left and just let go of my brakes and went for it! It paid off. I got a gap right there and that was enough. I'm so proud of myself. It was the best decision I made today. I loved the new course, especially on my 29er."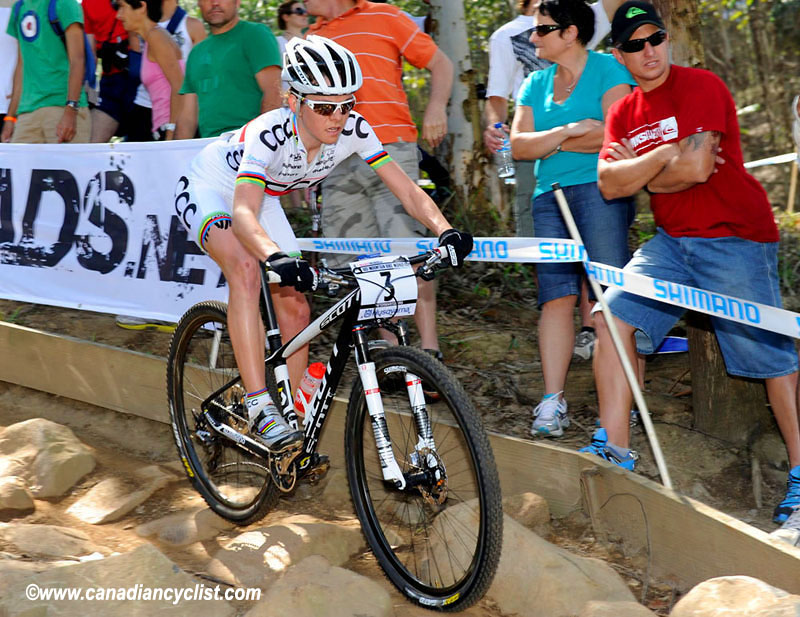 Maja Wloszczowska
Pendrel, who had stated earlier in the week that she is building up slower this season, admitted that she may have not have been aggressive enough when the other two started battling in the final lap. "I sometimes go out too strong, so this time I played it a little conservative, maybe too conservative. But I'm where I want to be for this time of year, and really happy for such a strong showing for Canada."

Emily Batty, who had previously won at the Under-23 level, was excited at her breakthrough performance - her first time ever on the Elite podium. "We've had some really good training camps in California with the national team," explained Batty, "so I felt prepared for the heat and I knew my form was good. Just being able to ride at the front of the race with riders like Catharine and Maja was an incredible feeling for me, and I know that I will only get stronger for the next rounds."

Marie-Hélène Premont (Rocky Mountain) finished 21st and Amanda Sin (Scott-3Rox) was 46th.
Video interviews with Batty and Pendrel
Men
The men's six lap race saw Schurter and Stander make their move almost immediately, with Schurter setting the pace and Stander hanging on. World champion and 2011 World Cup champion Jaroslav Kulhavy (Specialized) joined the duo for the first lap, but the pace was too high for him, and he had to back off, eventually finishing fifth, just ahead of Olympic champion Julien Absalon (Orbea). Fumic bridged up to the two leaders on the second lap, and the first three places on the podium were decided, with only the order to be determined. Fumic was dropped on the fourth lap, and then Schurter made his move in the final lap, to win by 11 seconds.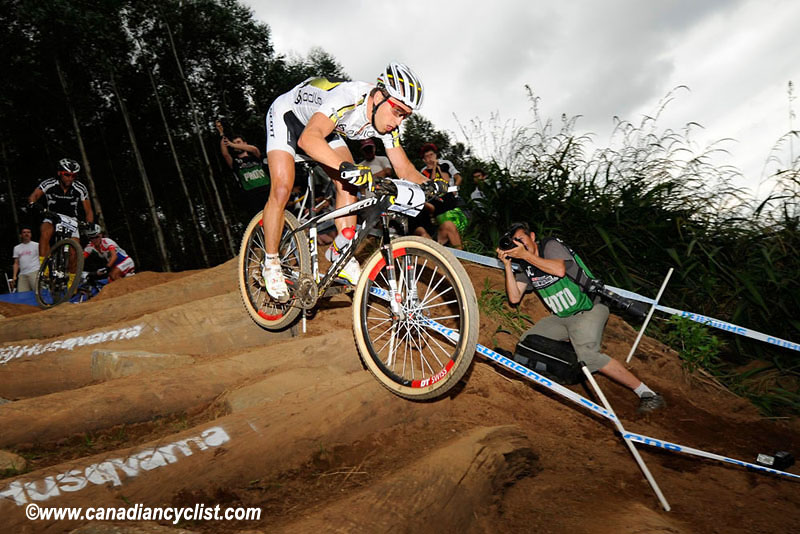 Nino Schurter
"It was an awesome race," commented Schurter. "I really like Pietermaritzburg, it is really a course for me, really technical. It was awesome in front of the crowd, I really like South Africa. It was a nice fight with Burry, he did a great job, and he was very good to ride with."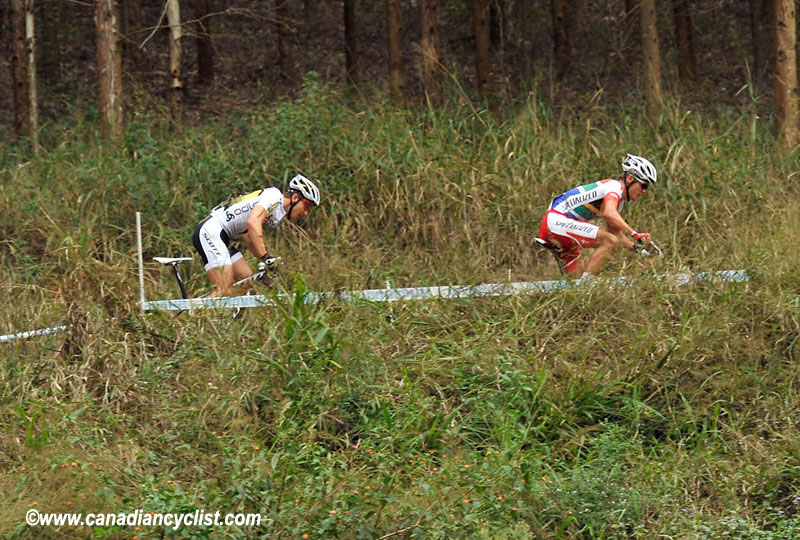 Stander and Schurter waged a battle all race
Despite having the crowd behind him, Stander conceded that Schurter was just too strong: "It was a tough race from the beginning. The speed just never slowed down. We sprinted off the start line and just kept sprinting the whole way. In the end, I could feel Nino was a little bit stronger through the rock garden, and it was tough to hold onto him. The crowd kept supporting me and I kept trying to fight back."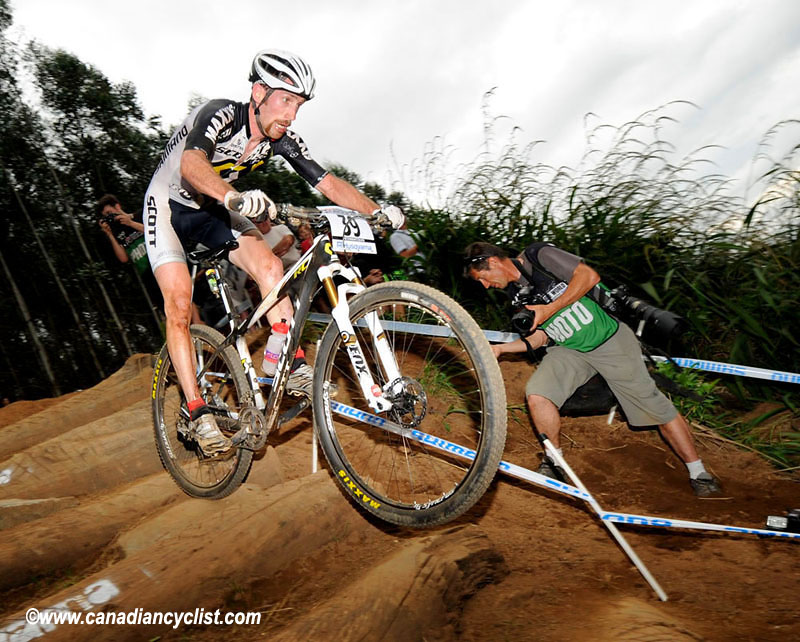 Derek Zandstra was top N. American

Canadian champion Max Plaxton (Specialized) had a very strong start, riding in the top 30 for the first two laps, but began to fall back mid-race to finish 43rd, behind Geoff Kabush (Scott-3Rox) in 37th. Cameron Jette (Scott-3Rox) finished a lap down in 92nd, and Adam Morka was 105th, three laps back.

Race Notes

- There was much buzz over the fact that Schurter raced a prototype 650B wheel-sized Scott. the 650B is a new/old size that has been introduced to a few brands, and it fits between the older 26" and the new 'standard' 29er. Schurter commented afterwards: "It's a prototype bike which I have been trying for a couple of months. I raced it last weekend on this course and again today. Both times I won. I think it suits me. I'm not so tall, but the bigger wheels roll better over the rocks than 26-inch wheels."

- In the women's race, both Wloszczowska and Batty were on 29ers, while Pendrel was on a 26" wheel. When asked in the press conference if it made the difference in the results, all three laughed, and said "no".

- The USA was missing the firepower of their usual top rider: national champion Todd Wells (Specialized). Wells crashed earlier in the week, injuring his ankle. He had hoped to ride, but the team said that the injury had not responded to treatment, so Wells was forced to sit out the race, and now the question is whether he will recover in time to race the Cape Epic stage race. Sam Schultz (Subaru-Trek) was the top American man, finishing 42nd.

Men's results
Women's results
Fatal error
: Uncaught Error: Object of class PDO could not be converted to string in /home/canadiancyclistcom/canadiancyclist.com/public/modules/news.php:528 Stack trace: #0 /home/canadiancyclistcom/canadiancyclist.com/public/modules/news.php(517): getrelatedgallery() #1 /home/canadiancyclistcom/canadiancyclist.com/public/dailynews.php(58): getDailyNewsArticle() #2 {main} thrown in
/home/canadiancyclistcom/canadiancyclist.com/public/modules/news.php
on line
528