March 18/12 16:59 pm - Pietermaritzburg MTB World Cup: DH final report and photos

Posted by Editoress on 03/18/12

The opening round of the UCI Mountain Bike World Cup concluded on Sunday with the Downhill, a crowd favourite in Pietermaritzburg, South Africa. And why not? The hometown son, Greg Minnaar (Santa Cruz Syndicate), came from behind to win the men's title, while Australian champion Tracey Hannah (Hutchinson United Ride) marked her return to international competition with a win in the women's competition. Canada's Steve Smith (Devinci Global Racing) finished fifth in the men's competition.

Heavy rain on the previous evening had led to concerns that the track would become muddy and treacherous, but the morning sun quickly started to dry things up, and many riders said that the rain actually made the track better than ever by race time.
Women
The women's field lost two top contenders even before racing started, with Floriane Pugin (Scott 11) crashing the day before and injuring her shoulder, and Sabrina Jonnier (Labyrinth Shimano) crashing on racing day morning and suffering a leg injury. However, there was never any doubt who the fastest rider was; Hannah qualified first by an impressive three and a half second margin, and took the win by nearly a second over the 2011 Junior World Cup champion, Manon Carpenter (Madison Saracen). World champion Emmeline Ragot (MS Mondraker) was a distant third, nearly three seconds in arrears, and American champion Jill Kintner (Team Norco) was fourth, taking her first ever Downhill World Cup podium placing.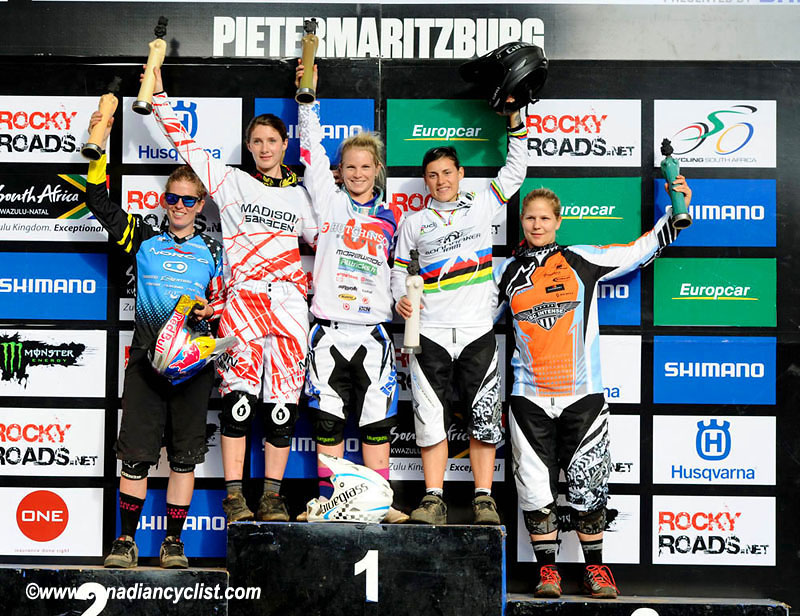 Jill Kintner, Manon Carpenter, Tracey Hannah, Emmeline Ragot, Miriam Ruchti
Hannah, who has been away from the World Cup circuit for four years and is a former Junior World Champion, explained: "It has always been my intention to come back, it just took a few years. This was more of a test race for me, to see where I was, and I didn't know what to expect. I'm in pain, but it is good pain. I am so exhausted. I'm happy, and extremely satisfied. I just can't believe it, it is so amazing."

Kintner, the former world and World Cup champion in the 4-Cross, switched to Downhill a year ago and has steadily been improving. "It's awesome to pull my first podium on the Norco Aurum! I trained hard, so things fell into place. We were lucky that the course dried out for finals, cause my heart sank last night seeing the rain pour down. The red clay was like ice with the moisture and a few girls fell victim to the conditions, so it was a bit of strategy today to pace it out."

"My run was by no means perfect, I had one big mistake in the steep section which cost me a bunch of time, but I pulled it back in the pedaling bit I think. Other than that I had a lot of fun being here, taking in the sights, seeing monkeys in the trees, being back in the swing of things on the World Cup and riding the course. It was also a fairy tale ending to see Greg Minnaar win in his hometown."
Men
The men's race was expected to be close, after Minnaar, the 2009 winner in Pietermaritzburg beat Gwin, the 2011 Pietermaritzburg champion, by an infinitesimal eight one-thousandths of a second in qualifying. After Gwin set the fastest time, overtaking Mick Hannah (Hutchinson United Ride), and with Minnaar over two seconds behind at the first time check, it looked like the race was over. However, the 'Greg Minnaar Nation' was cheering their hero on, and the Pietermaritzburg rider made up the time deficit in the lower half of the course, cutting it to one second at the second intermediate split and then winning by over six-tenths of a second.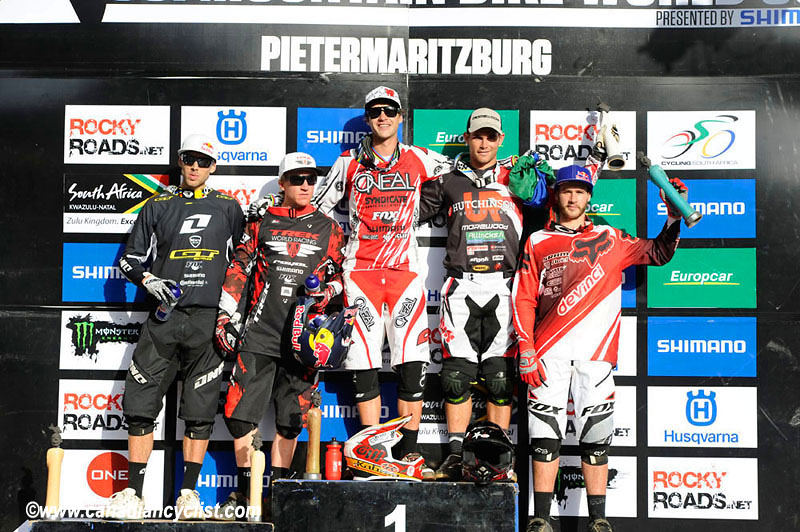 Gee Atherton, Aaron Gwin, Greg Minnaar, Michael Hannah, Steve Smith
"I knew at the top I was behind," admitted Minnaar. "I made two stupid mistakes at the beginning, so I knew had to make up as much as I could down at the bottom. As much pain as it was to pedal, I just had to put my head down and go."

"Oh man, it was electric, hearing the crowd at the bottom, it was so wild. I could have done with some more support further up on the pedaling bit when I wanted to sit down, bu there was no one there, they were all down at the bottom. But when I jumped into the finishing area the crowd was just amazing."

Gwin shrugged at the close loss, vowing to continue the battle at the next round. ""It's been a great week here in SA and I'm happy with my run today. I'm also happy for Greg, he's had some tough challenges this past week [Minnaar's father has been ill] and I truly respect his win today, that was amazing, and I'm looking forward to a great season with him, like last year."

Smith, while happy to be on the podium, wasn't completely pleased with his run. "It's always good to be on the podium, but it wasn't exactly where I wanted to be. I think I had a bit of a mistake in the middle, at the pedaling section, and it definitely cost me."


Note: We will be posting video interviews with Smith, Minnaar, Gwin and Tracey Hannah shortly.
Fatal error
: Uncaught Error: Object of class PDO could not be converted to string in /home/canadiancyclistcom/canadiancyclist.com/public/modules/news.php:528 Stack trace: #0 /home/canadiancyclistcom/canadiancyclist.com/public/modules/news.php(517): getrelatedgallery() #1 /home/canadiancyclistcom/canadiancyclist.com/public/dailynews.php(58): getDailyNewsArticle() #2 {main} thrown in
/home/canadiancyclistcom/canadiancyclist.com/public/modules/news.php
on line
528