March 29/12 18:20 pm - Global Relay Gastown Grand Prix Unveils Largest Prizes in North America

Posted by Editoress on 03/29/12

The Global Relay Gastown Grand Prix presented by Allstream today unveiled the largest criterium winning prizes in North America, with the men's winner to receive $15,000 and the women's winner to receive $8,000. With the addition of the criterium's $40,000 total prize purse, the Vancouver-based BC Superweek (July 6-15) now offers more than $100,000 in cash prizes, along with several thousand more in primes.

For Global Relay CEO Warren Roy, the decision to offer North America's biggest winning prizes for a criterium is a reflection of the world-leading technology services firm's corporate philosophy.

"To attract the best people, whether it's the best and brightest in the high tech sector, or the fastest riders in North America, you need to recognize and reward talent," said Roy. "Like the other races in BC Superweek, we plan to do that in numerous ways, including a great prize list."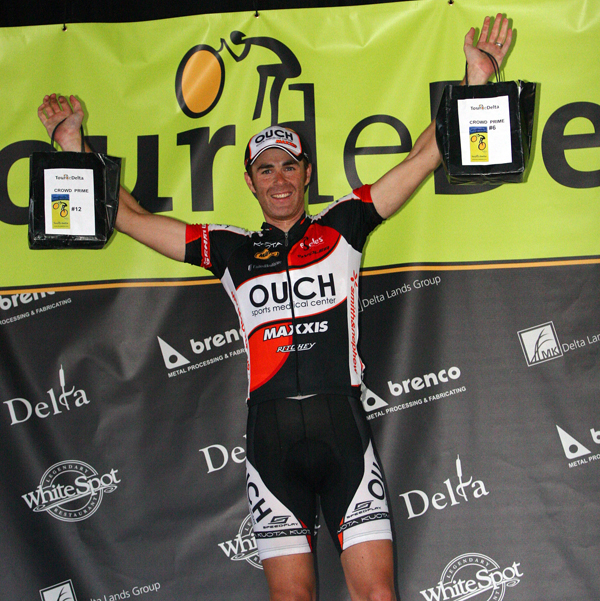 Andrew Pinfold (Ouch Pro Cycling) took the $2,500 crowd prime at the 2009 Tour de Delta's Brenco Criterium.
According to BC Superweek Race Director Mark Ernsting, BC Superweek offers numerous other benefits for North America's top men's and women's teams. In addition to the Global Relay Gastown Grand Prix ($40,000 criterium), BC Superweek includes the three-stage Tour de Delta ($25,000), the UBC Grand Prix ($10,000 criterium), the Giro di Burnaby ($15,000 criterium) and the three-stage Tour de White Rock ($15,000). The Series' six criteriums typically feature thousands more in primes, including crowd primes that have reached $2,500.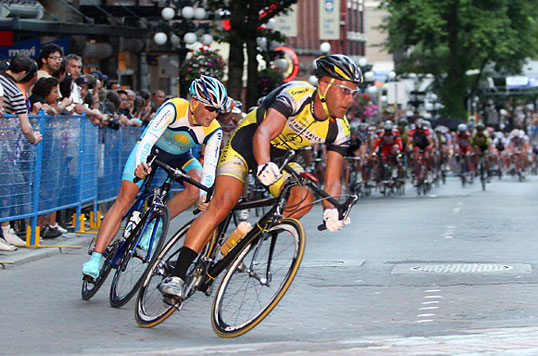 Svein Tuft (Symmetrics) leads Chris Horner (Astana) at the 2008 Gastown race
BC Superweek is a chance for riders to test themselves against North America's best. On the men's side, recent competitors include local hero Svein Tuft, Chris Horner, Tyler Farrar, Andrew Pinfold, Hilton Clarke, Zach Bell and Gord Fraser. On the women's side we've recently seen Ina-Yoko Teutenberg, Shelley Olds, Alison Sydor, Gina Grain, Kelly Benjamin and Joelle Numainville.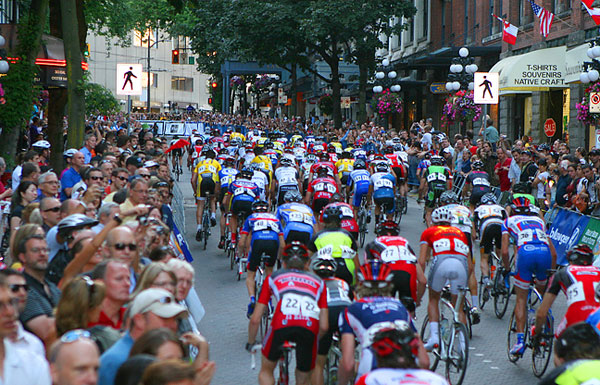 Between 20,000 and 30,000 spectators are expected for the Global Relay Gastown Grand Prix on July 11, 2012

Canadians love their bike racing and BC Superweek is one of the most anticipated sporting events in the Greater Vancouver area. In downtown Vancouver, twenty to thirty thousand spectators are expected to cheer on riders at the Global Relay Gastown Grand Prix, with thousands more spectators lining various other Lower Mainland courses throughout BC Superweek's nine days of racing. On top of that, BC Superweek's loud crowds are known for raising more than just their voices. BC Superweek's always hefty crowd primes recently included a $2,500 whopper won by Andrew Pinfold at the Tour de Delta's Brenco Criterium.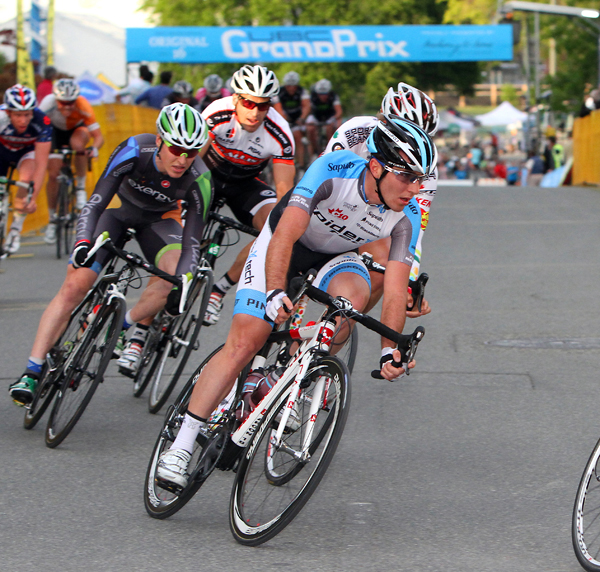 Ryan Anderson (Team SpiderTech powered by C10) ahead of Nic Hamilton (Jelly Belly p/b Kenda) in turn 1 of the 2011 UBC Grand Prix p/b Mahoney& Sons Public House
With a July 6th start date, BC Superweek fits perfectly on the racing calendar for men's and women's teams already headed west for Boise's Exergy Twilight Criterium and Oregon's Cascade Cycling Classic. For USA Crits competitors, BC Superweek features three crits between West Chester and Boise with $65,000 in cash prizes (UBC Grand Prix-July 10, Gastown Grand Prix-July 11, Giro di Burnaby-July 12).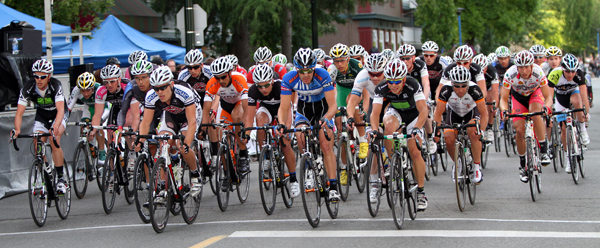 BC Superweek attendees in 2011 included: BC Superweek attendees in 2011 included: United Health Care, Kelly Benefit Strategies-OptumHealth, Team Exergy, Team SpiderTech, Jelly Belly, RealCyclist.com, Team H&R Block, Trek Red Truck Racing, Isorex and Garneau Evolution
BC Superweek helps teams maximize their travel and accommodation budgets with all stages conveniently located in the Vancouver, BC area, and host housing and hotel accommodation available on a first come first serve basis. There are even discounts available for riders and teams taking on all nine stages.

BC Superweek delivers near daily racing with nine races over 10 days. In addition to six criteriums (including the high-speed Gastown Grand Prix, with its brick streets and challenging hairpin corner) BC Superweek features one hill climb stage along with the 140 kilometre Tour de Delta White Spot Road Race and the 130 kilometre Tour de White Rock Road Race.

For more information visit www.globalrelayggp.org and www.bcsuperweek.ca

Join us on Facebook and Twitter at @GastownGP


Report courtesy BC Superweek, Photos Greg Descantes