April 3/12 9:05 am - 24 Hour Spin for Special Olympics BC

Posted by Editoress on 04/3/12

Results for the 24 Hour Spin for Special Olympics BC powered by Wendel's Bookstore & Cafe and presented by Canadian Velo Event Management Society presenters of the Prospera Valley GranFondo are as follows:

• 8 cyclists rode for 24 HOURS (taking 5 minute breaks every hour) from NOON March 31 to NOON April 1, 2012 in Fort Langley, BC.
• In that time they experienced rain, sleet and snow and a great showing of support from our community despite the weather.
• All 8 cyclists completed this extraordinary feat of endurance and rode almost 3,500 kms - this would be like riding from Langley, BC to Sault Ste. Marie, Ontario.
• A total of $1,358 was raised by donations on site at Wendel's over the 24 hour period.
• The cyclists were: Jeffrey Hansen-Carlson, Leigh McMartin, Katie Fitzmaurice, Nicole Law, Blair Charron, Clint Ruck, Dave Edmiston and Dave Bickell
• Our thanks go to Diane Morrison and her team at Wendel's for helping power the riders through this experience and for those in our community who supported us through encouragement and cash donations to Special Olympics BC!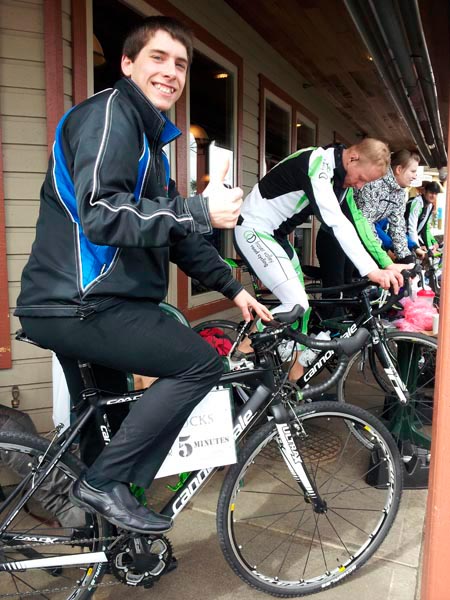 top: Matthew Williams from Special Olympics BC does a guest ride with the 8 participants
middle: The 8 participants who successfully rode for 24 HOURS
bottom: midway through the ride