April 4/12 10:25 am - The Race Within The Race - Day One, Team Sprint

Posted by Editoress on 04/4/12

Monique Hanley is a name that will be familiar to many of our readers. Monique is a Melbourne-based cyclist and Canadian Cyclist correspondent now working with us on her fourth world championship. For the opening day of these Track Worlds, Monique has investigated the 'race within the race' for the final Olympic Men's Team Sprint spot for the Americas between Canada, Venezuela and the United States.

Here in Australia over the past few days the local media will have you believe the 2012 World Track Championships are simply a final 'Australia v. Great Britain' dress rehearsal for the London Olympics. Okay, the men's team pursuit gold-silver ride off between Australia and Great Britain couldn't have been any closer and was pretty spectacular, and the disqualification of Great Britain from the men's team sprint, and the unlikely gold ride from the Australians will be plastered over every major news outlet in this country tomorrow. But away from the rainbow stripes there were some other classic battles were being fought tonight. And for once, the bad guys were the Venezuelans.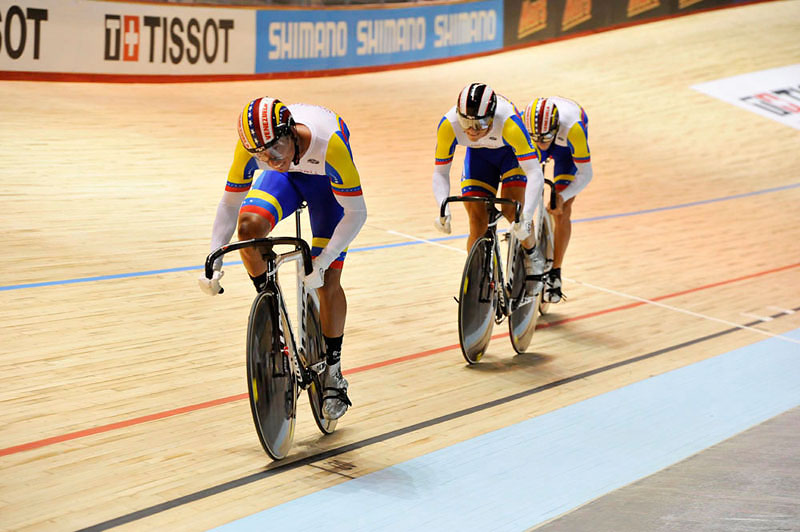 Venezuela was one of two teams to beat for Canada

In the men's team sprint, Canada was fighting for one of the last Olympic spots available. It was just a matter of beating United States and Venezuela. Both countries were ranked higher than Canada, but there were no guarantees for this spot. Quite simply, the fastest team today would get a ticket to London.

Riding in the third heat, with the U.S. to follow in heat four and Venezuela in heat five, it was up to the Canadians to set the time to beat. With only Olympic Qualifying on the line, it was a clean getaway from all three, with young Canadian starter Hugo Barrette leaping straight out of the start gates. Barrette's explosive start created a gap to Joseph Veloce who, with Travis Smith close on his wheel, was tasked with slowly reduced the spacing. By turn four, Veloce was back on the wheel and able to use his momentum to sling off Barrette's slipstream and commence lap two.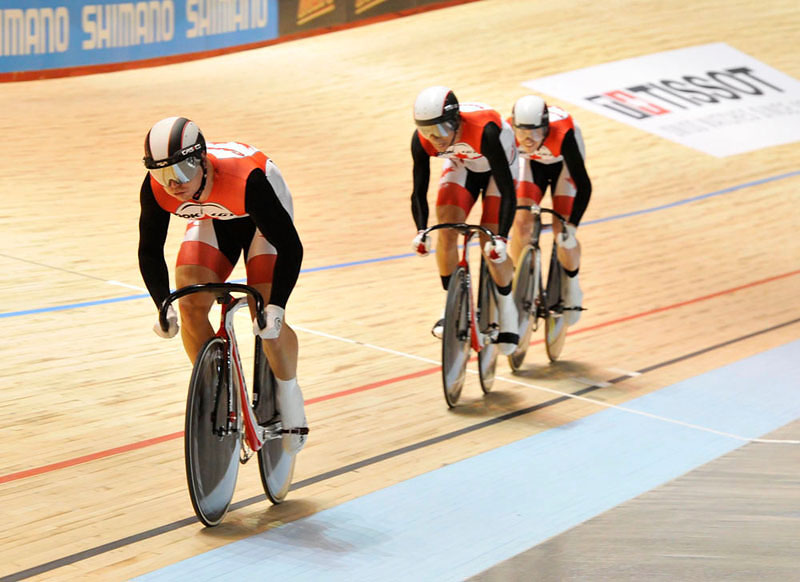 Barrette's start opened a gap on his teammates
Veloce powered on for a 13.212 second lap, and another clean change left Travis Smith to bring it home. A lap that was 'not at my best', according to Smith, resulted in a 45.192. Perhaps it might still be enough. A nervous wait began.

At the very least, the wait was a short one. The U.S. team, with starter Michael Blatchford at the helm opened with a lap of 17.946, and quickened with each exchange to finish with 44.788. A review of their exchanges by Commissaires determined that not one, but both exchanges were found to be outside the 15 metre long exchange zone, which also claimed Great Britain, Germany and Greece. With an official relegation, Camp USA had no official time. A fleeting moment of hope returned, but would the Venezuelans spoil it again?
They did. A 44.399, all with clean exchanges. The fate of the Canadian sprint team was sealed. Both Barrette and Smith are optimistic about the experience. Although his week is now done, Barrette can enjoy the sights of Melbourne, while Smith can focus on his favourite discipline, the individual sprint. [Note: See our video interviews with Smith and Barrette Here]

But how could Venezuela be the bad guys? It turns out that across the infield at Camp New Zealand, team officials were also mumbling about the red, yellow and navy. In order for the young New Zealand women's sprint team to qualify for the Olympics, they too needed to place higher than Venezuela and gain the additional UCI points on offer. Venezuela had snatched another Olympic dream.

Meanwhile, at Camp Venezuela, there were smiles all round. Having not qualified a track team for the Beijing Olympics, the country was now boasting a team of five track Olympians. For them, the shattered hopes of three other countries were a small price to pay.