April 13/12 18:28 pm - Mountain Bike World Cup Houffalize: Elimination report, results and photos

Posted by Editoress on 04/13/12

Annie Last (Milka Brentjens) and Brian Lopes have become the first World Cup winners in the new Eliminator discipline at Houffalize, Belgium. Both won in convincing fashion against strong fields.
The Eliminator was introduced last year as a test event, and this year becomes a full-fledged World Cup series, with three races and a world title on the line. The top 32 qualifiers from a timed lap of the circuit for both the men and women move onto the main competition: single lap races by heats of four riders, with the top two moving on to the next round.

The women's field saw Dutch rider Anne Terpstra (MPL Specialized) qualify first, followed by Kathrin Stirnemann (Sabine Spitz Haibike) and former Downhill world champion Tracy Moseley. Last and co-favourite Eva Lechner (Colnago Sudtirol) qualified further back, in sevnth and ninth respectively.

However, once the racing started, the skills and strength of these two cross-country competitors ensured that they would be in the final four. They were joined by Terpstra and unheralded Jenny Rissveds (Team Sweden).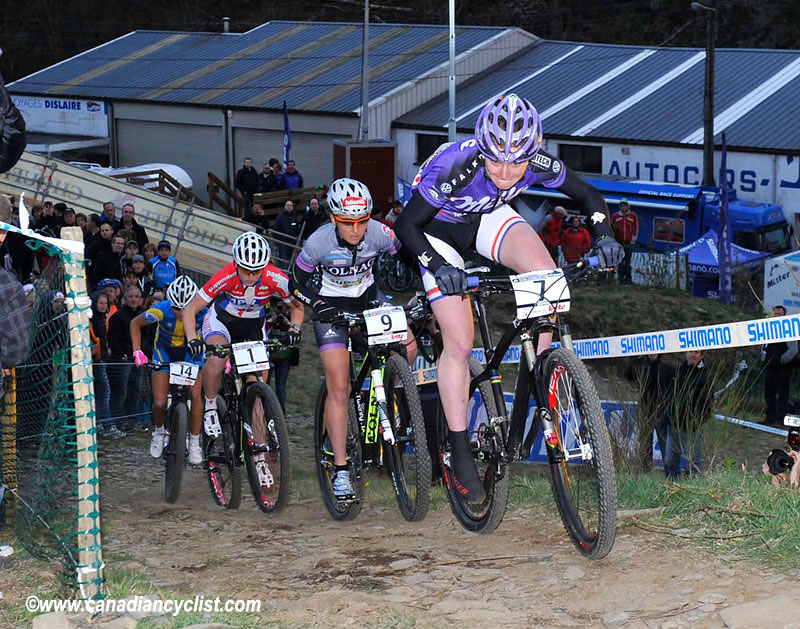 Annie Last leading Eva Lechner
Last got the holeshot out of the start, with Lechner having an uncharacteristically bad start and dropping to fourth at the bottom of the climb. By the top, Lechner was into second, but there was nowhere to pass on the narrow, twisting descent. The Italian did try a last ditch pass in the final corner, but caught her bars on last, taking both riders down. Last was first to regain her feet, and took the win. Rissveds took third, followed by terpstra, who had also crashed in an attempted pass of Lechner earlier in the heat.

"I am really pleased with this," commented Last. "It is a really, really tough course. The steep ups and downs mean you have to get a good start, or people can come around you on the hill. Getting the lead after the start makes a massive difference, it means have a bit more control of the race. You come out of the corner with a bit more speed. That one climb on the back you have to really jive."

"I almost lost in on the last corner. Eva tried to go to the inside, and we both went down. It was ok, cuz where it was was ok, no one else was there to come around."

"I had a very bad start on the final and was last for the climb," explained Lechner. "I tried to get to the front before the downhill but could only get to second. Then, I tried to pass in the final corner, but there was not enough space and I crashed. I'm happy with second, I tried for the win."

Lopes was untouchable in the men's competition, bursting down the start ramp and opening bike lengths before the riders even hit the climb. He would lose ground a bit on the climb, but then open it back up on the descent. Two favourites that did not make through qualifying were the Cannondale Factory team duo of Manuel Fumic and Marco Fontana. Fumic crashed on the descent, while Fontanat slipped his pedal early on the climb, landing on his top tube.

For the final, Lopes was joined by three relatively unknown riders - Daniel Federspiel (Notebooksbilliger.de), Simon Gegenheimer and Severin Disch (Thoemus Racing). Again Lopes got a strong start, however, he lost some ground on the first corner of the climb when he had to put his foot down. It made no difference, as he soon opened up a gap again to cruise to the win, followed by Federspiel, Gegenheimer and Disch. The win means that Lopes has World Cup wins in Dual Slalom, 4-Cross and Eliminator disciplines.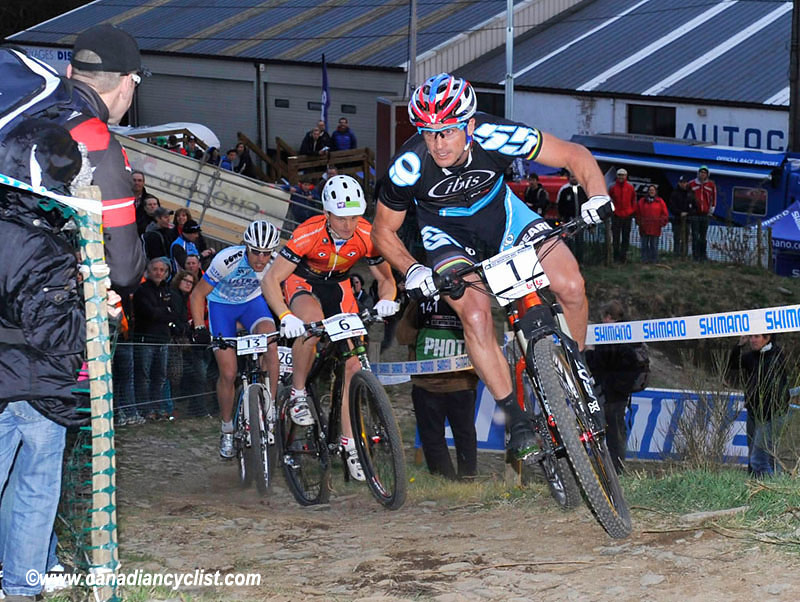 Brian Lopes at the front
"Oh I am just happy," commented Lopes. "I have been training a few months for these things and it is nice when you put in a lot of hard work and it pays off. I didn't think at 40 years old I'd be racing World Cups again, but I'm back. It's nice to get a victory."

"I've been racing BMX, 4-cross and so on since I was 4 years old and my specialty has always been getting a good start, getting out in front. I gotta be honest, I was a little worried with this course, a lot of climbing, a lot more climbing in it than I was training for and a lot different than the previous test events. So when I got a little tweet message from (cross-country rider) Todd Wells a few days ago, he was, like "I hope you lost some weight, cuz your gonna have to do a lotta climbing on this course", and I was like Whooo, we'll see. Hope I lost enough weight for yah buddy!"
Fatal error
: Uncaught Error: Object of class PDO could not be converted to string in /home/canadiancyclistcom/canadiancyclist.com/public/modules/news.php:528 Stack trace: #0 /home/canadiancyclistcom/canadiancyclist.com/public/modules/news.php(517): getrelatedgallery() #1 /home/canadiancyclistcom/canadiancyclist.com/public/dailynews.php(58): getDailyNewsArticle() #2 {main} thrown in
/home/canadiancyclistcom/canadiancyclist.com/public/modules/news.php
on line
528