April 19/12 21:06 pm - SpiderTech looking for Stage Win at Tour of Turkey

Posted by Editoress on 04/19/12

The Presidential Tour of Turkey begins on Sunday, and Canadian Cyclist will be there providing daily coverage. Prior to the start, the race organizer has provided the following interview with Canada's SpiderTech team director Steve Bauer:

His third place at the Under-23 worlds in Australia in 2010 had placed Guillaume Boivin in the limelight, and made the SpiderTech rider one of the brightest prospects of a fast improving Canadian cycling. And then all went wrong in 2011 - a lingering knee injury and a forced off season delayed the blossoming of the fast Canadian, who comes to the Presidential Cycling Tour of Turkey craving results: "He is hungry, he is really hungry for a win," said team director Steve Bauer.

"He had to go though a complete rebuilding. He had a lot of chronic pain in the knee. Then we found out that the legs had different lengths and so on. It was a long process. And then he returned to competition last year in June and crashed. It was very frustrating after coming third at the Under-23 worlds."

Steve Bauer, the icon of Canadian cycling who finished fourth in the 1988 Tour de France, is all the more concerned by Boivin's results as he sees a lot of the young rider he was himself in his leader: "He has a good sprint and is very similar to myself as a young rider on the sprint side. I can see him mature into a strong Classics rider for races like Flanders and later into an all-round solid guy."

Boivin confirmed his talent last week by finishing third in the Tro Bro Leon in Brittany, a race won by his team-mate Ryan Roth.

Bauer hopes for Boivin's hunger to turn into a stage victory, Team SpiderTech C10's main goal in Turkey: "We have a young team with a focus on the sprinter types. So we're obviously looking for a stage win. Our GC expectations are not so high."

However Boivin is not the only hope for the Canadian outfit, who have progressed every year, with a spot in the World Tour in mind for the future. His victory in Brittany was clear indication of Ryan Roth's brilliant form. The idea will be to have riders in the breaks and Bauer also sees 2010 Canadian champion Will Routley as a potential chance in this role. It will however be harder for Texan Pat McCarty, very active last year, but who is just recovering from mononucleosis.

For SpiderTech C10, who receive more and more invitations to world level races, the Presidential Cycling Tour of Turkey is a crucial opportunity to collect the laurels and points needed to one day make it into the top flight.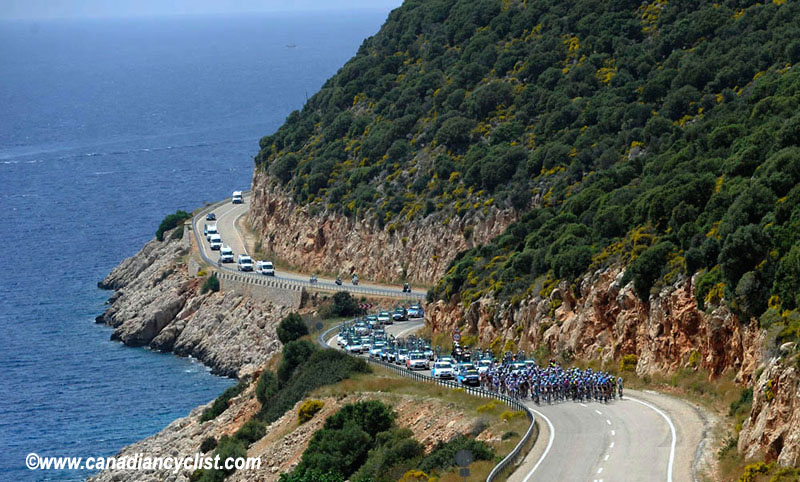 Riders follow the coastline at 2011 Tour of Turkey
"For a team like us, the Tour of Turkey is extremely important. It's a nice race that fits our capabilities. It's not over our heads. There nothing like a 2.HC stage race like the Tour of Turkey to help us to progress," Bauer said.

The best Canadian rider in history is on a mission to bring his country's riders to the very top and he is convinced that they are not so far out.

"That's the reason why I'm back into the sport in this way. I saw the change. There's a substantial amount of talent in Canada now. And I'm convinced the potential is there to build a World Tour team. We need to keep focused and bring new sponsors to the table," he said.

And even though some of the best Canadians tend to try their luck abroad - SpiderTech for instance lost Svein Tuft to Greenedge in the mid-season - Bauer is not too worried about the future.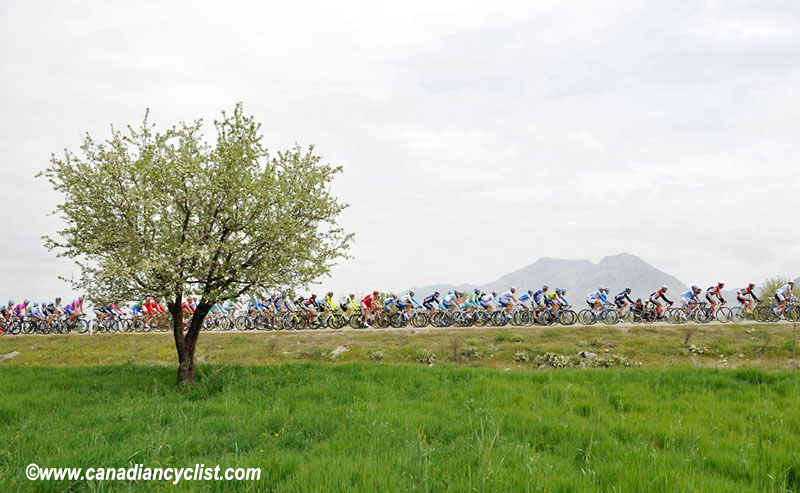 "We're a growing team and the riders are growing with us. I can understand why some riders who grow quicker than we do might want to leave and go on the World Tour. But I'm convinced that if we pay them the right salaries and provide the right infrastructure, the best Canadian riders will stay with us."

Team SpiderTech C10 on the Presidential Cycling Tour of Turkey (Canadians unless otherwise stated): Guillaume Boivin, Martin Gilbert, Hugo Houle, Keven Lacombe, Simon Lambert-Lemay, Patrick McCarty (USA), Ryan Roth, Will Routley.