April 20/12 16:00 pm - Blizzard Bike Club News

Posted by Editoress on 04/20/12

Latest news from the Blzzard Bike club in Fort St John, BC

April 19th - Thurs Baldonnel time trial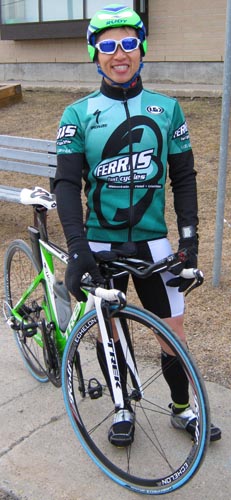 Irvin "The Missile' Tang (photo right) made it three wins in a row on the Baldonnel time trial circuit, Thursday night. His time of 25:58 minutes was the season's fastest time. Kevin Shaw was second at 26:19, and George Gamble 26:47. Sandy McDonald was 4th at 28:37 and Gord 'the Hammer' Harris 5th at 29:23.

Tate and Nicki Haugan had 14:01 and Tanner and Heather McCracken 26:24 for the 8 km.

Eighteen riders came out under warm and breezy conditions.

Thanks to Pat Ferris for timing!

Other times were Richard Wood in 6th at 29:46, Trevor McDonell 30:51, Barb Polehoykie 30:59, Sam Keats 31:22, Norma Webster 33:39, Hilda Bilodeau 33:44, Davide Loro 34:04, Christina Woodruff 38:05 and Dian Loro 42:25.

Sunday is a road race from Humpty's at 2 pm. There will be a 50 k and a shorter 30 k distance as well.

www.ferrisfastcycles.com or look for them on Face book.
April 16th - Rocky Road Race and Spring Stage Race final

Blaine Richter of Grande Prairie won Sunday's tough and muddy Rocky Road Race for his fourth time. He did the 38 km Peace View circuit in a time of 1:16:54 hours. 2010 winner Kevin Shaw was second at 1:22:38 and Chris Wagner third at 1:42:14. Pat Ferris was forced out by a mechanical.

Celeste Pakstas won the women's event, doing the one lap in 50:40 minutes. Sam Keats also did the one lap distance in 1:01:10.

The off road route was very muddy, leaving the bikes clogged with mud and gravel. The route was soft and slow but everyone enjoyed the circuit, just the same. The pavement event had perfect dry pavement and the warm sun.

Bob Andrews won the pavement race, doing the 25 km distance in 44:34. Gord Harris was second at 45:15 for second, Barb Polehoykie 45:44 for third, Hilda Bilodeau 46:50 for 4th and Dian Loro 52:17 for 5th.

Thanks to George Gamble for timing!

The Rocky Road Race was the final event in the Spring Stage Race series. Kevin Shaw is the overall points winner with 29 points. Irvin Tang is second with 23 and George Gamble third at 18. Pat Ferris had 15 for 4th and Gord Harris 5th at 10.

Celeste Pakstas won the Women's Spring Stage race with a solid perfect score of 35 points. Barb Polehoykie was second with 20, Dian Loro third at 9, Norma Webster 4th at 6 and Hilda Bilodeau 5th at 3.

Kelsey Young was the repeat winner of the Under 19 with 10 points.

Coming up:

-Thursday Baldonnel time trial at 6:30 pm.

-Sunday is a road race from Humpty's at 2 PM. The route goes out to 100th, Montney Highway to the old Montney Highway and then return.

www.ferrisfastcycles.com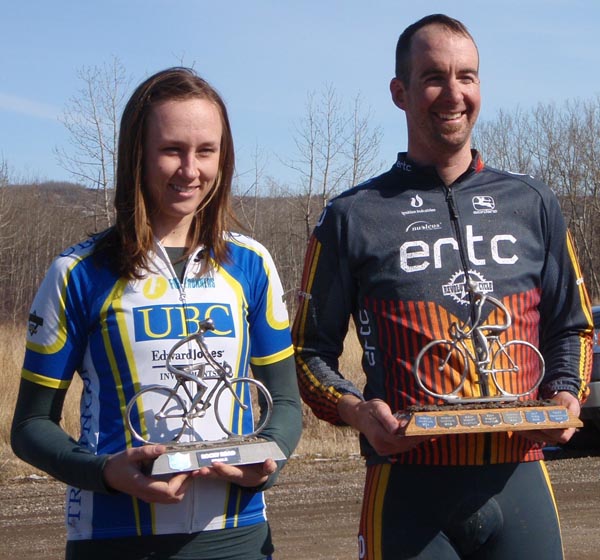 Celeste Pakstas Blaine Richter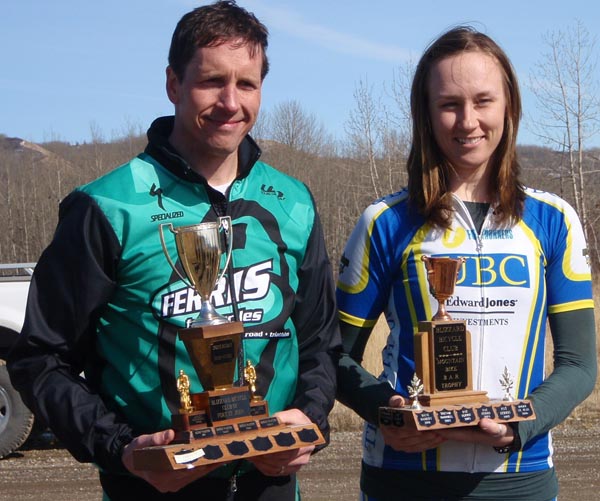 Kevin Shaw and Celeste Pakstas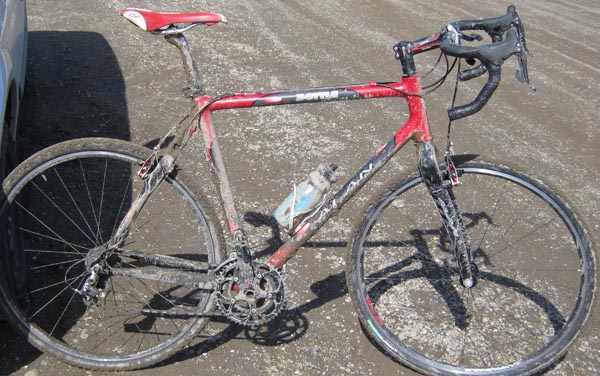 Survivor of the tough and muddy Rocky Road Race