April 27/12 9:35 am - Blizzard Bike Club News

Posted by Editoress on 04/27/12

Blizzard Bike Club News from Fort St. John BC

Thursday April 26th
Sunday will be the 29th running of the 15 Mile Trophy's on the Montney Road. Defending winner Colter Young won't be there but past 4 time winner Bob Andrews and 12 time winner Pat Ferris will be there along with Irvin 'the Missile' Tang who has been deadly in all the time trials so far this year. George Gamble and Kevin Shaw will also be tough.


Barbara Polehoykie is defending Phoenix trophy winner for the women and has won this twice, as has Sandy McDonald. Lisa Verbisky won this 6 times over the years. Kelsey Young is defending 'Under 19 trophy winner.

Race time is 10 am at the intersection of 100 Rose Prairie road and the Montney Highway.

(Thursday's Time trial was cancelled due to rain but Tate and Nicki Haugan did ride the 8 km!)


Sunday April 22nd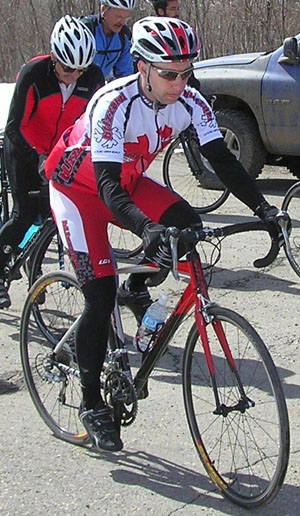 George Gamble (right) won a close sprint over Kevin Shaw in Sunday's Montney 55 km road race. They had a time of 1: 46:28 hours. Les Elliott was third at 1:49:04. Gary Hilderman out sprinted Richard Wood and Pat Ferris for 4th at 1:50:11. Dan Webster was 7th at 1:55:00, Sam Keats and Jake Elliott 1:58: 36 and Davide Loro 2:01:37.

Gord 'The Hammer' Harris edged out Richard Moody to win the 30 k Bickford event with 1:03:48. Hilda Bilodeau was third at 1:04:58, Nicky and Tate Haugan 1:08:47, Chris Wagner 1:12:40, Victoria Szoo and Jennifer Szoo 1:15:41, Melanie Chapple and Dian Loro 1:17:48.

Norma Webster and Sarah Webster did 1:28:59 for 20 km's.

Thanks to Patricia Emery for timing!

22 riders came out on a very nice day for cycling.