May 1/12 12:01 pm - Sparling Second at CiCLE Classic

Posted by Editoress on 05/1/12

Team Raleigh-GAC scored their 14th podium of the season with a dramatic second place finish in Sunday's Rutland-Melton CiCLE Classic.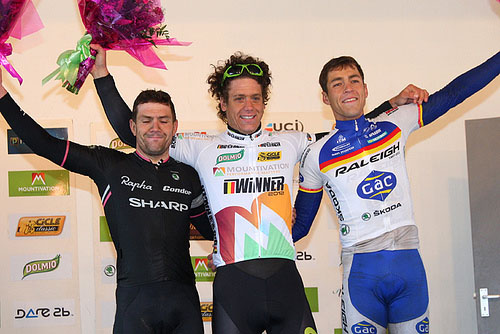 Over 150 riders lined up in the rain in Oakham but due to the torrid weather conditions just 22 made it to the finish line in Melton, with five Team Raleigh-GAC riders amongst those finishers.

Riders raced along farm tracks awash with rivers of mud, being battered by strong winds and lashing rain. Near freezing wind-chill temperatures made keeping the riders dry and warm quite a challenge. Our riders went through their stock of MOA winter gloves and our team car took a battering as we tried to keep up with the action on the off-road sections.

Jamie Sparling finished alone for Raleigh-GAC just under two minutes behind the race winner, Alexander Blain (Endura Racing), claiming for himself the King of the Mountains title and second place in the Sprints competition plus "30 UCI points and a lot of dirty kit" in the process.