May 8/12 9:19 am - Hazzard Report - Spidertech Ride With the Pros

Posted by Editoress on 05/8/12

For some reason, we seem to have entered a Report frenzy. While we do not intend to turn CC into a report site, we will continue to post reports from individuals on a case-by-case basis. This latest one is from Kevin Hazzard on the Spidertech sponsor ride held last weekend.


Saturday was the third annual Spidertech Ride With the Pros. The event was held in a mix of sun and cloud, temperatures hovering around 12 degrees, wind blowing at 22km/h coming from the south and a barometric pressure of 104.5kPa. This was good news for me because I excel in these exact conditions. To say I was motivated for this event is an understatement. I knew my form would be good because I had done specific preparation, beginning my taper in early September. This combined with having only one race day in my legs meant I could arrive to the start line fresh with positive sensations.

The best part about being on a team like Domestique Café Cyclo-Sportif et Boulangerie is the support system. Team manager Krys Hines took care of all the details, meaning I could focus solely on the task at hand. I was able to have my favorite pre-race meal: McDonalds breakfast menu combo #1. We were also able to arrive at the venue four hours in advance to mentally prepare.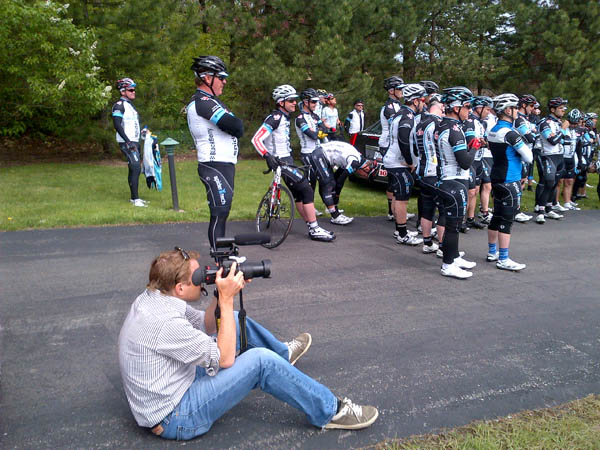 Participants enjoy a pre-ride pep talk
In our pre-race meeting Krys discussed the tactics for the day. He advised me that the Spidertech team would be the ones to watch as they are coming off a block of racing in Europe. Although Krys does call the shots I questioned his judgment. They've had some fantastic results in Europe but the riding in Ontario is on a different level. I felt they may lack the speed necessary for Ontario riding. Krys also pinned Canadian legend Steve Bauer as a rider to watch today. While he is the greatest Canadian cyclist of all time, his results have been somewhat quiet these last two decades. Krys however felt he was due for a breakthrough ride and thought today might be the day. Again, I questioned his judgement but was resigned to agree.

As I rolled to the start line I realized the ride would begin about five minutes later than I had anticipated. A sickening sense of panic set in. My whole nutritional plan was about to be blown. I eat three hours before a race. Anything longer and I won't have the energy required to maintain my cadence throughout the day. Knowing what my fate could be I quickly ran back to the van to consume two chocolate croissants in an attempt to salvage the day. With barely enough time to swallow the last bite the whistle was blown and the ride was off. I had done everything I could've possibly done. As I rolled out I heard Krys shout his last words of encouragement; "go with God". I knew today was going to be a good day.

With the ride underway, it was time for me to focus. We were out for 80 kilometres so I wanted to be sure I saved as much energy as possible and kept myself hydrated. I'll save you the details of the first half of the race and jump right into the action. As we got into the last half of the day the pace and intensity started to pick up. Attacks were flying and groups were shattering and re-forming. This is where I could show off my racing experience and my skills as a cunning linguist. When I was in the field I'd say I had a man in the break. When I was in the break, I'd say I had a man in the field. Both gave me an excuse to sit on and save my legs for the finale. Of course, I'm the sole rider on Café Domestique Cyclo-Sportif et Boulangerie but sometimes you've got to play dirty if you want to win. Nice guys finish last.

Coming into the last ten kilometres it was 'a bloc' as the Euro's say. I had managed to stay in the front selection for most of the ride and felt a good level of fluidity in the cadence. Bauer was the first to attack and it was clear he was on form. Counter attacks flew on the penultimate climb of the day and the group was at the cracking point. Coming under two kilometres to go a rider put in a ferocious attack which I thought could go the distance. I don't know what concerned me more, the fact he could take the win or the fact that Krys's race prediction was proving accurate. I knew his sense of smugness would be overwhelming.

Thankfully this rider was caught and we were set for a bunch sprint on the slightly uphill drag to the finish. I was in prime position sitting fifth wheel with about 500m to go when disaster struck. I couldn't get into my 11 cog. The resin from the 14 Cliff Shots and 8 bottles of Gatorade I had consumed had dripped down my frame, clogging the cable guides under my bottom bracket. I had to settle for third. Angrily I threw my bike into the trees and cursed loudly for the hundreds of spectators and small children to hear. I looked up and saw the anger in Krys' eyes. I knew I had let him down. Third was not acceptable and it was clear I would be riding home as punishment.

While my result was disappointing, overall it was a great event and something I enjoyed being part of. The police support was great giving us added protection on the road. Although, I'm not quite sure why we needed it as we were all wearing helmets, and everyone in the world of bicycle advocacy knows the helmet is the solution to all cycling related accidents. So in that sense, while the police gave us an added feeling of security, they were effectively useless in a way wearing two condoms would be useless during sex.

Up next for me is a much deserved rest. I'll take the rest of the summer, fall, winter and vast majority of the spring to recoup my energies and be back ready to win at my next race, the Good Friday Road Race. Stay tuned for my report!