May 9/12 10:46 am - Crankworx Whistler Announces 2012 Schedule

Posted by Editoress on 05/9/12

World's Largest Freeride Mountain Bike Festival Back In Whistler For Ninth Year

Crankworx Whistler will be back August 10th through 19th, 2012 to once again defy physics, worship gravity and crown legends. The constantly evolving event line-up, including the new Dual Speed and Style presented by Avid on August 11, delivers on Crankworx's mandate to host the most progressive freeride events in the world. One of the largest cash prize purse in downhill racing will also be offered at the Jeep Canadian Open Downhill, ensuring the best DH bikers in the world are richly rewarded in Whistler this summer.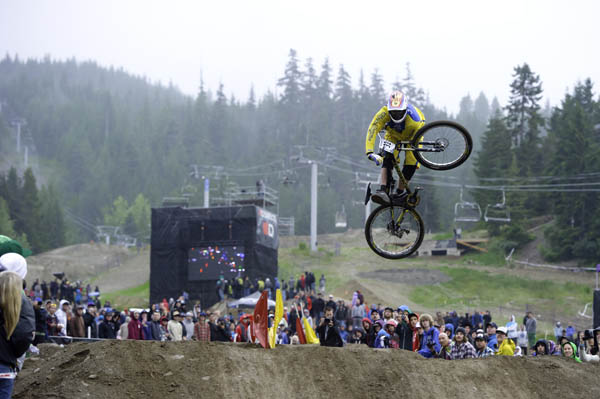 2012 Crankworx Whistler Event Schedule:
Friday, August 10: Fat Tire Crit
Saturday, August 11: Canadian Open Enduro
Saturday, August 11: NEW Dual Speed and Style presented by Avid
Sunday, August 12: Garbanzo Downhill
Monday, August 13: Ride Day
Tuesday, August 14: TBA
Wednesday, August 15: Air Downhill
Wednesday, August 15: Deep Summer Photo Challenge
Thursday, August 16: Teva Best Trick Showdown
Thursday, August 16: Ultimate Pumptrack Challenge presented by Rock Shox
Friday, August 17: Red Bull Joyride qualifying
Friday, August 17: Dual Slalom
Saturday, August 18: Red Bull Joyride Finals
Sunday, August 19: Jeep Canadian Open Downhill

Event registration will open June 1 and mountain bikers of all ages and competitive backgrounds can sign up to compete for over $175,000 in cash and prizes. Ten days of non-stop action will attract hundreds of athletes from elite World Cup downhill racers and the top freeride stars to ambitious amateurs looking to challenge the world's best riders.

"We are still firming up details for a few more exciting announcements, but in the meantime everyone should get the event line-up for Crankworx Whistler into their calendar," says Darren Kinnaird, General Manager of Crankworx. "We are adding a new event, the Dual Speed and Style presented by Avid. It will feature an invitational field of riders including top FMB athletes, the best dual slalom athletes and some of the best all-around riders in the world."

"The other exciting announcement is that in partnership with Jeep, we have been able to increase the prize money for the newly titled Jeep Canadian Open DH. This will be one of the richest prize purses currently offered in downhill racing with $10,000 up for grabs for the men's first place and $5,000 for the women's first place," says Kinnaird.

One of the highlights of 2011, the game changing Red Bull Joyride slopestyle, will return to the Whistler Mountain Bike Park for freeride glory on Saturday, August 18. The Joyride slopestyle course is being built once again by Paddy Kaye's team at Joyride Bike Parks with major input from the riders themselves.

"We've compiled the rider feedback from 2011 and have started discussing new ideas with the athletes for 2012. The common theme seems to be 'bigger,'" says Kaye.

Fusing elements of slopestyle, dirt jump and North Shore mountain biking, Red Bull will be calling on the world's best riders to compete in Red Bull Joyride, one of only two Diamond stops on the Freeride Mountain Bike Association World Tour.

With more announcements and exciting new partnerships to announce in the coming weeks, stay tuned to www.crankworx.com and connect with Crankworx through Facebook.com/crankworx or Twitter.com/crankworx. Watch the latest video for Crankworx 2012 right now: crankworx.com

Home to hundreds of game-changing moments in freeride mountain biking's history, Crankworx Whistler is a ten-day festival devoted to celebrating epic endurance, supreme flow, monster air and vertical-dropping riding. Crankworx Whistler attracts the downhill, slopestyle and enduro legends of the world, to defy physics and blow minds, with their hard-charging, tail-whipping, back-flipping ways. Pay homage August 10-19, 2012 at Crankworx Whistler, the most progressive freeride event of the year.

The ninth annual Crankworx Whistler is presented by Whistler Blackcomb and the Whistler Mountain Bike Park. Crankworx Whistler is the biggest annual event held in Whistler and is also the largest freeride mountain bike festival in the world. Crankworx Les 2 Alpes will take place for the first time July 9-15, 2012 and is the first Crankworx event to take place outside of North America. This new event will build on Crankworx's legendary legacy in the arena of freeride mountain biking.