May 13/12 20:13 pm - Nove Mesto MTB World Cup: Men's and Women's Xc report, photos and results

Posted by Editoress on 05/13/12

As the end of the Olympic qualification period approaches, the intensity of racing increases at the Rockyroads.net UCI Mountain Bike World Cup presented by Shimano. Round three of the cross-country series, in Nove Mesto na Morave, Czech Republic, saw close battles in both the Elite races on Sunday. Julie Bresset (BH-SR Suntour-Peisey Vallandry) became the third winner and leader of the women's series, while Nino Schurter (Scott-Swisspower) increased his lead in the men's series, after a fierce battle with defending champion Jaroslav Kulhavy (Specialized), racing before a home crowd.

Canada had multiple strong performances, with three Canadian women in the top-10: Catharine Pendrel (Luna) in 6th, Marie-Helene Premont (Rocky Mountain) 9th and Emily Batty (Subaru-Trek) 10th. In the men's race, Canadian champion Max Plaxton (Specialized) had his best-ever European World Cup to finish 14th, with Geoff Kabush (Scott-3Rox Racing) 18th.

The 25.5 kilometre women's race saw world champion and series leader Catharine Pendrel struggle in the opening loop, dropping back to the mid-20s in the field and losing over 40 seconds on her rivals. Her Luna team mate Katerina Nash, racing in front of home fans, jumped into an early lead, before being joined by Bresset after one lap.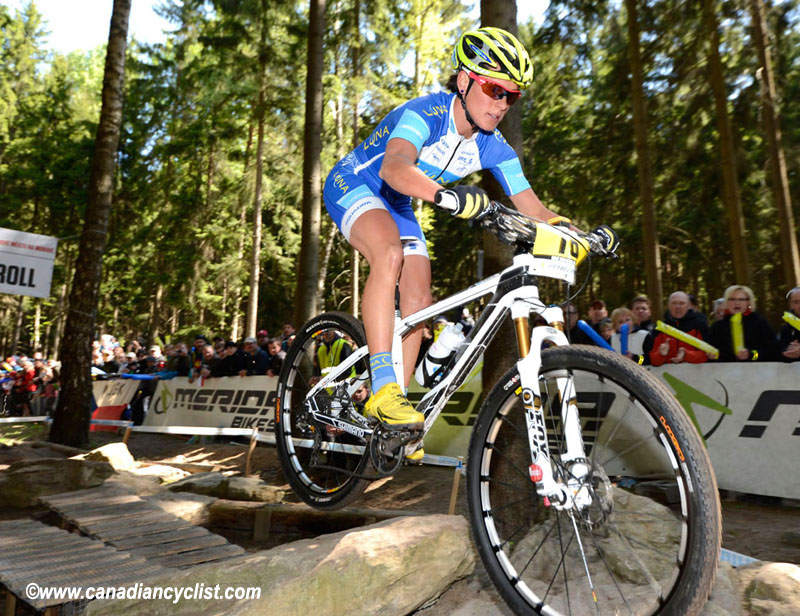 Katerina Nash was the early race leader


A group of chasers attempted to join the leaders, including Maja Wloszczowska (CCC Polkowice), the winner of round one, Blaza Klemencic (Felt Oetztal X-Bionic) and Gunn-Rita Dahle Flesjaa (Multivan Merida). However, only Irina Kalentieva (Topeak Ergon) and, amazingly, Pendrel, were able to make it to the front. Kalentieva joined Bresset on lap three and Pendrel bridged up a lap later, with one lap to go. Nash at that point had faded to fourth, just ahead of team mate Georgia Gould, who had moved up steadily all race.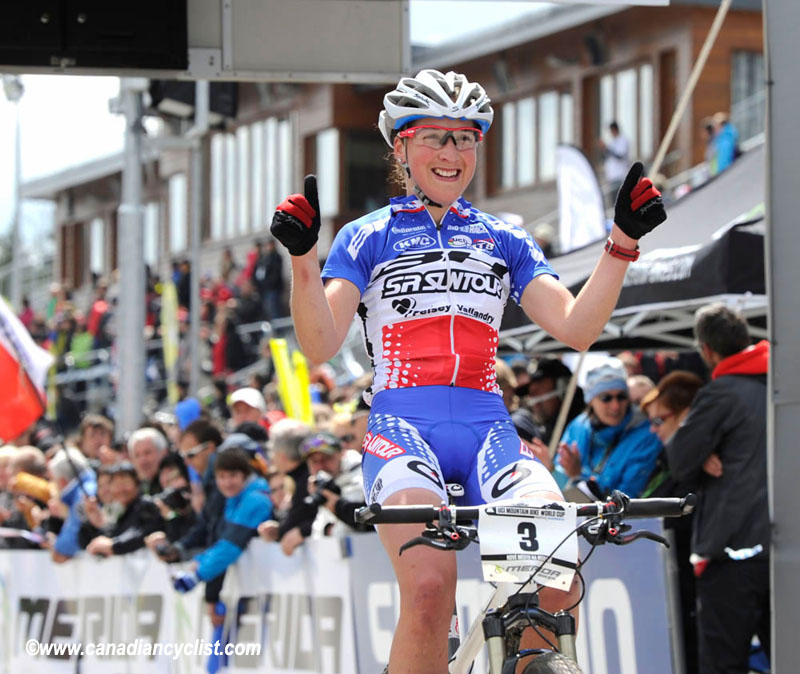 Julie Bresset wins

Bresset attacked on the climb on the final lap, dropping first Pendrel and then Kalentieva, to solo in for her first World Cup win of the year. Kalentieva hung on for second, but Pendrel faded to sixth, with Nash taking a very popular third and Gould finishing fourth, outsprinting Klemencic.
In the overall standings, Bresset leads with 590 points to Pendrel's 540, with Wloszczowska a further 10 points back. Batty is fifth in the standings, with 415 points, and Premont is 13th with 242 points. All three are battling for the two Olympic spots Canada has in the Mountain Bike event.
"I had a good feeling in my legs," explained Bresset, "and I like this course very much. Katerina [Nash] went out very fast at the start, but I was slowly able to bring her back. I was most worried when Catharine [Pendrel] joined us, because she is a very strong and experienced rider, who won here against me last year."
"Some days everything goes perfect, and other days it doesn't," commented Pendrel. "I was shocked after the start lap to find out I had lost over 40 seconds. I was able to make it back to third for a while, but I could really feel it in my legs on the last lap. This just makes me a little more hungry for the next one. It's exciting with the level of the riders right now, and three different winners in three races."
(Note: We have video interviews with both Catharine Pendrel and Marie-Helene Premont HERE)
In the men's field the competition was expected to be between Schurter, Julien Absalon (Orbea) - the winner of round two - and Kulhavy, who won here last year and was expected to up his game considerably for this race.
Five riders opened a gap after the start loop, but Absalon wasn't one of them; after a crash in the rock garden and struggling to stay in the mid-20s, the rumoured to be sick French champion abandoned on lap four.
At the front, Kulhavy and Marco Fontana (Cannondale) had opened a small gap after one lap on a chase group containing Schurter, Burry Stander (Specialized), and Ralph Naef (Multivan Merida). These five would prove to be the key riders in the race, as they rode within seconds of each other for the first four laps.
Fontana and Naef were dropped by the other three on lap five, and then Schurter attacked on the final lap to record the only sub-13 minute lap of the race. It was only slightly faster than Kulhavy, pushed along by the roar of the crowd, but it was enough to give the Swiss rider a six second gap on his rival, and his second win of the season; on his birthday, no less. Stander soloed in for third, with Fontana finishing just ahead of Naef for fourth.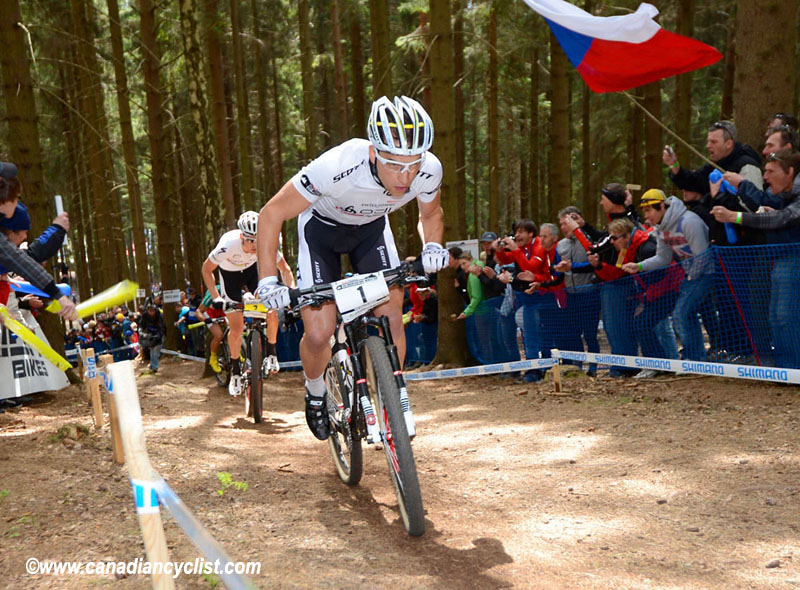 Nino Schurter at the front


"It was a real hard race," commented Schurter. "I had a small mechanical on the first lap; my chain dropped off and then I had to gain connection with the leading group, and that was quite hard for me. It was a really awesome race here in front of the Czech crowd. . The crowd here is unbelievable, so great. On the uphill it was so loud - everybody was cheering - it makes it fun to race in front of a crowd like this. And they are really fair, they cheer for a Swiss guy too, not just for Kulhavy."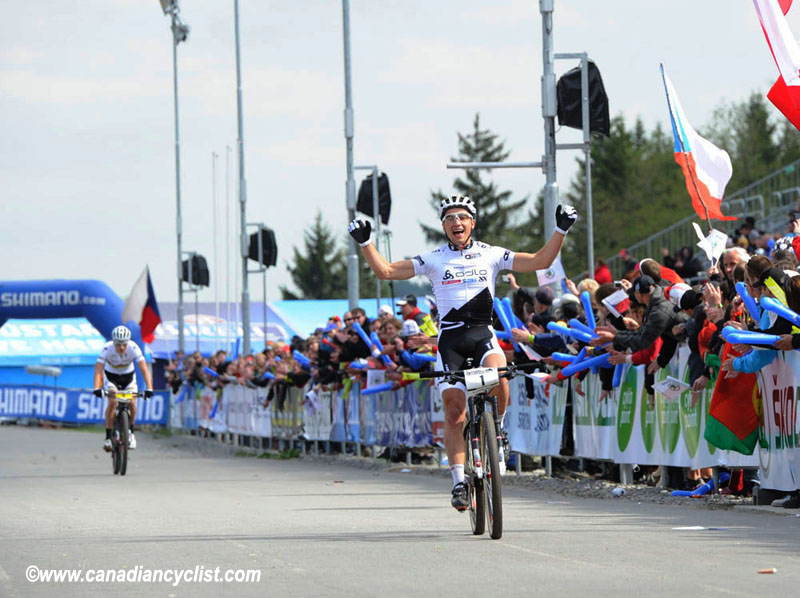 Schurter wins a World Cup... on his birthday


"The best is when you can win on your birthday. I had some more energy today, being my birthday and I wanted to win. It is really a great feeling to win a World Cup on your birthday."

Plaxton started the race mid-field, but quickly moved into the top-20. He moved into 14th place with three laps to go, but could not manage to overtake any other riders, finishing up two minutes and 32 seconds behind Schurter. The result will bolster his chances for one of two Olympic spots Canada has.

"I felt great out there," stated Plaxton. "I always knew that I had it in me, I just had to put it together. I'm pretty happy with a top-15, but I know that I can do a top-10."

(Note: We have a video interview with Max Plaxton)

Schurter leads the overall rankings with 700 points, followed by Burry Stander with 510 and Kulhavy at 425. Geoff Kabush is the top Canadian, in 20th place with 192 points, followed by Plaxton in 33rd, an improvement of 20 places.
Fatal error
: Uncaught Error: Object of class PDO could not be converted to string in /home/canadiancyclistcom/canadiancyclist.com/public/modules/news.php:528 Stack trace: #0 /home/canadiancyclistcom/canadiancyclist.com/public/modules/news.php(517): getrelatedgallery() #1 /home/canadiancyclistcom/canadiancyclist.com/public/dailynews.php(58): getDailyNewsArticle() #2 {main} thrown in
/home/canadiancyclistcom/canadiancyclist.com/public/modules/news.php
on line
528