May 19/12 17:24 pm - Chrono Gatineau: Clara Hughes Takes the Win for a Second Time!

Posted by Editoress on 05/19/12

Specialized lululemon takes the hat-trick and 4 out of the top 5!

It was the perfect morning for a race in Gatineau as the sun shone on the 47 riders preparing to tackle the 18.4 km Chrono Gatineau Rona time trial. The course took the riders twice around a 9.2 km loop containing one 500 metre climb at 5.9 % and a few technical turns including a tricky roundabout. A very strong field was scheduled and Specialized lululemon was the team to beat with last years' winner and popular rider Clara Hughes (Can), Amber Neben (USA), US champion Evelyn Stevens and Ina-Yoko Teutenberg (Ger). Other riders to watch included Australian Champion Shara Gillow (GreenEdge), Canadian track specialist Tara Whitten (TIBCO to the top) and British champion Nicole Cooke (Faren Honda Team).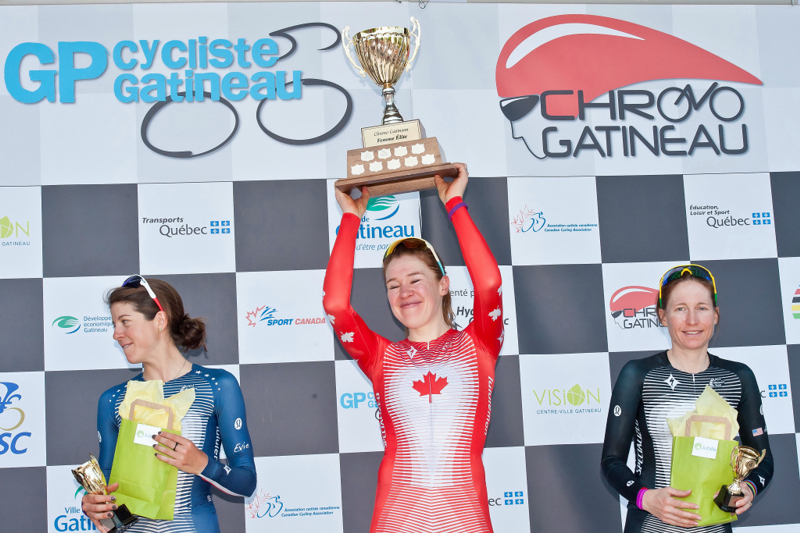 Stevens, Hughes, Neben
American Marty Shea (Destination Cycling) posted the best early result with a strong time of 25:44.82, which would remain on top of the leader board for almost an hour. It took German powerhouse Ina-Yoko Teutenberg (Ger/Specialized lululemon) to top her with a very fast time of 24:38.45, averaging 44.88 km/h!

This excellent time was soon beaten by Teutenberg's teammate Evelyn Stevens (USA,/Specialized lululemon), current US time-trial champion, who blasted through the first part of the course. Stevens was the first rider to complete the first lap in under 12 minutes. Her final time of 24:04.56 put her 34 seconds ahead of Teutenberg and was looking very good. The next riders had their work cut out, and Stevens' time seemed untouchable with only Amber Neben (USA/Specialized lululemon) coming close with a time of 24:16.44, 12 seconds slower.

Pressure was building and the spectators were getting enthusiastic as the last riders in the final heat took the road. All eyes were on last starter Clara Hughes, but a few other strong riders were still to come. Canadian Rhae Shaw (Canadian National Team) impressed by clocking a time of 24:51.42. Tara Whitten (TIBCO to the top) didn't disappoint: she flew through the midrace point and finally clocked the provisional 3rd best time of 24:27.24, only 22 seconds slower than Stevens.

Now only 3 riders were still on the road: Shara Gillow, Nicole Cooke and the crowd favourite Clara Hughes. At the turn around, Hughes was just a hundred metres behind Cooke and closing fast – the crowd cheered as she took the roundabout right on the heels of the British rider. Gillow came in with a respectable 25:00.23, but everyone was looking at the clock: Clara had powered passed Cooke and was flying toward the finish line. Cheers went up in the crowd as she took the final roundabout to come home with the winning time of 23:65.76, beating her teammate Stevens by 7.8 seconds with an average speed of 46.13 km/h.

Again, 39 year old Clara Hughes showed that she's one of the best riders in the world against the clock. During post-race comments she said her motivation is high for the London Olympics, and surely, all Canadians will have eyes on her in late July. After the race, Specialized lululemon Race Director was all smiles, having placed four riders in the top 5, with only TIBCO's Tara Whitten challenging the German team's domination.

After such a demonstration today, Specialized lululemon are expected to shine in Monday's road race, but other strong teams will also be in contention for the win.

Full results
Fatal error
: Uncaught Error: Object of class PDO could not be converted to string in /home/canadiancyclistcom/canadiancyclist.com/public/modules/news.php:528 Stack trace: #0 /home/canadiancyclistcom/canadiancyclist.com/public/modules/news.php(517): getrelatedgallery() #1 /home/canadiancyclistcom/canadiancyclist.com/public/dailynews.php(58): getDailyNewsArticle() #2 {main} thrown in
/home/canadiancyclistcom/canadiancyclist.com/public/modules/news.php
on line
528