May 27/12 14:55 pm - Ryder Hesjedal Becomes First Canadian to Win Giro D'Italia and a Grand Tour

Posted by Editoress on 05/27/12

Ryder Hesjedal (Garmin-Barracuda) became the first Canadian to win the Giro d'Italia after securing victory in the final time trial stage in Milan. Hesjedal beat Spain's Joaquin Rodriguez (Katusha Team) and Belgium's Thomas De Gendt (Vacansoleil-DCM Pro Team).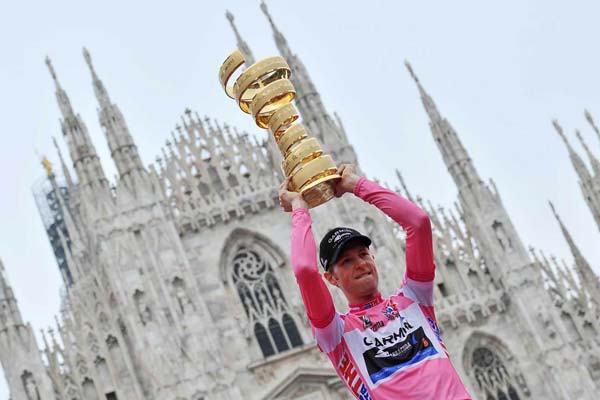 Italy's Marco Pinotti (BMC Racing Team) won the 28.2km time trial in a time of 33:06.

Hesjedal said: "I had to fight for this Giro d'Italia. As we got off the mountain in the helicopter and as descended to Milan yesterday, I knew I still had a shot. I felt incredible on bike pre-riding and knew I could do it in the time trial."

"The first day I pulled on the pink jersey I knew I was good and had accomplished something great. That made me go even harder. Getting compliments from my rivals gave me even more confidence. Hat's off to them, they're all great champions but once we were in the third week and I was doing the rides I was doing, I knew it was possible."

"My success is down to consistent hard work and by improving a little all the time. I think I showed my ability in the 2010 Tour de France. I had problems in the 2011 Tour but I still showed my ability in the third week. I got the opportunity to focus 100% on the Giro d'Italia this year and the team said I was the designated leader. It doesn't happen often in a rider's career to be leader in such a prestigious event, so I came with good legs and wanted to do my very best. The team was excellent and gave it everything. I won this race day after day, by doing my best. That' what it takes."

On his Garmin-Barracuda teammates: "The guys were even more believing than me at some points. They gave everything. They especially proud of me and I'm especially proud of what they for me. It was great to be on the podium together as the super team of the Giro d'Italia. It's going to be a good night…"

On the impact of his Giro d'Italia victory in Canada: "The support for me back home has been unreal. I saw one tweet about a guy going into Canada Tire and asking for the pink Garmin-Barracuda jersey…. I think people now know what's going on at home. I think they appreciate the Giro d'Italia and I hope my win will help Canadian cycling go a long way."

Rodriguez said: "I really thought I had a chance of winning the Giro d'Italia and so losing is difficult to take. I always race to win. That's the kind of rider I am."

"Ryder is the winner of this Giro d'Italia and he deserved it. He proved he's the strongest".

De Gendt said: "I don't think a Belgian rider has finished on the podium of a grand tour for many years so I think my third place is a huge result. I'm proud to be on the podium with Hesjedal and Rodriguez."

Pinotti said: "Last year I crashed out of the Giro d'Italia and so this win pays me back for that. A crash took me out of the classification and that's when I started to think about this time trial. It's always difficult to win the last stage but I did it."

"The fact that there isn't an Italian rider on the overall podium shows that the Giro d'Italia has grown internationally. However lots of Italian riders have also shown their potential for the future".