July 2/12 2:44 am - Windham World Cup: Elite Men and Women DH Final report and photos

Posted by Editoress on 07/2/12

The final North American stop of the 2012 UCI Mountain Bike World Cup concluded with wins in the Downhill by the most dominant riders of the year. Rachel Atherton (GT Factory) took her third win of the series to move into the overall women's lead, while Aaron Gwin (Trek World Racing) won his fourth World Cup, to further pad his lead in the men's standings.

The hot, dry conditions that have turned the track into a dusty, loose and fast run all week, persisted for race day. The short, sub-2:30 run meant that there was no margin for error, and a few riders either flatted or crashed out of contention as they pushed the limits.

Third ranked woman Myriam Nicole (Commencal/Riding Addiction) started uncharacteristically early after crashing in qualifying, and set the first sub-three minute time for the women. It would stand up until the final five women, when it was beaten by four riders. First, Emilie Seigenthaler (Scott 11) knocked 1.3 seconds off. Jill Kintner (Norco International), the fourth fastest qualifier, crashed, breaking her arm. Then Tracey Hannah (Hutchinson United Ride), winner of round one, rode and took over the Hot Seat, two seconds faster than Seigenthaler.

However, World Cup leader Emmeline Ragot (MS Mondraker) was right behind her, and looked to be on a good run, over three seconds ahead by the second split time. Unfortunately for Ragot, she was hit by a crosswind on the final jump, crashing within sight of the finish line, pushing her behind Hannah after she ran across the line, dragging her bike.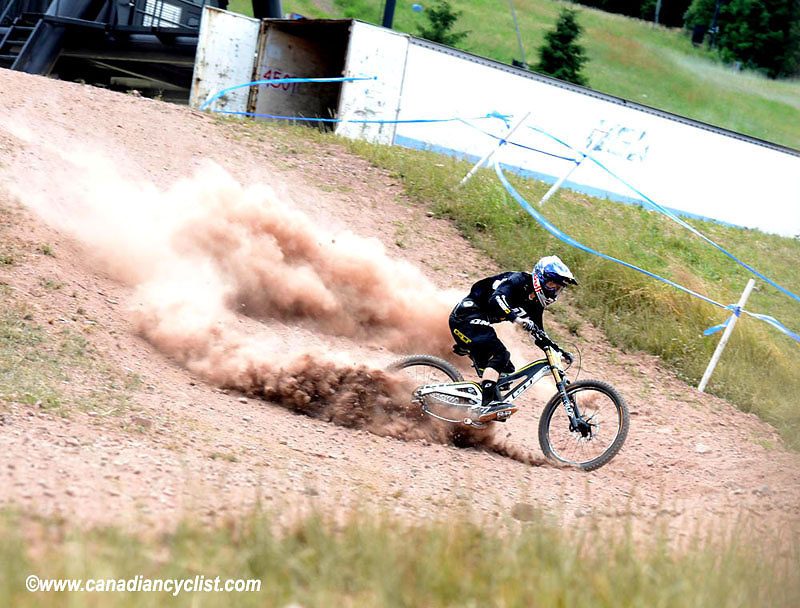 Atheron came close to crashing


Atherton, the fastest qualifier, was last to ride. The British rider was fastest at both splits but then almost crashed herself after a jump, due to the wind which blew her sideways while she was in the air. The GT rider remarkably managed to avoid going down, fishtailing off the course before recovering without coming to a stop. She managed to finish a slim 0.262 seconds ahead of Hannah.

"I headed into that jump and I was just like, ' I'm not gonna have enough speed', and I was tucked and I pulled, and the wind caught me, and I hung up and I bounced onto my front wheel, and I was like, 'I can't crash' and held on through the dust, over the berm, through one set of tapes, nearly hit a photographer and I pedaled back on track then carried on. I had no clue. I crossed the line point two up, and I can't believe it."

This set up a controversy: Atherton clearly did not re-enter the course where she had exited it, which traditionally has meant disqualification. However, the rules were changed in recent years, allowing the Commissaire President to avoid disqualifying a rider if he or she did not gain an advantage.

It was clear that Atherton had not gained an advantage, but for Ragot's MS Mondraker team it left a bitter taste when they lost the leader's jersey over what they felt was an incorrect interpretation of the regulations.

"When I crossed the line I didn't even think that I'd be disqualified," explained Atherton. "I celebrated and then they said we're not sure if the commissaire is ok. So we waited and waited. Everyone kept saying 'Yah you have the win'. It kind of puts a dampener on things, but at the end of the day the commissares was ok with it. I lost all my time, I was two seconds up at the split and I lost all that time, so it's the commissaire's decision It has been an amazing season so far. The girls are getting so fast. Emmeline is on fire and she pushes me on. I have to step my game up every race. It is exciting to have everyone going so fast."

Atherton takes over the World Cup lead after five rounds with 950 points, 30 points in front of Ragot. Nicole continues to hold third with 751 points, followed by Hannah at 732.
Men
In the men's race, almost every one of the thousands of fans on the hill was rooting for Aaron Gwin to repeat as the men's winner in front of his family and friends, on home soil. World champion Danny Hart (Giant Factory) set the first sub-2:30 time, which would hold up for fourth, but three of the top-10 riders would better it. Gee Atherton (GT Factory), riding ninth from last, knocked over a second off, and then the last two on the course both lowered it again. Steve Smith (Devinci Global Racing), chasing his first World Cup victory, was eight-tenths of a second faster than Atherton, but Gwin was even faster, finishing nearly a second ahead. Gwin now has won four of five rounds this year, and an incredible nine of 12 in the past two seasons.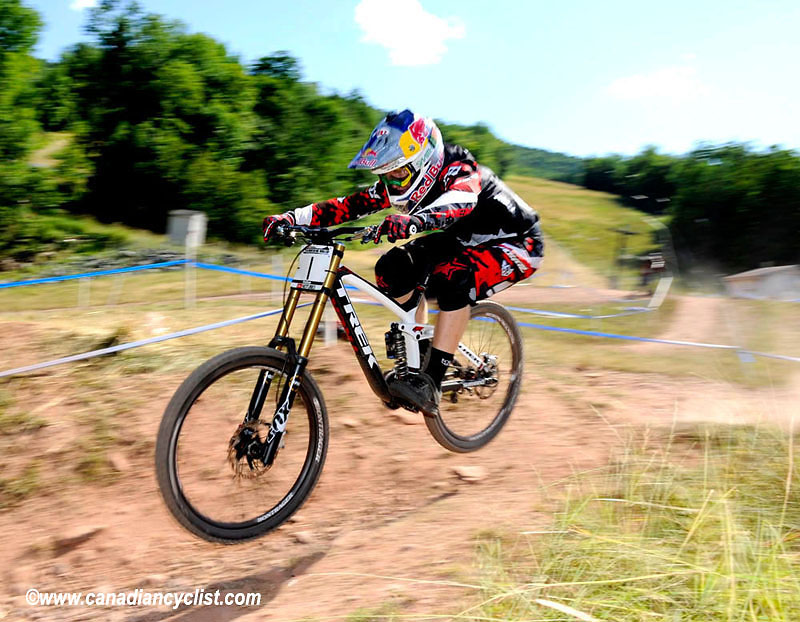 Aaron Gwin

"This was tight, real tight," commented Gwin. "This track is one of those tracks. All week you just knew you were going to have to be perfect on all your runs to make it happen. Any mistake was going to really cost you. The run was going awesome and then I ran over some poles just before the split. I just barely kept it in line. I thought for a second I was going down. I had to bunny hop over it. Then down near the bottom my chain came off, but luckily it went back on. I am so stoked. Man, this is as good as it gets for me. I've got my family and friends, and all these people here. It makes it so fun."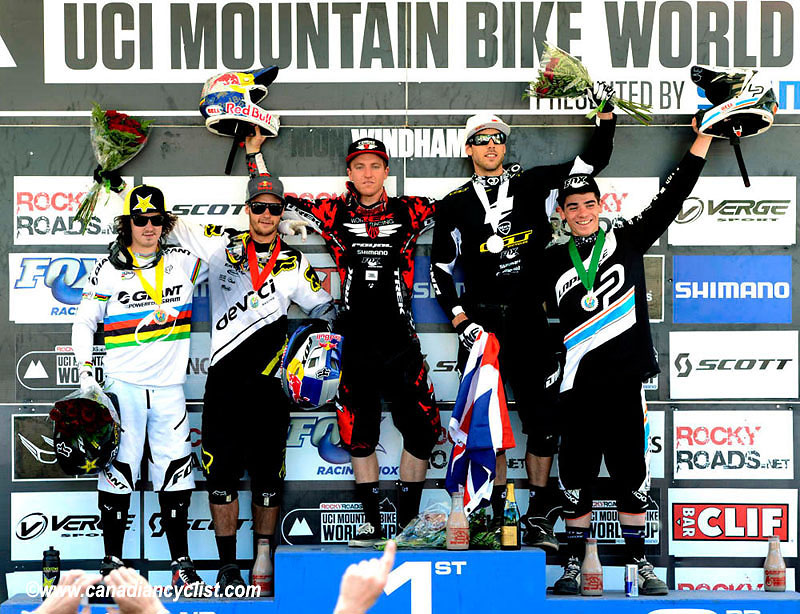 Smith was pleased to be back on the podium, with a career-best second place in the World Cup. The result also moved him back to fifth in the overall standings, from sixth.

"I'm really glad to be back up there," he agreed. "Last week [in Mont-Ste-Anne] was pretty disappointing, when I thought I had a solid run and still finished off the podium. I know coming into this race that I had to be aggressive, and I attacked the course right from the top."

Gwin now holds a 295 point lead over Greg Minnaar (Santa Cruz Syndicate) with two rounds remaining, making it almost impossible for him to be beaten in his quest for a second World Cup title. Gee Atherton remains in third, 354 points in arrears.
Fatal error
: Uncaught Error: Object of class PDO could not be converted to string in /home/canadiancyclistcom/canadiancyclist.com/public/modules/news.php:528 Stack trace: #0 /home/canadiancyclistcom/canadiancyclist.com/public/modules/news.php(517): getrelatedgallery() #1 /home/canadiancyclistcom/canadiancyclist.com/public/dailynews.php(58): getDailyNewsArticle() #2 {main} thrown in
/home/canadiancyclistcom/canadiancyclist.com/public/modules/news.php
on line
528