July 9/12 12:17 pm - Tour de Delta: Stage 3 report, photos and results, stage and final GC

Posted by Editoress on 07/9/12

American Steve Fisher Shocks Top Pro Field; Morgan Cabot Surprises Women

The Tour de Delta wrapped up with a couple of big surprises Sunday.
Photos by Greg Descantes

First it was Morgan Cabot, riding for local club team Glotman Simpson, beating a field that included the alternate for Canada's Olympic Track team on the women's side of the White Spot Road Race. Then Bellingham amateur Steve Fisher topped that, shocking a field of top professional cyclists to win the men's road race – and with it the 2012 Tour de Delta Omnium, or overall, title.

"The team motto is believe in your dreams and my dream has been to win a Cat 1 race and I never thought I could do it," said a beaming, giddy Cabot, who has only been racing for three years. "I can't stop smiling."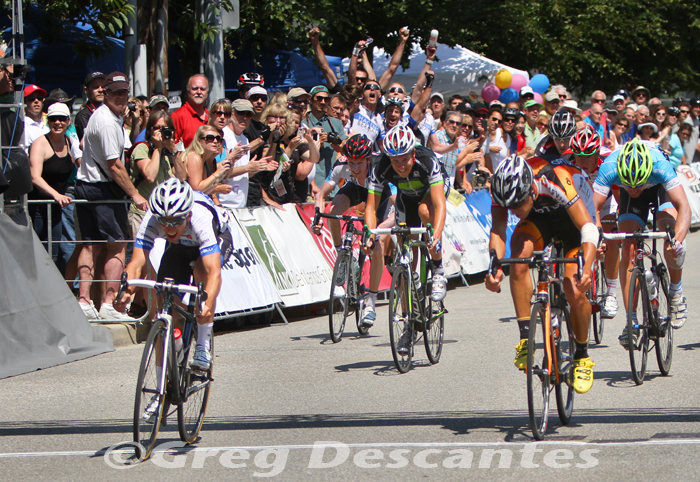 Steve Fisher wins the Tour de Delta White Spot Road Race ahead of Jesse Anthony
Neither could Fisher, who leaves Tuesday for Belgium to race with the US under-23 team in Europe after finishing fifth at the recent US under-23 Road Nationals.

"This is definitely my biggest result ever," Fisher, 22, said after topping a field that included Pro Tour riders Christian Meier and Svein Tuft of Orica-GreenEDGE. "It's an awesome experience just to be racing with those guys, and better if you can beat them on a single day. I am a little pleasantly surprised but I knew I was capable so I told my teammates that and they really rode all out for me."

Fisher bridged up to an eight-rider breakaway group with two laps left, and then won a sprint to the finish line. Riding for the Seattle-based Hagens Berman domestic elite team, he finished the 140-kilometer ride – it started with four laps around North Delta before crossing the flats and up into Tsawwassen for 10 laps of a longer circuit – in three hours, nine minutes and 31.1 seconds.

"I went across to the break on the climb on the second to last lap," said Fisher, who was second in Saturday night's Brenco Criterium and fifth in the opening MK Delta Lands Criterium on Friday to win the overall Tour de Delta title. "I opened it up with 200 meters to go and I was able to hold it to the line."

American Jesse Anthony, riding for Optum Health presented by Kelly Benefit Strategies, finished second after overcoming a bad crash Saturday night. And German Dominik Roels, a former Pro Tour rider now racing for Team HED, was third after having to find a replacement bike when his broke in a crash Friday.

Fisher, who is taking pre-physical therapy courses at Western Washington University, is in his third year with a Hagens Berman squad that, under a different name, once included a young, developing Tuft on its roster. He was aware of the Tour de Delta's history of young riders making a name for themself – and often earning a first pro contracts – before going on to bigger things. With a list of past winners at BC Superweek that includes fellow Washington State native Tyler Farrar, now riding at the Tour de France, the win should get noticed.

"I certainly hope so," Fisher said. "I've definitely seen some of the names coming through and guys riding for GreenEdge now that maybe sort of started here."

Sunday's men's race started with a strong group of 14 riders breaking away halfway through four and half laps of a smaller circuit in North Delta, and building up a three minute lead on the peleton as they crossed the flats and rode up into Tsawwassen for 10 laps around a longer 8.8-kilometer circuit. Everyone came back together with four laps left, but another group of nine riders took off again soon after, and barely managed to stay ahead of the chase – by seven seconds – on the last lap to set up a sprint finish down the final long straightaway.

Anthony felt pressure to get into that second break after three teammates worked so hard to try and keep the first one away. It wasn't easy after getting caught in a high-speed crash the night before, but Anthony managed to hang on to the end.

"I tired a couple times to get away because I didn't want it to come down to a sprint," he said. "Not my specialty. But it's always good to get on a podium."

Roels, who discovered BC Superweek while traveling the world last year, was just happy to be able to race Sunday after bringing a couple of teammates back with him only to crash so hard on Friday night that he broke his bike.

"I met a local rider at café Saturday morning, she saw my sore legs and asked if I needed bandages," Roels said of a conversation that quickly turned to his bigger problem – no bike. "She put a post on Facebook and five minutes later a guy doing a triathlon gave me his training bike to ride last two days."

Finishing strong helped ease the pain in his still-bandaged left leg.

"Every day got better so I'm really glad I finished podium here," Roels said.

Women's Race

Cabot was even happier to finish on top of the women's podium.

The 24-year-old data analyst got into an early 10-rider break, took off with two laps left and stayed away, finishing the 88-kilometres in two hours, 21 minutes and 16.9 seconds – 73 seconds ahead of the sprint for second place.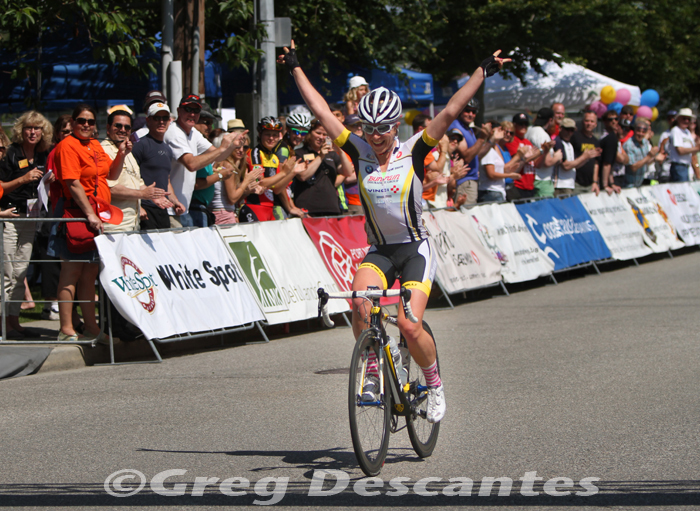 Morgan Cabot wins the Tour de White Rock Road Race
"The attack started on the hill with the skinny climbers, and then we crested over the top and some more powerful riders started to go, and honestly I was just following attacks and accidentally ended up off the front, saw a small gap, and then just decided this is it, you better go for it, this is your chance," she said.

"Honestly I think no one expected it," continued Cabot. "They thought I didn't have the balls to do it. Everyone let me go and didn't bother to mark me."

Steph Roorda, an alternate of the Canadian Olympic track team riding for Local Ride Racing / Dr. Vie Superfoods, won that late sprint ahead of independent rider Kate Finegan, and with that finish claimed the Tour de Delta overall title after finishing second Friday, and winning the second stage on Saturday.

Cabot didn't make the Omnium podium – Joanie Caron of Colavita-espnW was second and Jenny Lehmann of Trek Red Truck third – but all that mattered to her was the road win. It was the first race since an accident earlier this season for Cabot, who moved to Vancouver from France in 2005, and started racing in 2009 at the Young Women's Development program run locally by Lisa Howard.

Among the fellow newcomers to racing that year were Lehmann and Jasmine Glaesser, who had to miss BC Superweek this year because she is preparing to compete for Canada at the upcoming Summer Olympics in London.

"I just used to ride casually on a 1986 tube shifter bike and I showed up to her clinic on that bike and everybody made fun of me because I would sprint and knock my shifters out of place," Cabot recalled. "I never honestly thought I could race, but she made it so fun and so unintimidating. We had buddies, and I had Jasmine and Jenny, who are now doing amazingly, and we'd say, 'Ok I'll show up to this little race if you show up' and we were in it together."

Unlike Glaesser, Lehmann and Fisher, though, Cabot isn't overly eager to use her big win as a springboard to a spot on a professional team.

"I really, really love racing locally and even in the States a bit, and my goal is to compete in some bugger races but I do have a job I really like and a relationship I'm very happy with," she said. "Those are things I'm not ready to compromise right now, but definitely I can't see myself quitting racing any time soon."
Results