July 23/12 13:53 pm - lululemon Cycling Clothing Review

Posted by Editoress on 07/23/12

lululemon, known primarily for their yoga wear, has introduced a limited edition range of cycling clothing. Our reviewer is Maude Lamont, an energetic salesperson at Espresso Sports in Sainte-Adele, Quebec, who studied clothing design in CEGEP and who loves to spend her free time on her bike.

The lululemon Presta Jersey is lightweight and breathable. The white jersey I tried looks great with just about every pair of shorts I own. The cute frilly reflective details make it safe at night, and definitely cute enough to wear for a meal on a terrace after a ride. The price point for a cycling jersey is reasonable as well. At $78, you'll be able to splurge on that iced cappuchino.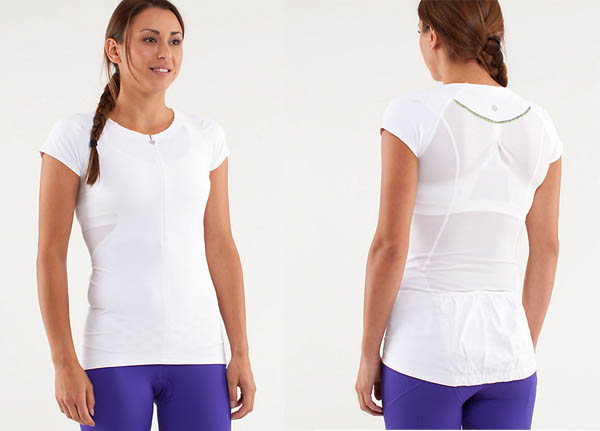 Presta Jersey in white
The neck opening is looser than most cycling jerseys and the Luxtreme fabric is very comfortable. Make sure you put sunscreen on your neck though!

There are two back pockets on the jersey and they are very easy to access, as they are low on the back. I did find them slightly shallower than normal and, while I kept patting my pockets nervously to make sure nothing had fallen out during the ride, my phone and bankcard stayed safely in them while riding.

Don't worry about the white material in the front of the jersey being see-through on sweaty or rainy days. Only the backside and underarms are made of lightweight mesh. Perfect for hot summer days! White is also a great colour for being visible in the evening. Just make sure you don't wipe your hands on your jersey after you repair a flat or fix a dropped chain with this jersey on! The other two colours it comes in are light grey and white with blue polka-dots.

If you have to wipe your dirty hands on your clothing (Hey, everyone has to sometimes, especially since white bar tape is in!) the black lululemon Presta Padded Short will hide the evidence without batting an eye.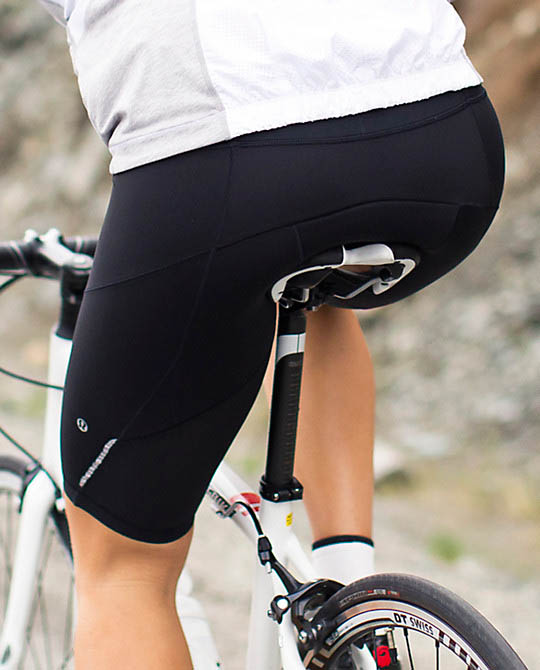 Presta Padded Short
The shorts are made from the same material as the jersey and are light and breathable. They're quite long for cycling shorts but they're extremely comfortable. The material at the thighs doesn't feel loose, but it doesn't cut into your thighs either. It feels a bit like a second skin. It's extremely comfortable to wear them for post-ride stretching.

The elastic doesn't cut in at the waist either and they're high enough that they don't fall down at the back if you want to touch your toes. There's also an adorable little ruffle at the back so that you want to ride in front of your friends to show it off.

I wouldn't recommend them for a long ride, however, as the padding is very minimalist. They're perfect for spinning class or a quick jaunt to the grocery store or yoga studio. Many women complain that they feel like they're wearing a diaper when they have cycling shorts on. You definitely won't feel that sensation with these shorts on!

At $88, they're an entry-level short and perfect for the recreational cyclist who doesn't want to show off too much leg. The reflective ruffle that the Presta Jersey has comes back on these shorts and so the two items together are a perfect fit. Safe and fashionable!

The third item I tested was the lululemon Presta Packable Shirket jacket. I didn't enjoy the purple and white polka-dots, but it also comes in black, yellow and white/gray for those of us who are a bit more conservative.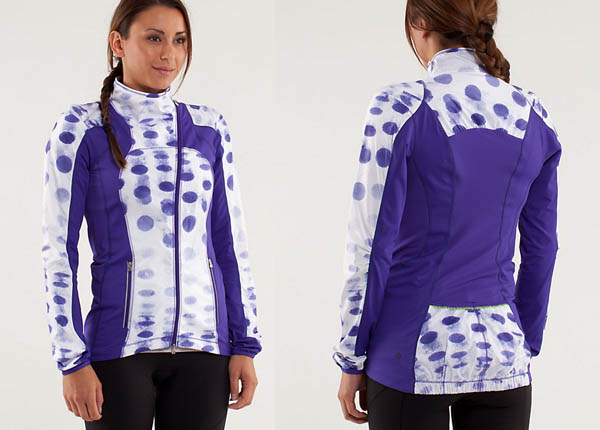 Presta Packable Shirket jacket
If you overlook the colour, it's a great jacket for cool summer evening or fall rides. The outer part of the arms and the front of the jacket are windproof and can resist a light rain, while the back of the jersey and the underarms are made of Lightweight Luxtreme material. Stretchy, breathable, and easy to move in!

While the Presta Jersey is low around the neck, the jacket comes up to just below the chin. A magnet secures the neck covering on the left side, which gives it a fashionable flair and means that your hair won't get caught in the zipper. There are also reflective strips on the shoulders and back pockets to make it easier for the wearer to be seen in the evening.

The jacket has zippered pockets on the sides and open pockets in the back. The two back pockets are similar to the Presta Jersey pockets, but are slightly deeper. The price-point is higher for the jacket at $138, but it could also be used for running or hiking.

All in all, I would recommend the lululemon cycling clothing line to a recreational cyclist who wants cycling clothing that is comfortable and cute enough to run into the grocery store with or grab lunch at a restaurant in after a ride.

Happy cycling!

More technical details on the clothing can be found here and clothing can be purchased online at Lululemon.com