July 27/12 9:43 am - The 2012 Olympic Games - Let the Chaos Begin!

Posted by Editoress on 07/27/12

We are in the final frenzy of the lead up to the Games, with the Opening Ceremonies (OC) to go later this evening (UK local time, afternoon and early evening for Canada). Already, spectators are starting to pour into the entry area at the Olympic Park, and it will be shut down for final security preparations at 4:00 pm (local time), so I intend to be out of here well before that.

So does this mean that I will be missing the Opening Ceremonies? In a word, yes...

There will be no Canadian cyclists in attendance, and the Men's Road Race is tomorrow morning. The earliest any photog attending the OC is likely to get out is 1:30 am, but 2:30-3:00 am is more realistic. Since I have to be up at 6:00 am to head to the start line for the Road Race, the OC is a non-starter. And, really, it is a made-for-TV event.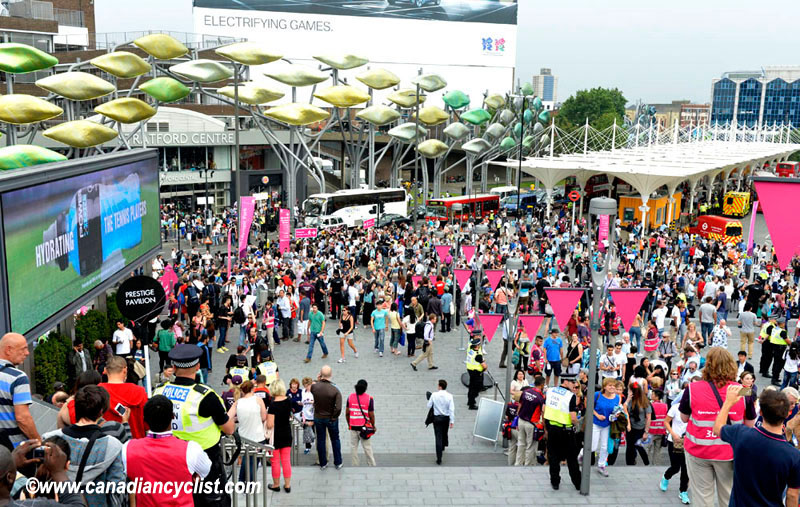 Crowds start lining up for the Opening Ceremonies
So, I expect that I will find a pub somewhere and watch it there. In Athens, I sat in a local restaurant and the locals all cheered on my behalf when the Canadian team marched in. In China, I stood outside the Forbidden City for the fireworks - which turned out to be a digital creation, nothing was visible to actual spectators... - before taking a rickshaw to a street restaurant for some excellent noodles. This time, since we are in London, it is either pub grub or an Indian curry (which is really the national dish here).

There is tremendous interest in the Games, despite the grumbling we are constantly hearing from the local papers. Riding the Underground out to the Olympic Park this morning, I overheard two older ladies earnestly discussing the men's road race, and what Cavendish's chances are.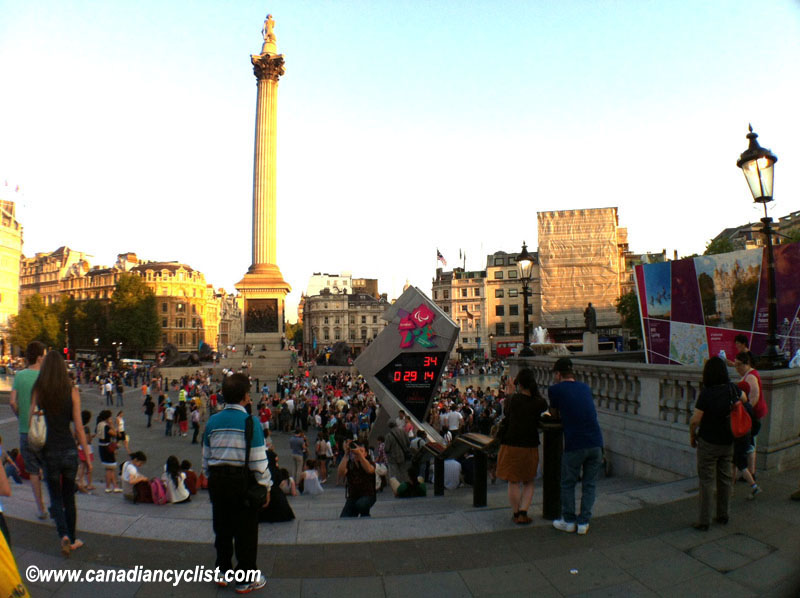 The countdown at Trafalgar Square
The city is blanketed with Games-related banners, and there are volunteers everywhere, anxious to help, give directions and hand out maps; sometimes you have to beat them off, if you even pause for a moment to look around. Of course, there is also a huge security presence. The police and armed forces are visible pretty much everywhere you go, especially in major centres, transportation routes and Olympic venues.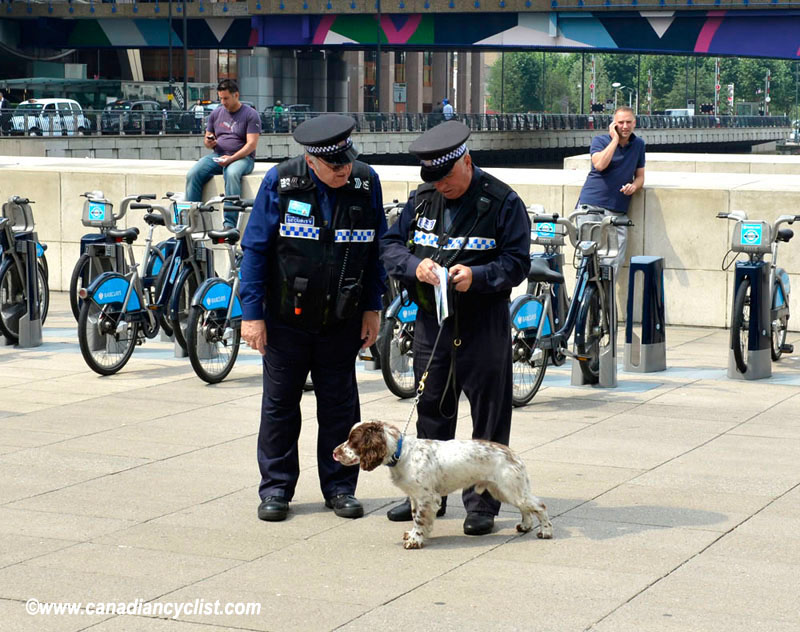 Police sniffer dogs are out in force

One of the more interesting security measures is the number of sniffer dogs there are - a colleague saw one incident where some guys was grabbed after the dog took an interest, and it turned out all he had apparently was a joint... This is NOT a good time to be carrying anything contraband!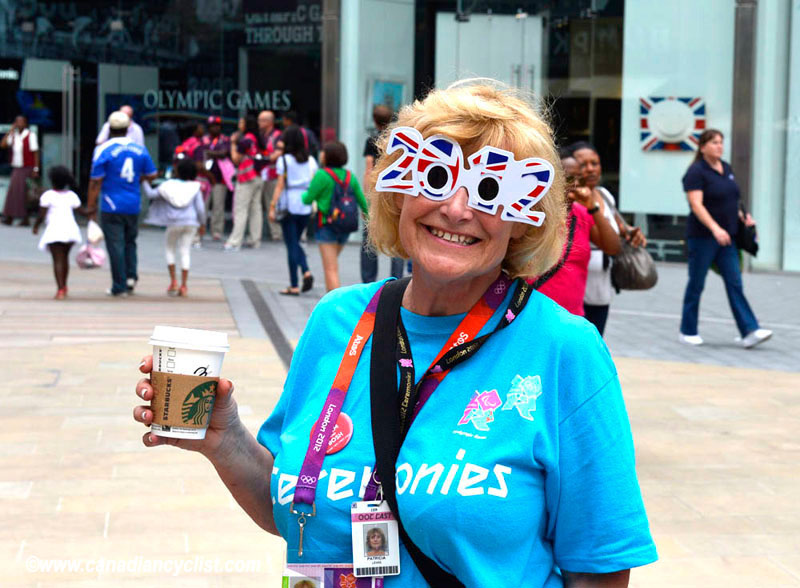 Despite the inevitable glitches (of which I have been subjected to more than a few), everything is going quite smoothly. I showed up to accreditation to get my credential activated, and it appears that the COC (Canadian Olympic Committee) submitted an incorrect birthdate for me (as well as a few other Canadian journos, I was told). This is A BIG DEAL - I had to be issued a temporary pass for the day while a new security check was run overnight. Luckily, I'm still me apparently (and a year younger than my credential said yesterday, to boot), and got my full accreditation today.

For a while, security was telling us all that we could only bring into the venues 100 ml containers of water - that's basically one gulp! Of course, we were welcome to buy water on-site, at £1 a pop ... fortunately, that rare commodity known as common sense prevailed, and we can now bring actual bottles (up to two litres).

The press centre ran out of welcome kits (a backpack with the media guide, a local map and a can of shaving cream - what are they trying to tell us?) and lockers for the photographers, Nikon's and Canon's loaner service are already out of loaner equipment (until some stuff gets returned after the OC), my local cell doesn't work because I was sent the wrong SIM card (they are couriering a replacement), the wifi network has crashed in the press centre repeatedly ... all the normal stuff.

However, the real test will start tomorrow, when the first medal competitions get underway (including the men's road race). For the road race, we supposedly have shuttles to take the photogs from the start line out to the circuit and the Box Hill climb, and then bring us back in time for the finish. I say 'supposedly', because the shuttles are oversubscribed (I signed up back in January) and, even if your name is on the list, there's a good chance that it will just become a free-for-all to get on the buses.

Then, if Cavendish wins, the finish area will go mental, and the resulting chaos could be worrying. Plus, we will have Royals for the medal ceremony, guaranteed, so security will be wound up to the breaking point. I don't plan on making any sudden moves, but this won't stop the local tabloid photogs from getting into fisticuffs - I'm not kidding, it happened in Beijing at the track events, and I had to elbow one persistent guy in the head, who kept trying to run me down as he frantically went after Chris Hoy...

I can hardly wait...