July 29/12 18:56 pm - The 2012 Olympic Games - Women's Road Race report

Posted by Editoress on 07/29/12

Marianne Vos (Netherlands) has finally won the Olympic gold road medal that has eluded her, with a brilliant performance in extremely adverse conditions. Vos outsprinted breakaway companion Elizabeth Armitstead (Great Britain) for gold, with the third member of the break, Olga Zabelinskaya (Russia) coming in a few seconds later for bronze. All three Canadians finished with the main field, roughy 40 seconds back.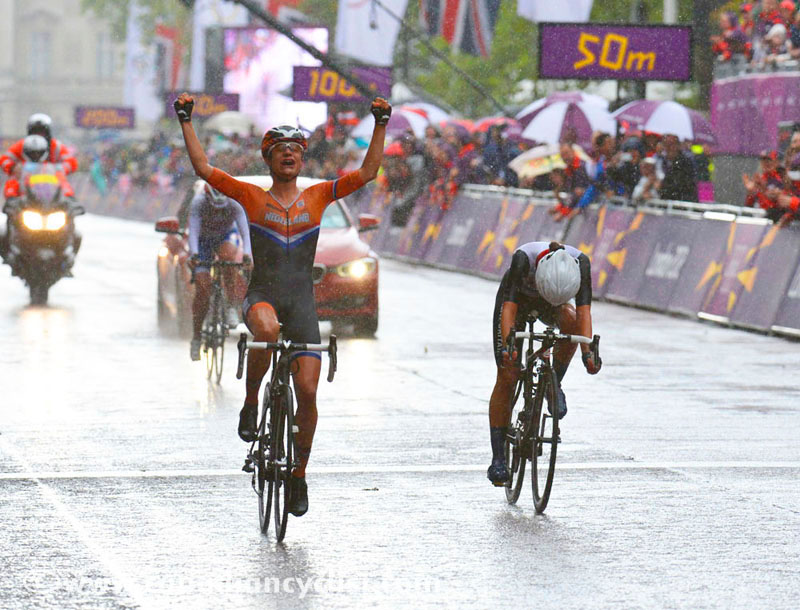 Marianne Vos wins the gold medal
Unlike the men's race, where Great Britain rode tempo until they could no longer control things, the women's race saw aggression from multiple teams, with nothing sticking until after the final climb up the Box Hill circuit, with roughly 50 kilometres remaining. Also unlike the men, the women were hit with heavy, driving rain and, at times loud thunder made many wonder whether the race should be stopped for safety reasons. The rain left pools of water standing on the road, causing numerous crashes.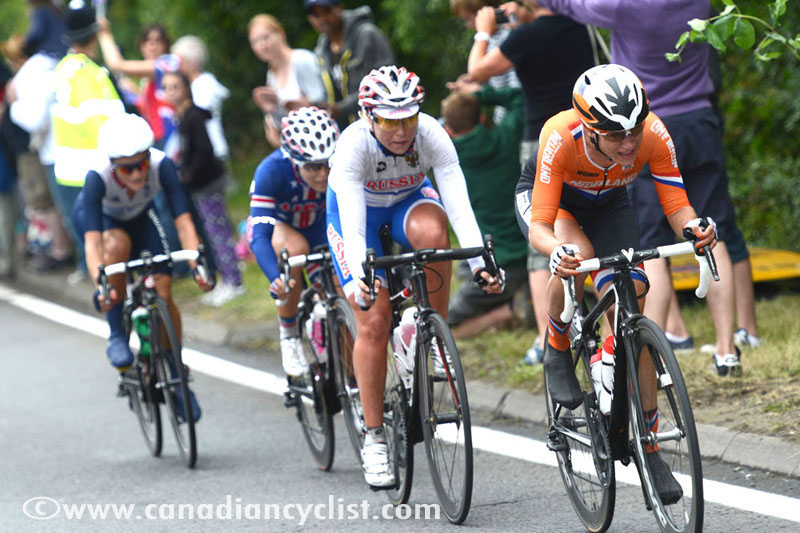 The Break
Zabelinskaya started the winning break, and was quickly joined by Vos, Armitstead and American Shelley Olds. With four teams represented, it was left to the Italians and Germans to do much of the chasing, with Canada contributing Denise Ramsden. However, the rain meant that the chasers could not go any faster than the leaders on the twisting roads leading back into the city.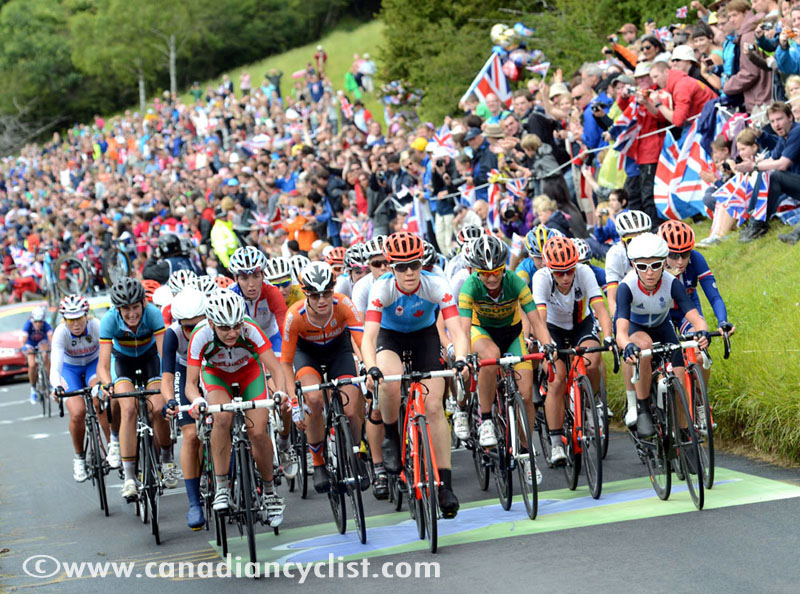 Clara Hughes at the front of bunch on Box Hill
Olds flatted while in the lead group, dashing a strong chance for a medal after a slow wheel change that put her back in the bunch. Vos was driving the break, sometimes taking two pulls to one for the others. Her efforts to the break out quickly to 30 seconds and then to nearly a minute with 15 kilometres to go. It came back slightly in the final kilometres, but the race for the medals was down to three riders, with only the colour for each rider to be decided.

Zabelinskaya was clearly the weakest of the three, and she seemed to elected to take on the role of keeping the break away from the field, while Vos and Armitstead began to set up for the sprint behind her. Armitstead started skipping pulls, and came into the final straight at 400 metres in third spot on Vos' wheel, the perfect position. But when Vos went at 250 metres, it was clear that Armitstead didn't have the kick to come aroud the Dutch rider, finishing more than a bike length back.

"The only thing I thought was, I've got to cross the line first," said Vos. "That's what's simple about cycling, but in the end, it's very tough. We made it a tough race. There were not so many countries who also attacked, but we did very well to make the race aggressive. When we arrived at Box Hill, there was a lot of wind and it was difficult to get into a breakaway. It stayed all together, but after Box Hill, there was another small climb, and we knew that."

"We were four, but then (Shelley) Olds punctured, then we were all riding for a medal, and that's a big advantage. The other two rode hard as well, especially (Elizabeth) Armitstead. It's all intuition in the final sprint. It's very hard, because at 500m to go, you already see the finish line. And you think, 'I have to go!' but you have to wait. Eventually, I still went early. I saw Armitstead come next to me, but she didn't come through."

Canadian rider comments:

Clara Hughes

Racing in the rain is not fun. This is three out of three Olympic road races for me in the rain. I felt really good on the climb, and every time I was at the front, so I was really happy with how I felt. Going into the time trial I have really good sensations in my legs, so I'm really excited for Wednesday [time trial].

But today was gambling ... we don't have the strongest team ... we don't have the maximum number of riders - you could even see that Germany missed the break. I was there when it [the final break] went, and I took a gamble when [the Russian] went, but I knew that if I had gone with her everyone would have been on my wheel, so I waited, and then when Armitstead went with Vos and [Shelley] Olds I kind of got caught behind another American who crashed and then that was it, I lost my speed. I don't know if I could have gone with them, but I'm just really happy with how I felt today more than anything, so I'm 100% ready for Wednesday.


Joelle Numainville

The plan was to be aggressive, and try to get into a move, but it was really hard. Somebody in front of me lost control, which made me go down, maybe about 15k to go. It was pouring rain, and there were times when you couldn't see anything, so it wasn't easy out there. I thought the race would be stopped at one point because there were thunderstorms. But it was the same for everybody.

Yeah, we saw that the riders got away, but the chase wasn't the best organized. Denise was up there chasing, but it was three very strong riders and in the rain it was hard to go faster than them. There wasn't much we could do. It's part of racing ... I gave everything I had today, so I couldn't ask for more.


Denise Ramsden

Our plan was to sit back and not waste too much energy, but if anything went, to follow it. Obviously, it would have been ideal to be in that move that went off, but the timing didn't work out, and towards the end we were going to work for Joelle for the sprint, but unfortunately she crashed and just made it back to us by the end, so that threw that plan off, because she was pretty toasted from having to chase back on.

Exhilarating and terrifying is a good description; there was one corner where I was at the front that I almost went into the barricades because the corner went back on itself so quickly. It was crazy, but also exciting.

When some of the stuff started happening at the front, Clara told me to get up to the front and contribute, to bring it back, so it was good to be part of the race, and not just following along. It was crazy at the end, in some of the corners you could barely see where you were going.