July 31/12 13:38 pm - 2012 Olympic Games: Day 2 Track Training: photos and rider comments

Posted by Editoress on 07/31/12

Today, the full Canadian track squad came to the velodrome for a training session, and held a brief post-session media scrum on the infield. Below are quotes from each of the Canadian track athletes.


Monique Sullivan - Women's Sprint and Keirin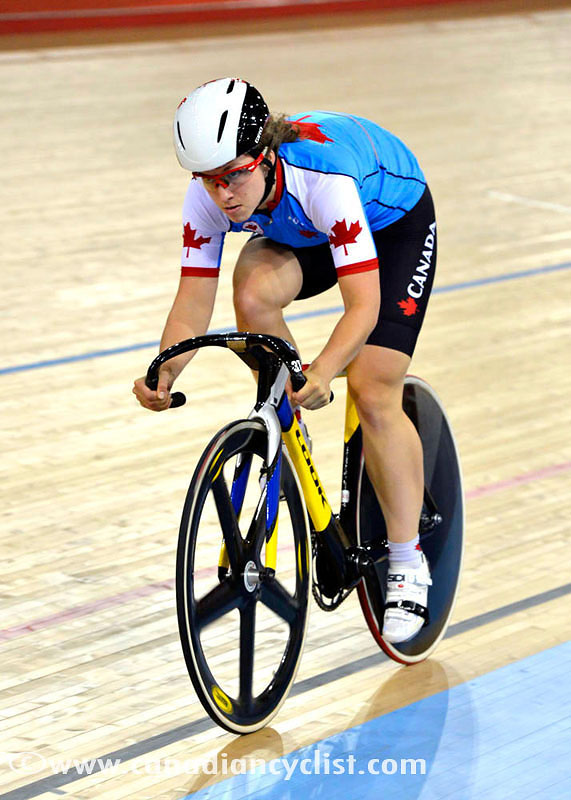 The track we train at in LA is usually about 23C and this one is 28C now, and I expect it will be 30 by Saturday. It actually benefits us, because when it's hotter the air is thinner and there is less rolling resistance, so sometimes you need to use a bigger gear in competition than in training.

We do have a few tracks in Canada, but not an indoor 250 metre one, so the training is not quite the same. It's great that we have some [tracks] for development, but we are definitely lacking the facilities to move forward, and I think that's the next step to grow the sport in Canada.

They have a kids [cycling] program in Calgary, where I grew up, and they took us to the Glenmore track, and I just fell in love with it. If we could just get more kids and more people in general trying it out ... most people that try it, love it, but right now they just don't know it exists.

For me, it started when I was at the Olympic Oval; there were so many high level athletes there, that it really helps bridge the gap. Because as a young athlete, you see people on TV and it's a huge gap between where you are and where they are. So facilities like the Olympic Oval, where they have development and elite athletes together, you can see the steps, and you can see that they [elite athletes] are ordinary people who have put in extraordinary effort and have the support team around them.

For me as a kid, seeing Clara Hughes there when I was 14 years old was inspiring. I did some tests and did something like 600 watts, and she said to me 'that's great', and those are the sorts of things that inspired me.

Anna Meares has proven to be in a class of her own for the last while, she's putting down some very fast times, so she's the one to beat, I'd say. Victoria Pendleton is also definitely a force. The thing with the sprint is that you have to be careful not to read too much into [the flying 200 metre time trial], because some people are much smarter than they can show in the time trial.

I have a new bike, it's beautiful! I'm really excited about it. Most of us are on new bikes because there are regulations for logos, so my World Cup bike had too many logos on, but I lucked out and got a better model, and it's slightly smaller so it fits really nice. I'm pretty happy to have it.


Joseph Veloce - Keirin

Just graduated university and found out going to Olympics on same day.

It's been non-stop, haven't even really had a chance to think about it. As soon as I found out ... a couple of weeks later we were in Europe, so I haven't had time to wrap my head around everything that's gone on.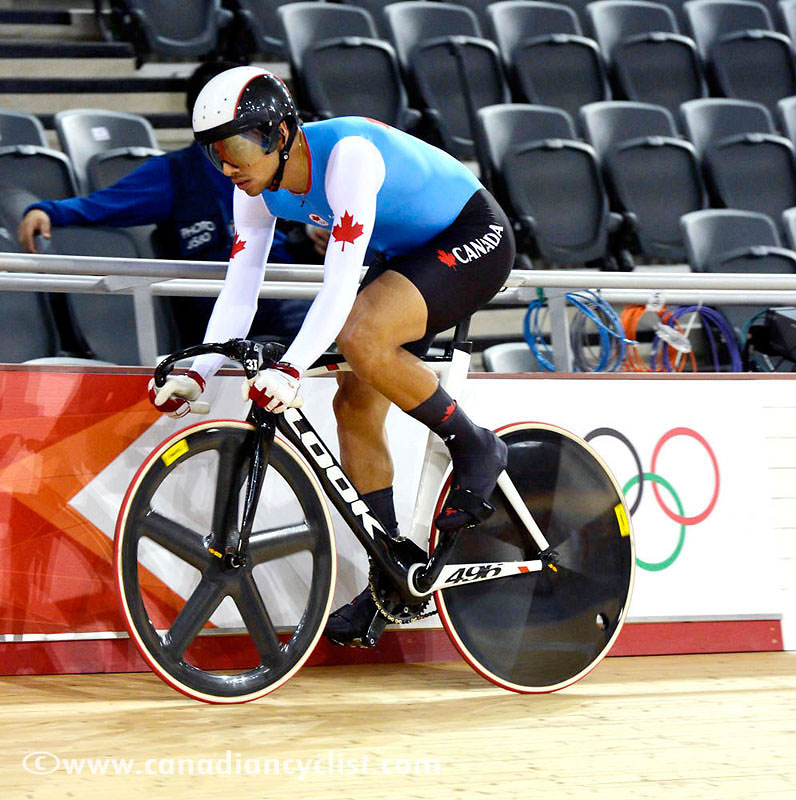 Joe Veloce on the London track for the first time

The track feels fast. The wood is really hard, and I think there are going to be some world records on race day. My times are faster than ever before, so I'm happy with the way it's been going. You can never complain about personal bests.

I didn't see myself as a contender [to go to the Olympics] when I first started, but two years ago, when we started going through the qualification process, I started to realize that it definitely was possible, and here we are today.

Switching to Keirin from Team Sprint?

There's a lot of crossover, obviously. In the Team Sprint my main role was second man, so that involves a start, and a longish effort of two laps. So, it's pretty similar to a Keirin, with the long acceleration and then a sustained effort for two laps. It is transferring over well.

I'm definitely not one of the biggest sprinters out there, so I've got to be ready to be aggressive, and not take any guff from any of the other sprinters that are going to try and push me out of the way.


Jasmin Glaesser - Team Pursuit

The Canadian team was riding faster than the world record pace in training.

The track's really fast, and we're running a little bit faster than at the test event, which is a confidence boost, so I think everybody is going to do some fast times. I think anything other than a medal is going to be a disappointment here. We've prepared for a long time, and we're just so motivated to go faster.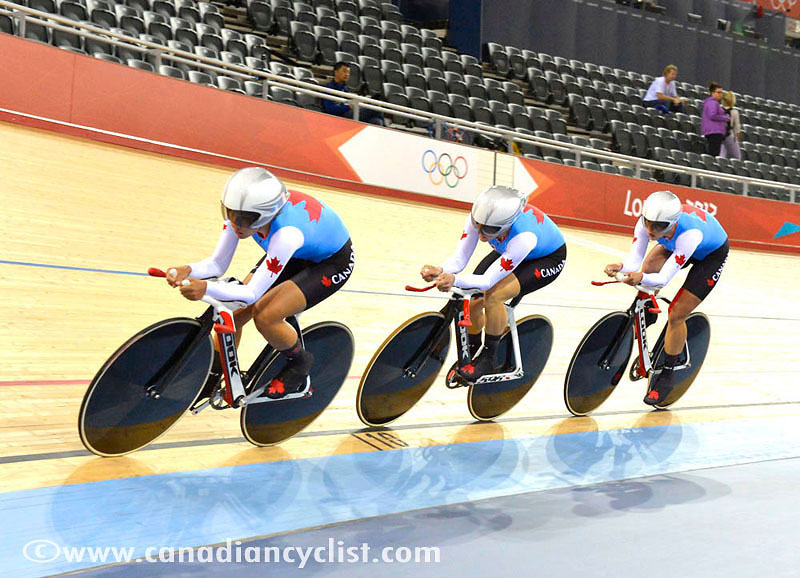 Jasmin Glaesser at the front


I loved racing here for the test event ... the crowd had such an appreciation for the sport, which you don't find all around the world. It's so exciting to have people cheering and supportive.

The Canadian team staged and trained in Apledoorn, Netherlands

It was great to be able to go away as a group and focus on training, not worry about all the outside stimulus that you find in the Olympic Village. But it's great to be here now and be part of things with Team Canada. We're all really excited, and there's a good momentum.


Tara Whitten - Team Pursuit, Omnium

We're really happy with how our training has gone, and how our team is coming together. All the teams are going well, and we're expecting some incredible competition. I love this track; it feels so smooth, and so easy to generate speed, and I'm really comfortable here. Judging from the temperature, it's really going to be quick.

Will doing Team Pursuit affect Omnium performance?

Well, most of the top contenders are also doing the Team Pursuit first and, in a way, I think it's good to have a race first to get the jitters out, and then really focus on the Omnium.

How to simulate training for so many events in Omnium?

It's always a challenge to simulate that in training. But it also makes training a lot more interesting, because there is always something you have to work on, and it's always different every day, so I really enjoy it.

Overall, it's an endurance event. For me, I find that when I'm aerobically fit, the speed is there. It's a balancing act of taking advantage of your strengths, but trying to minimize your weaknesses. For me, I know which events I can count on, and I never want to lose those ones as my strengths, even when I'm trying to pull up the other events. I've had my best results in the Individual Pursuit and the Elimination.

I trained on a road bike through my cycling career, but it was track that really drew me to cycling. I love track a lot more than the road.

It's been incredible to see the improvement of the other two girls, because they were so new to the Team Pursuit, but they've really come into their own ... I'm starting to see that when we ride as a team, and I'm really excited about what I think we can do here.

Road Worlds TT?

I'll only do it if I think I can do a really good job, so I'll have to assess that after the Olympics.

Whitten is studying for a Phd in Neuroscience - does it help with cycling?

Sometimes I think it hinders me. In the mass start races, overanalyzing is not the best approach ... it's better to act on instinct, and I'm always out there trying to process things. I do think my science background helps me in my training ... I like to understand things and, especially over the last couple of years, I've really started to understand my body, and how I react to different kinds of training and how to peak for certain events. I think my analytical side has helped me there.


Gillian Carleton - Team Pursuit

Carleton broke her pelvis early in the 2011/2012 track season.

I was racing the Points Race at the World Cup in Kazakhstan, and I crashed with 88 laps to go. I had fractured my pelvis in three places, but I got back up and finished the race ... it didn't hurt until afterwards.

I love this track, I had a really, really good time here in February. It feels even faster now then it did then. I think it's really good.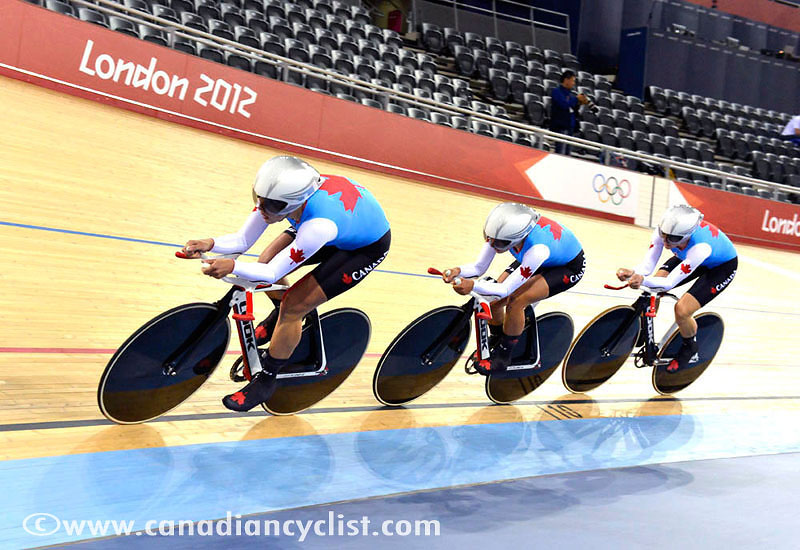 Gillian Carleton leads the pursuit squad
I'm hoping for a medal. I'm hoping for a race that shows our potential. I think we rode to our best at the test event here and at the world championships, but the training we've done since then shows that everything is leading towards a big result, so I'm hoping we can show that when it comes to race day.

I came into this sport late, so Tara's been instrumental in helping me learn how to train, how to ride the track, and how to do a Team Pursuit; it's such a technical sport. She's also really good as a role model outside of the sport. She's really a strong female presence in the world of cycling.

Honestly, every time you get to race a race the Brits are in, it's just a huge learning experience. I'm still at the point where I watch their training sessions obsessively, and try to figure out what they're doing, and how I could do what they're doing ... it's really motivating, that everyone is improving, with every race. Us, the Aussies, the Kiwis ... it's just really good.


Laura Brown - Alternate, Team Pursuit

I'm doing exactly the same things as the team; my training isn't changed at all. I actually do a lot of the training as part of the team so Tara can focus on the Omnium, and then we still have three riders who can train together. I'm preparing as if I were to race, because at any moment I could be put in, if there was an injury or illness. Every team here has four riders for the Team Pursuit, so I have to be on ... I have to be the best I can be if they need me.


Zach Bell - Men's Omnium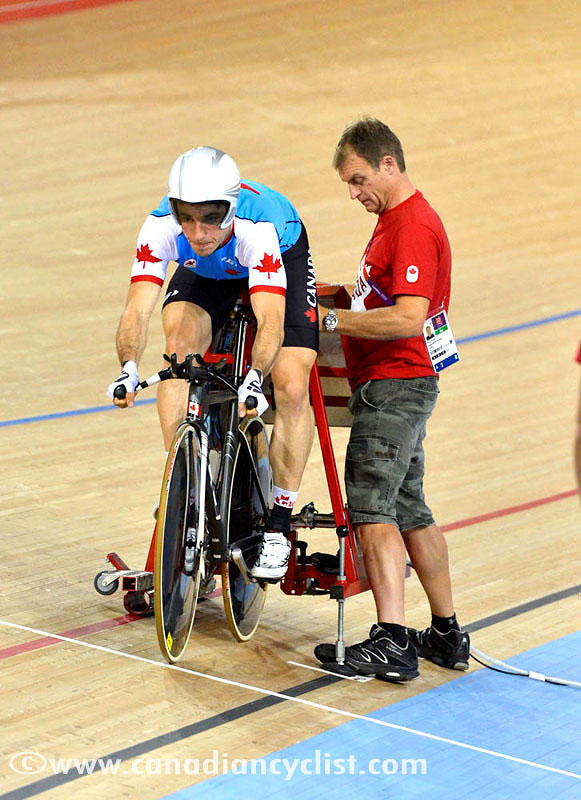 Training's going really well. I'm happy to be here in the venue again. My legs are getting the feel for the way the track rides again. I remember when we were here for the test event. The memories are fond and to come back ... it's the same.

I like my chances here, yeah. It's been a really good run, especially with the new format over two days with six events. I've been consistently challenging and expect to do the same thing here. It's been a different journey from last time [in Beijing, in the Points Race and Madison], where I was one of the qualified athletes struggling to hang on, but this time I'll be able to make things happen more on my terms.

This is an easy track to ride fast. There are some tracks that favour certain types of athletes, but this one meets right in the middle nicely. Maybe a little more geared towards the endurance events, but for the Omnium purposes, the track's certainly not going to be making a difference.

I don't think there's any event I rely on specifically. There's ones that I'm more confident in ... I've been able to make a difference pretty regularly in the Scratch and the Points races, because I came from a bunch racing background. The Flying Lap has been good to me, but it's the first event and it's a little bit out of your control: either you go fast or you don't. The places you can make the difference are the bunch races if you're smart about it and use your skills.

I started out in wrestling, I wrestled all through high school and in university. I went to Calgary and wrestled for the Calgary Dinos ... I picked up a bike for cross-training at first and enjoyed it, and went in a few races back at home in the Yukon one summer, and really enjoyed it. I started racing provincially in Alberta, and from there wanted to do it a bit recreationally, and maybe win a provincial championships someday ... obviously it's gone a little bit beyond that. I'm happy I made the switch now.

When I went to the High Performance Centre in Calgary, I pulled out a leaflet to be a test guinea pig for the physiology stuff they do, so I did a cycling test and Doc Smith, who oversees everything there, came into one of my tests and he said after the test: 'You should take this seriously'. I knew he knew what he was talking about, so I paid some attention.

Then I got into the BC Superweek and I was able to win the first race, my first time up against riders like Gord Fraser and Eric Wohlberg, and I thought these guys were all legends ... it was a short one kilometre hillclimb, but the fact that I was able to best all these guys made me think, 'okay, well, I've got some tools, maybe I'll be able to do something'.