August 3/12 17:33 pm - 2012 Olympic Games: Track Day 2 report and photos

Posted by Editoress on 08/3/12

Day Two at the velodrome saw continued British domination, with the host nation taking both gold medals on offer in the Men's Team Pursuit and Women's Keirin, as well as qualifying first in a world record time in the Women's Team Pursuit. Canada had a good day, with Monique Sullivan making the final in the Keirin, finishing sixth, and the women's Team Pursuit squad qualifying fourth.

Men's Team Pursuit

The British team followed up their world record from yesterday's qualifying round with ... a world record in the gold medal race, becoming the first team to break 3:52, with an impressive 3:51.659, for 62.160 kph. They were in a class of their own, as the silver medal squad of Australia finished nearly three seconds back. The sound level of the crowd as it became apparent that the Brits would win rose to a, literally, painful level. New Zealand easily beat Russia for the bronze medal.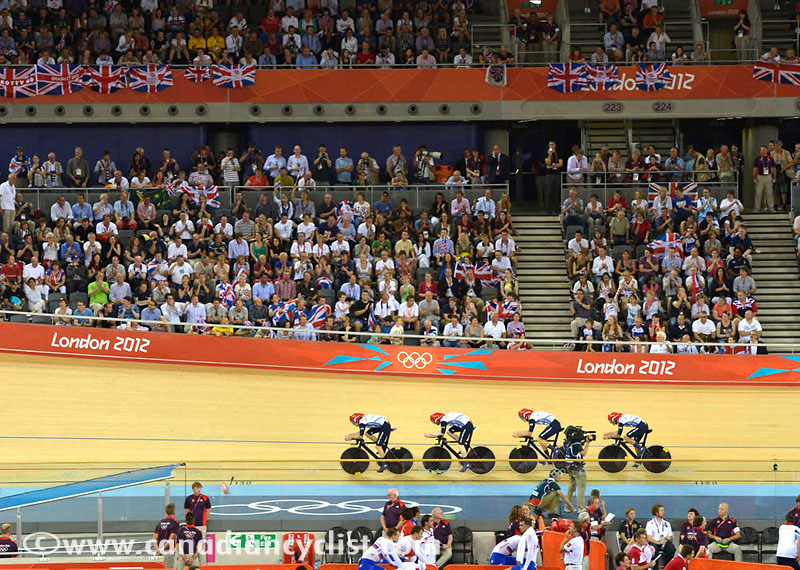 The crowds came out to watch the Brits win


Women's Team Pursuit

This is a new event at the international level, so every major competition in the past season has seen new records set. The top four teams, as expected, were Great Britain, the USA, Australia and Canada, in that order. Great Britain were fastest at every split, setting a world record of 3:15.669, breaking the one they previously set in Melbourne, Australia, at the world championships. The U.S., after a slower start, moved into second in the middle portion of the race, just hanging on ahead of Australia and Canada, with all three teams within four-tenths of a second of each other. Australia was consistent for third, while Canada began slowly and built strongly towards the finishing, setting the second fastest split for the final 1000 metres.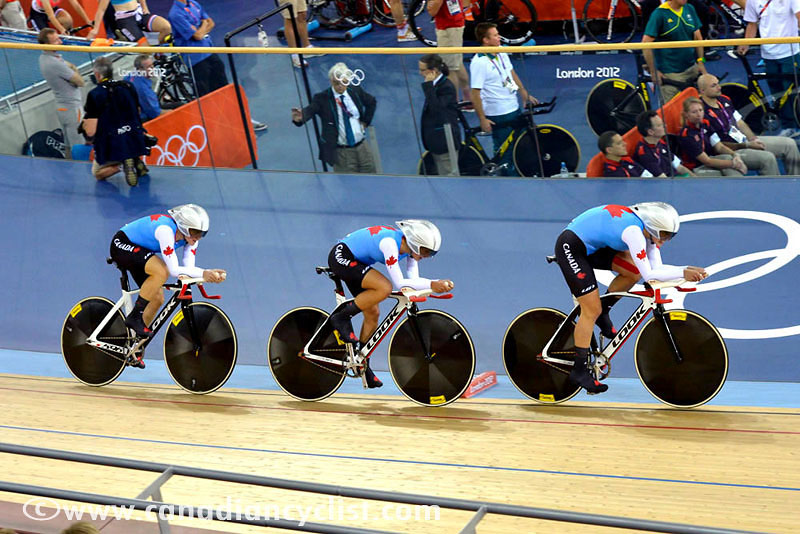 Gillian Carleton leading Jasmin Glaesser and Tara Whitten

Canada will race Great Britain, and the U.S. will go up against Australia tomorrow in the next round, with the two winners moving to the gold medal race. The other two will go into a pool with the next four teams (New Zealand, Netherlands, Germany and Belarus), with the top times from those six teams determining who gets to race for bronze. It is likely Canada will go up against either the U.S. or Australia, since the next fastest team was over six-tenths slower in qualifying.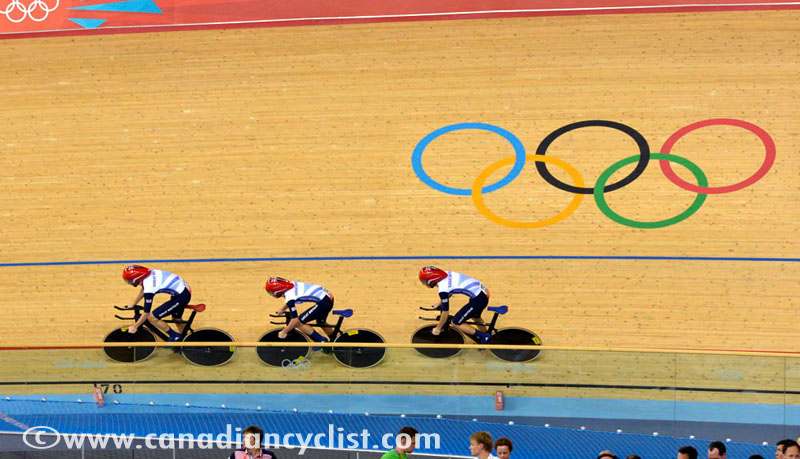 Great Britain set a new World record


Gillian Carleton from the Canadian team spoke after the race:

This crowd was on their feet, it just brought us to a whole other level of racing. I am so excited for what tomorrow has in store for us. The paramount thing for us to do now is recover properly. So immediately get off our feet, get a massage from our therapist who travels with us. Get some proper food and get into bed pretty much immediately.

Tomorrow we are lucky we don't start until the afternoon, so the morning will be nice and relaxed. A couple of easy minutes of spinning in the morning to get ready then we'll be back here.

All three of us were a bit nervous on the start line today. Personally my heart was racing. I mean, it is the Olympic Games, I was a bit twitchy out there. Historically, we always do better on our second ride than our first ride, so I think that we will be very very smooth tomorrow and we'll be able to hold a really good pace. I am quite excited.

Yes, we were more nervous that normal. It is the Olympic Games. Even if you try not to let the crowd affect you, it is just absolutely amazing being in this venue with all of the screaming cycling crazy fans. So you definitely get excited. I won't say it's an anxious nervous, but excited just to go and put the pedal down.

I am really pretty confident for tomorrow. This track and venue is special. Every time you get the chance to race against Great Britain I find it elevates our performance. So we are really, really excited about what we can do tomorrow.

We have a very specific warm up we do on our rollers, and I personally find that when I am focussed on my warm up I am not even thinking about the race, just thinking the next step, what I am going to be doing on the bike. Once you get off and have that ten or fifteen minutes before you get up to the line that you have to keep a tight handle on the nerves. But we are very good, we just talk about our race plan, our executions, don't think about the outcome, just the process I find that really helps.

This is an absolutely beautiful facility. The track is really fast. The wood is really hard. It feels very smooth to ride on. I also find the shape is really nice, you are able to hold your line very well. You don't swing up onto the corners like you do sometimes on steeper tracks. It is really just a pleasure to ride.


Women's Keirin

This was expected to be another of the many showdowns between rivals Pendleton and Anna Meares (Australia). Both easily went through the first and second rounds. Monique Sullivan finished just out of the first two, and had to go through the Repechage to make the next round. In the second round, Sullivan's tactic was clearly to stick to Meares like glue, and it worked, with the Canadian following the last lap surge of the Australian to finish second and go through to the medal final. In the final, Meares attacked early, with Sullivan struggling to stay with her, however, the Australian faded with a lap to go, just as Pendleton was moving up. The Brit came over the top to easily pull to the front, holding off Guo Shuang (China) for gold, with Lee Wai Sze (Hong Kong) taking bronze.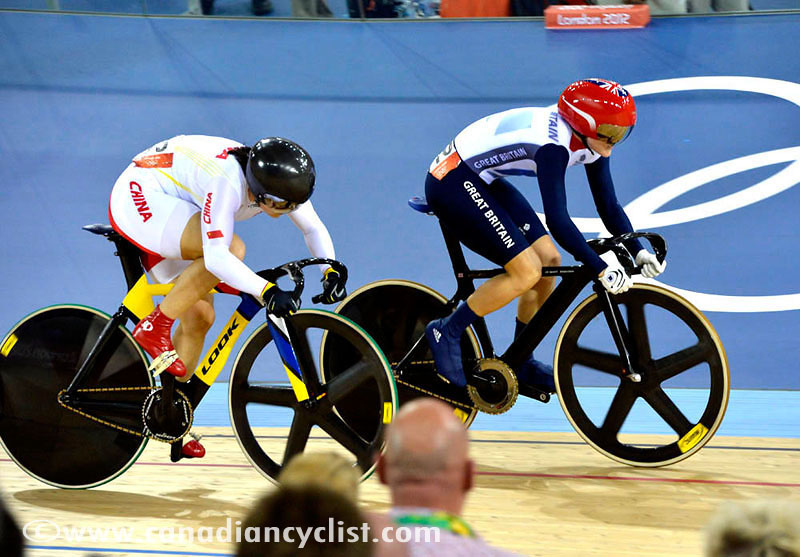 Pendleton holds off Guo in the final straight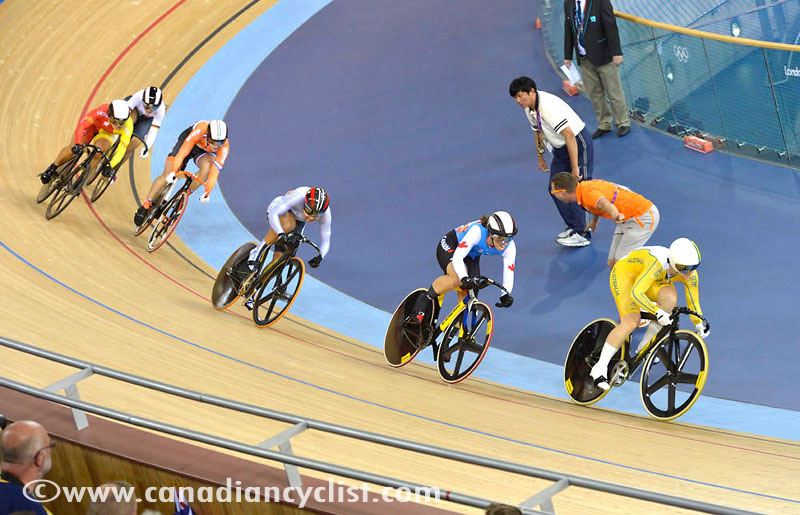 Sullivan took second in round 2 and advanced to final


Monique Sullivan spoke after her race:

Yes, I was really excited to make the A Final. Less than a year ago I was crying after the World Champs because I didn't even think I would qualify. I have to credit the team for keeping me going. The team has come such a long way in the last four years and it makes all the difference. We had some pretty good results last time, but there was no team there. I owe them everything.

I started to feel better during the races. The first round wasn't very good for me. But I knew that I had come back and had strong reps before. It was a little close to the line that one, though. But I am really excited to have this opportunity. To be on the line with Anna, she is my idol.

It was a real thrill just to be in that field. I hope it is not the last time. I am just learning. It is my first Olympics. I started this when I was just 12 years old. Just a little kid. And I just want to say to everyone who watched today: It might look scary, like it is impossible to start this race, but there are velodromes across Canada. I'm from Calgary, which has a velodrome, and just go and try it. I have not met anyone who did not love it on their first try. Go and try it. There is a program for kids and anyone can try.

I have the Sprint tournament on Sunday. My form has been good in training. I'm not sure how I compare. I am just really excited to have the opportunity. I have nothing to lose. Its going to be great.

Question: You tried to jump on the wheel [of Meares]. What was your goal?

My goal was just to stay on that wheel. I mean, Anna was the one to beat hands down and I knew Vicki was really strong too but, I wanted Anna's wheel and I was going to fight for it. But she accelerated so fast I missed the wheel so I tried to tuck back in again and make a late charge. But I'm not the strongest one in the race, so it was just a tactical thing for me. It's a little bit more risky when you have to go based on tactics, but I did my best and I'm really happy.

Question: You came from behind so beautifully in the previous race, was there just too much speed in the final group?

Yes, I missed the move when Anna went. There such a difference between riding on the the black line and riding even on the red line. Anytime when you come around especially in the the corners you are losing a whole bunch of speed. So for me I really have to conserve everything the whole time. So when I missed that move I decided to relax and try again later, and it didn't work out for me that time.

If I had to do the race again over, I would have the same tactic, but just not lose that wheel, when Anna went.

Hopefully it is just a start for track cycling. We have so much more coming with Zach and Tara in the Omnium and the girls in the Pursuit tomorrow. Don't count them out.


Fatal error
: Uncaught Error: Object of class PDO could not be converted to string in /home/canadiancyclistcom/canadiancyclist.com/public/modules/news.php:528 Stack trace: #0 /home/canadiancyclistcom/canadiancyclist.com/public/modules/news.php(517): getrelatedgallery() #1 /home/canadiancyclistcom/canadiancyclist.com/public/dailynews.php(58): getDailyNewsArticle() #2 {main} thrown in
/home/canadiancyclistcom/canadiancyclist.com/public/modules/news.php
on line
528