August 6/12 16:45 pm - 2012 Olympic Games: Track Day 5 report, photos and results

Posted by Editoress on 08/6/12

Day Five on the Track saw Great Britain take their fifth gold medal in seven events with Jason Kenny overpowering Gregory Bauge (France) in the Men's Sprint. The Women's Sprint worked its way through the Quarterfinals, with the top-ranked riders all making it through to tomorrow's semifinals. The Women's Omnium also went through its first three events, with Laura Trott (Great Britain) and Sarah Hammer tied for the lead, and Canada's Tara Whitten in fourth.

Women's Omnium

Trott quickly took control of the Omnium with a blazing fast Flying Lap. Whitten finished seventh and other favourites Hammer and Annette Edmondson (Australia) fifth and third, respectively. In the Points Race, Whitten and Hammer were the only front runners to make a group that gained a lap, with Whitten finishing third, behind race winner Malgorzata Wojtyra (Poland). After the second event, Hammer and Whitten were tied for the lead with ten points each, one ahead of Trott, who was tenth.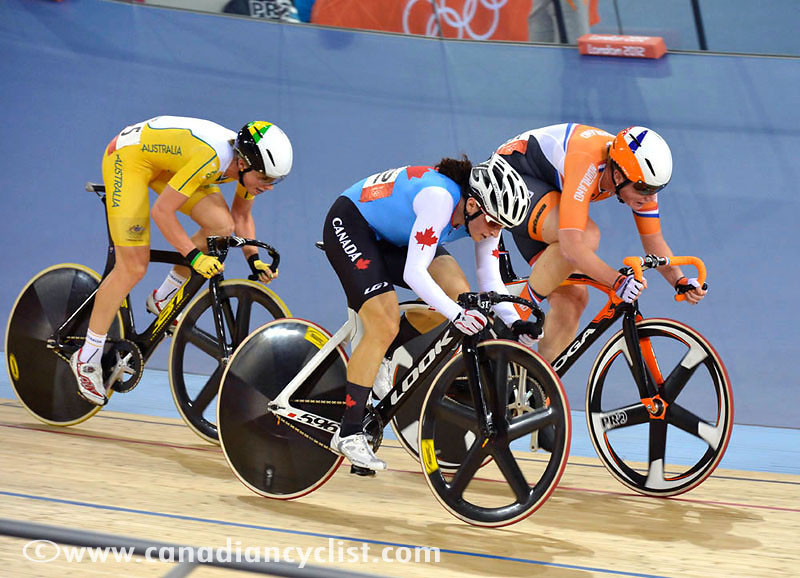 Whitten goes for a points sprint

The third event was the Elimination, and here Trott and Hammer went firmly into the lead in the overall standings, with the British rider winning her second event and Hammer finishing second, followed by Edmondson in third. Whitten was a disappointing eighth, leaving her six points behind Trott and Hammer, and one behind Edmondson.

Whitten will have a difficult job to make up ground on the two leaders, with both Trott and Hammer expected to do well in the Individual Pursuit, and Trott favoured to win the 500M time trial.

"There were a few ups and downs," agreed Whitten. "The Points race is probably one of the best Points races I have ridden in the last couple of years, so I was really happy with that."

"But the Elimination was a bit disappointing; usually it's an event I can really count on and I just got caught .... I'm still a bit stunned about what happened."

"I have to just re-focus for tomorrow. I have a really good Pursuit and I think I can move back up the rankings. We'll see what happens tomorrow."

"I knew I needed a good Points race. my flying lap was a kind of average for me. I was hoping for a little bit better. But I knew after the outcome I just had to make sure I was really aware in the Points race and taking advantage of any opportunities that I saw."

"I definitely prefer the Pursuit, it's easy to quantify. You know what you can do. So I'm looking forward to that, then we'll see with the Scratch and the 500 Time Trial what my strategy is."

"I would preferred to be a little bit higher in the standings but I can live with fourth, for now."


Men's Sprint

This event was always expected to come down to a competition between Kenny and Bauge, and that was how it played out. Both riders easily disposed of their competition in the semifinals - Njisane Phillip (Trinidad) for Kenny and Shane Perkins (Australia) for Bauge. However, when it came to the gold medal round, Kenny was clearly the faster rider, winning in two straight, both from the front and behind, justifying his controversial selection for Great Britain over defending champion Chris Hoy. Perkins defeated Phillip in two straight for the bronze.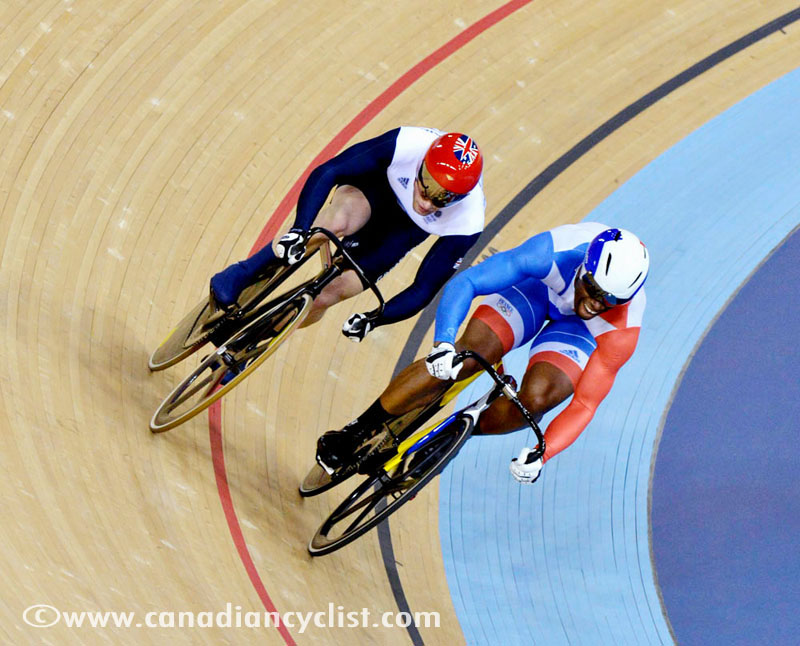 Jason Kenny (Great Britain) vs Gregory Bauge (France) in Gold medal final

"It's amazing," commented Kenny. "I hadn't thought about it until the last lap, then it suddenly dawned on me. It was quite the battle to get here with Chris [Hoy]. I didn't want to mess that one up. I was really pleased. I just did it for the team. It's pretty amazing."

"I am really pleased about that [beating Bauge]. We're really close. At the worlds and the year before, he's been the slightly faster rider. Three days ago, I qualified a little bit quicker, and again the race has come down to that. I like racing against Bauge, he's a real pro rider and it always makes for some pretty exciting racing. I am really pleased."

Bauge, who has been the dominant rider for much of the past four years, was clearly disappointed. "I've got nothing to say. I've done my sprint, I think I haven't made any mistake along the two matches. This is sport, small details worked in his favour. I have no regrets."

"I don't like losing. This is a defeat in a big event, it angers me. This is a failure for me personally. It is four years that I've dominated in my discipline. I wanted gold, it's a disappointment. I do not train twice a day for this disappointment. We have to look at the big picture. I've reached five finals in big events in four years, I'm the world champion, I'm still the No.1, he beat me, unfortunately,"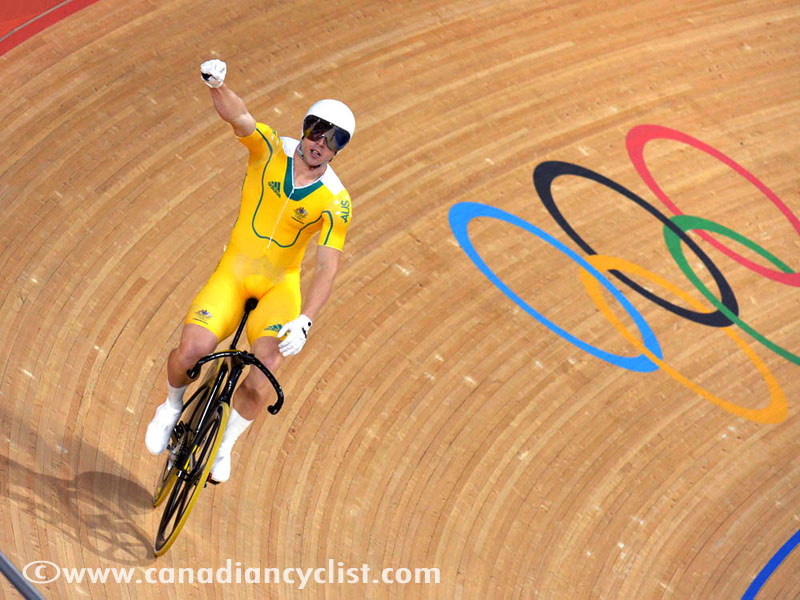 Perkins defeated Phillip in two straight for the bronze


Women's Sprint

The Women's Sprint continued its second day of competition with the quarterfinal rund, which saw Victoria Pendleton (Great Britain), Anna Meares (Australia), Shuang Guo (China) and Kristina Vogel (Germany) move on to tomorrow's semifinals. Only Guo required three rides to make it through the round.
Victoria Pendleton (Great Britain) vs Olga Panarina (Belarus)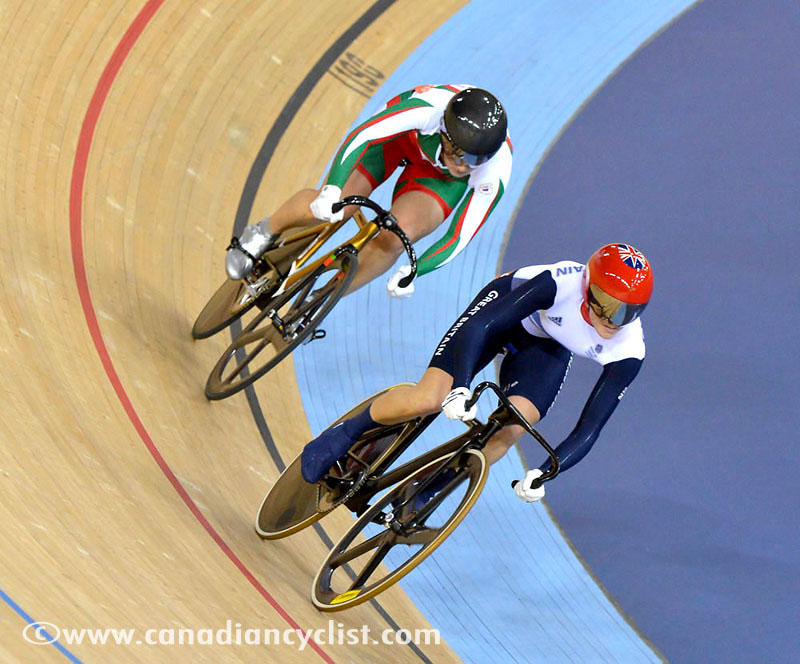 Full results

Women Omnium

Flying Lap
1 Laura Trott (Great Britain)
14.057
2 Clara Sanchez (France)
14.058
3 Annette Edmondson (Australia)
14.261
4 Kirsten Wild (Netherlands)
14.335
5 Sarah Hammer (United States of America)
14.369
6 Leire Olaberria Dorronsoro (Spain)
14.463
7 Tara Whitten (Canada)
14.516
8 Marlies Mejias Garcia (Cuba)
14.554
9 Li Huang (People's Republic of China)
14.571
10 Jolien D'Hoore (Belgium)
14.594
11 Mei Yu Hsiao (Taipei)
14.662
12 Tatsiana Sharakova (Belarus)
14.701
13 Malgorzata Wojtyra (Poland)
14.754
14 Minhye Lee (Republic of Korea)
14.793
15 Evgeniya Romanyuta (Russian Federation)
14.909
16 Joanne Kiesanowski (New Zealand)
14.924
17 Angie Gonzalez (Venezuela)
15.115
18 Maria Luisa Calle Williams (Colombia)
15.559
Points Race
1 Malgorzata Wojtyra (Poland)
34 pts
2 Tatsiana Sharakova (Belarus)
28
3 Tara Whitten (Canada)
28
4 Jolien D'Hoore (Belgium)
25
5 Sarah Hammer (United States of America)
25
6 Evgeniya Romanyuta (Russian Federation)
24
7 Joanne Kiesanowski (New Zealand)
22
8 Maria Luisa Calle Williams (Colombia)
22
9 Angie Gonzalez (Venezuela)
20
10 Laura Trott (Great Britain)
14
11 Annette Edmondson (Australia)
10
12 Marlies Mejias Garcia (Cuba)
4
13 Leire Olaberria Dorronsoro (Spain)
3
14 Minhye Lee (Republic of Korea)
3
15 Li Huang (People's Republic of China)
2
16 Kirsten Wild (Netherlands)
2
17 Mei Yu Hsiao (Taipei)
2
18 Clara Sanchez (France)
0
Elimination
1 Laura Trott (Great Britain)
2 Sarah Hammer (United States of America)
3 Annette Edmondson (Australia)
4 Evgeniya Romanyuta (Russian Federation)
5 Kirsten Wild (Netherlands)
6 Jolien D'Hoore (Belgium)
7 Joanne Kiesanowski (New Zealand)
8 Tara Whitten (Canada)
9 Marlies Mejias Garcia (Cuba)
10 Malgorzata Wojtyra (Poland)
11 Minhye Lee (Republic of Korea)
12 Leire Olaberria Dorronsoro (Spain)
13 Clara Sanchez (France)
14 Maria Luisa Calle Williams (Colombia)
15 Tatsiana Sharakova (Belarus)
16 Li Huang (People's Republic of China)
17 Mei Yu Hsiao (Taipei)
18 Angie Gonzalez (Venezuela)
Standings after 3/6 events
1 Laura Trott (Great Britain)
12 pts
2 Sarah Hammer (United States of America)
12
3 Annette Edmondson (Australia)
17
4 Tara Whitten (Canada)
18
5 Jolien D'Hoore (Belgium)
20
6 Malgorzata Wojtyra (Poland)
24
7 Kirsten Wild (Netherlands)
25
8 Evgeniya Romanyuta (Russian Federation)
25
9 Marlies Mejias Garcia (Cuba)
29
10 Tatsiana Sharakova (Belarus)
29
11 Joanne Kiesanowski (New Zealand)
30
12 Leire Olaberria Dorronsoro (Spain)
31
13 Clara Sanchez (France)
33
14 Minhye Lee (Republic of Korea)
39
15 Li Huang (People's Republic of China)
40
16 Maria Luisa Calle Williams (Colombia)
40
17 Angie Gonzalez (Venezuela)
44
18 Mei Yu Hsiao (Taipei)
45
Final 3 events will take place on Tuesday, 10:19 am( GMT)
Women Sprint

1/4 Final
Heat 1
Race 1
Race 2
Decider
1 Victoria Pendleton (Great Britain)
11.226
11.339
2 Olga Panarina (Belarus)
Heat 2
1 Anna Meares (Australia)
11.465
11.573
2 Lyubov Shulika (Ukraine)
Heat 3
1 Shuang Guo (People's Republic of China)
11.283
11.337
2 Lisandra Guerra Rodriguez (Cuba)
11.536
Heat 4
1 Kristina Vogel (Germany)
11.541
11.568
2 Simona Krupeckaite (Lithuania)

Winners advance to Semifinal on Tuesday
Losers race 5-8 Final

5-8 Final
5 Simona Krupeckaite (Lithuania)
11.812
6 Lisandra Guerra Rodriguez (Cuba)
7 Lyubov Shulika (Ukraine)
8 Olga Panarina (Belarus)
Men Sprint

Semifinals
Heat 1
Race 1
Race 2
1 Jason Kenny (Great Britain)
10.159
10.166
2 Njisane Nicholas Phillip (Trinidad and Tobago)
Heat 2
1 Gregory Bauge (France)
10.358
10.268
2 Shane Perkins (Australia)
Winners ride for Gold and Silver, losers for Bronze
Final
Ride for Gold and Silver
Race 1
Race 2
1 Jason Kenny (Great Britain)
10.232
10.308
2 Gregory Bauge (France)
Ride for Bronze
3 Shane Perkins (Australia)
10.489
10.297
4 Njisane Nicholas Phillip (Trinidad and Tobago)
Fatal error
: Uncaught Error: Object of class PDO could not be converted to string in /home/canadiancyclistcom/canadiancyclist.com/public/modules/news.php:544 Stack trace: #0 /home/canadiancyclistcom/canadiancyclist.com/public/modules/news.php(533): getrelatedgallery() #1 /home/canadiancyclistcom/canadiancyclist.com/public/dailynews.php(58): getDailyNewsArticle() #2 {main} thrown in
/home/canadiancyclistcom/canadiancyclist.com/public/modules/news.php
on line
544