August 7/12 19:41 pm - 2012 Olympic Games: Track Day 6 report and photos

Posted by Editoress on 08/7/12

Track racing at the Games concluded today, Day 6, with three gold medal finals. Great Britain took two, to equal their seven track titles from Beijing, while Australia finally got their first gold on the track for these Games. Canada had one rider in action on this final day, Tara Whitten in the Omnium. Unfortunately, Whitten was fourth, just out of the medals.

Women's Omnium

After the first three events yesterday, Sarah Hammer (USA) and Laura Trott (Great Britain) were tied at 12 points, with Annette Edmondson (Australia) at 17 and Whitten at 18. The opening event today was the Individual Pursuit, which Hammer won, followed by Trott and Whitten, putting these three in the medal spots (Whitten and Edmondson were tied on points).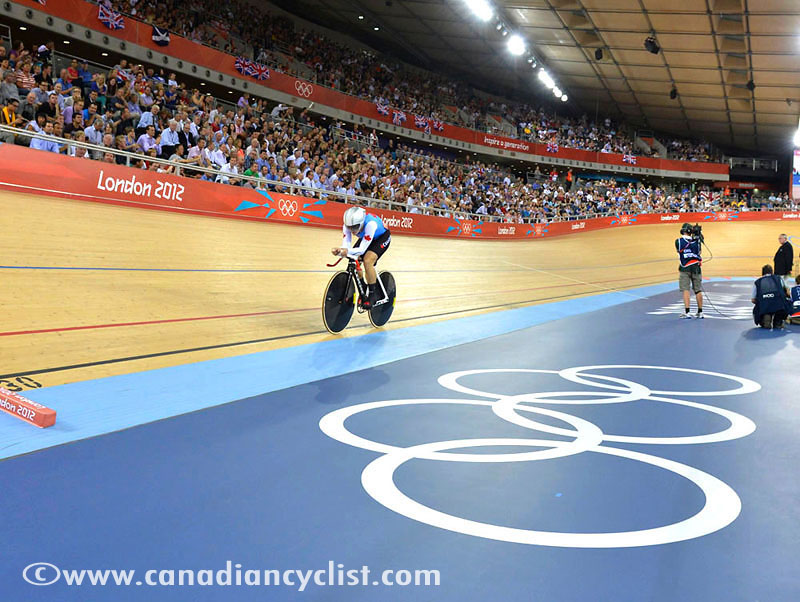 However, the next race was the Scratch, which was Whitten downfall for a possible medal. After taking the lead with three laps to go, Whitten was swarmed in the final lap and a half, eventually finishing sixth. Edmondson won, followed by Hammer and Trott.

Going into the final 500 metre time trial event, Hammer had a two point lead on Trott, with Edmondson five points ahead of Whitten. Trott took the win, followed by Edmondson, with Hammer fourth, putting the British rider ito the gold medal by one point. Whitten finished tenth in the final event.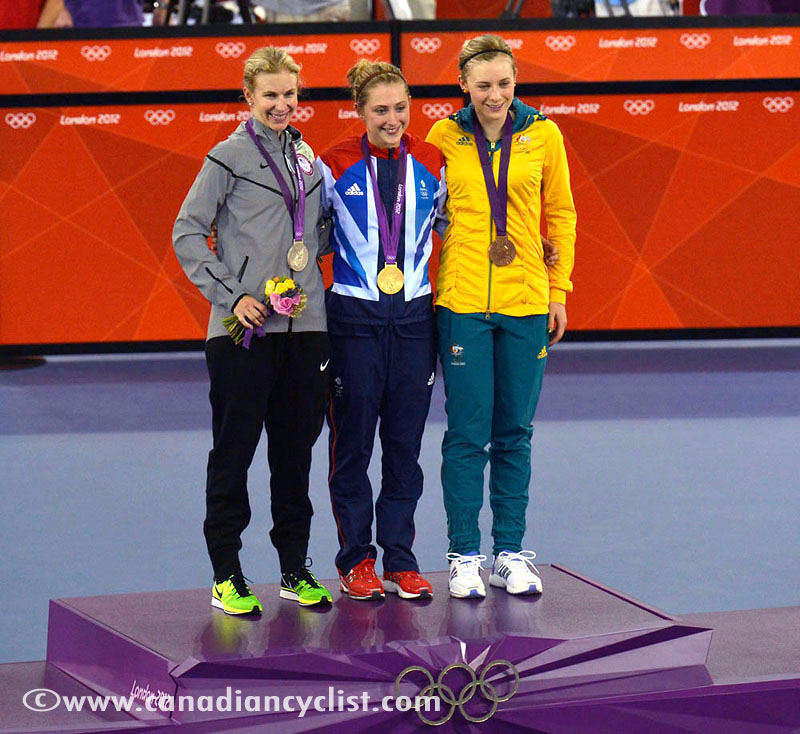 Hammer, Trott, Edmondson

Tara Whitten:

"Yesterday in the Elimination I lost a few points that I needed going into today. Especially knowing that a lot of the girls are a bit stronger in the last event, the 500, than I am. But I just gave it everything I had today and it just wasn't enough."

Difficulty in the Scratch Race:

"I have been trying to improve my positioning but really, for me, I am better when the race it is more strung out when it comes down to a bunch sprint like that. I am not quite as good at finding the right wheel. I did what I could."

Is this lack of experience?

"Half the Omnium events are timed events and half are head to head racing. They require a different mind set, and I have been really drawn to the timed against the clock events. I was happy how I rode the Points Race and the Scratch Race too, but I just didn't have the right wheel at the end."

"A few seconds can make all the difference for sure. In the mass start races it is all about the decisions you make and in the timed events everyone is so close. It all just comes down to who has it on the day."

"When I first started cycling five years ago I was a bit scared of the bunch but I've gotten more comfortable. At this competition I felt comfortable, I was in the race and aware of what was going on. In the Points race I was really happy how I rode that, but made a mistake in the Elimination, that was just a split second, and that was enough for me to be out."

"It is pretty disappointing. My main thing coming in to the Games was to have no regrets about my preparation and I really feel even though it didn't go the way I wanted, the first day I got on the track I felt like I couldn't be more ready. I was excited to race, I was ready to race. My preparation had gone well. I felt in the best shape of my life. So I can't really ask more than that to be at the Olympics."

"Yes, I am thrilled to be going home with Bronze [in the Team Pursuit]. We had a tough fight there. We had to really pull together as a team to pull that one out. We were down on Australia in every ride leading up to the final and we knew we had to do something special . I am really proud of that definitely."

"Yes, the level of competition in the Omnium has risen. That happens every time there is a new event. Once people start figuring out what is going on, the level increases dramatically. I have had to keep pace with the level and I think some of the girls have a bit more speed. I am stronger in the endurance side, but lose a bit in the speed events and it kind of puts me at a disadvantage now."

What's next?

"My plan has always been to go back to my degree after the Olympics, but right now it is all a bit of a blur."

Will you continue in competitive cycling?

"I don't know. My focus has been on the Olympics. Now I will make a decision. I have only had a five year career in cycling, but I have had a long career in sports. It might be the end, but I am not sure."

"It has been an incredible experience. Just the whole process of elite sport is quite an amazing thing to be part of. I don't know if everyone really understands just how much of an all-consuming thing it is. I felt the last couple of years I've spent every waking moment thinking how to be better, how I can get an edge on my competition. How I can be at a personal best. It consumes every aspect of your life. It is an amazing thing, but maybe it is time for a break right now."

Is the 'machine' of the top nations just too much?

"Personally I have has so much support. From Cycling Canada and Own the Podium. It has been amazing, especially in the last two years. It has been amazing just the amount that things have changed. The excitement for summer sport after the success in Vancouver. I couldn't ask for better support."

This being your first Olympic, was that a factor?

"Not really. I went to the Commonwealth Games in 2010, to experience the Games atmosphere. I didn't know at the time how similar it would be. Coming here it was very familiar. The athlete village, the cafeteria and all the logistics. I felt comfortable here, I felt ready, I felt excited to race. I didn't feel overwhelmed by it being the Olympics."

How was your confidence after moving up to third after the Pursuit.

"I was a bit nervous because I have made mistakes in the Scratch race before. The Points race, is longer, people have to work harder which plays more into my strength."

"There are so many things in a Scratch race that are out of your control. You just have to go in with a plan, but also be very aware of what's going on and then react to things going on in the race. I had a plan, and really I had to put points between me and the other three and there just wasn't a moment that I was able to make that move."

Which day was worse for you?

"I was really counting on a better Elimination. It kinda threw me to get knocked out so early. It was hard to refocus after that. And typically I have been winning the Individual Pursuit, so even coming third in that was disappointing about that."

"I think when I get a bit more perspective ... I have no regrets. I have loved this journey. I have experienced success and disappointment. That is part of sport. I love the process of just trying to be my best. It was an incredible experience and I wouldn't trade it for anything."


Women's Sprint

The semifinal and medal rounds for the women's Sprint were held on the final day of competition at the track. As expected, the gold medal final came down to the usual rivals of Anna Meares (Australia) and Victoria Pendleton (Great Britain). Pendleton looked to have the edge - she had qualified first and already won a gold medal in the Keirin, while Meares seemed to be struggling. However, the final for gold did not go as expected.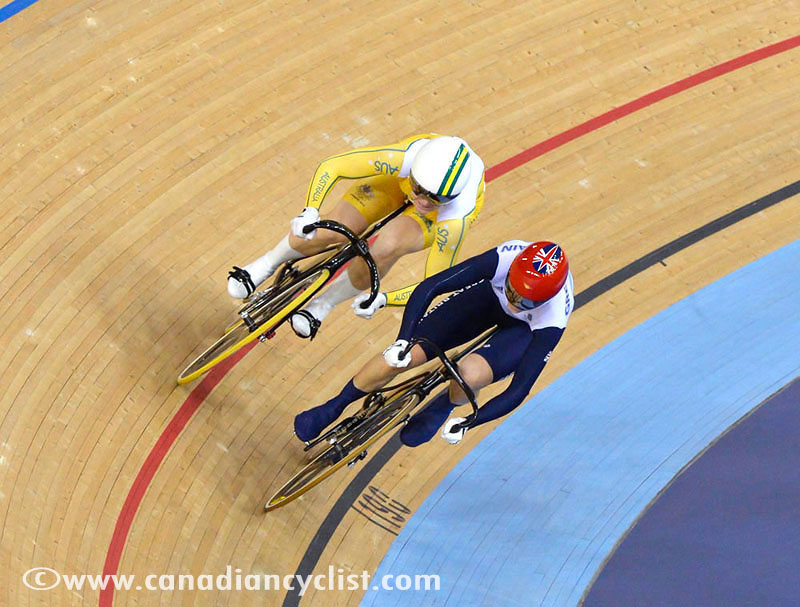 Meares and Pendleton bump during Heat one


Pendleton won a very tight first race, but was subsequently relegated for leaving the sprinter's lane after the sprint was established. This appeared to have affected the high strung British rider, because in the second race, she suddenly backed off just as they were getting into the final lap, giving Meares an easy win for the gold medal. This was known to be Pendleton's last race; and she has been talking more about retirement than racing in recent interviews, so she may have just gotten to the point of letting it go.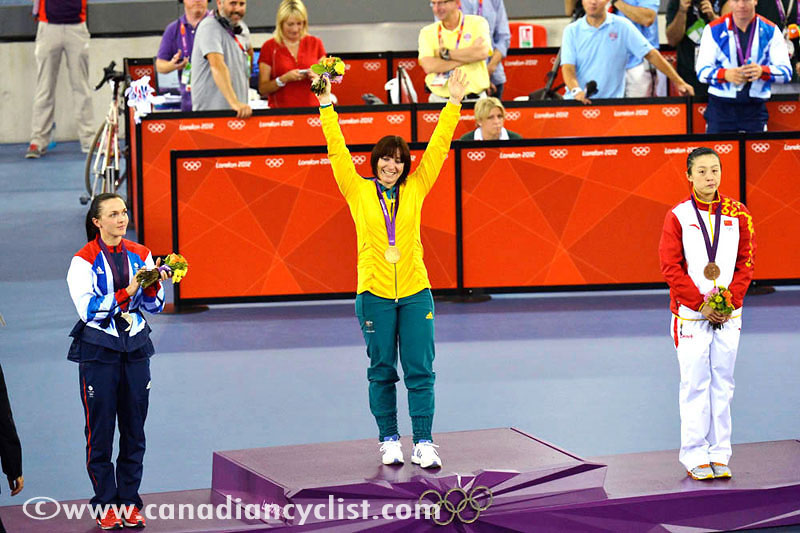 Anna Meares:

"It was so close I thought I had got it and then when I saw the number one position had been given to Victoria (Pendleon) I came off the track and asked my coach Gary, 'Will there be a relegation, do you think?' "

"He just said to me, 'I don't care, look towards the next race'. Before the relegation came through I said to him, 'I can do this, I can really do this'. I got a lot of belief and confidence out of my performance in that race. I knew I had good legs, I think that showed in the second one."

On how much that medal means to her:
"Probably the biggest and most successful of my career. There was Gold for me in Athens in 2004 (in 500m time trial) as a young 20-year-old, but I was very inexperienced, and very much not expected to have that level of success."

"The expectatioon was very different this time. This event has been the one I have targeted. Bronze in Athens (2004), silver in Beijing (2008), I've wanted to be able to step one step higher here in London and the challenge was a big one."

Victoria Pendleton:

"I won't ever don a skinsuit again. I'm going to continue cycling to keep fit and that is it. I'm going to be able to do normal stuff. Cycling fell in my lap, my dad was a cyclist, it was never really my ambition, it was a way of doing stuff with him."

On being relegated in the first match of the individual sprint final:
"I wasn't aware I came out of the lane, it is not something you can see that easily. I'm annoyed at myself because it is something I don't regularly do. I have never been disqualified and relegated in the same week, that is a new PB (personal best)."

On competing at the London 2012 Olympic Games:
"I thought I wasn't going to make it. When I arrived in the (Olympic) Village I thought: 'Wow, I can't believe you actually made it this far'. So to come away with two medals, I am relieved. The opportunity to compete at a home Games, I didn't want to be sat at home, watching a home Olympics. I didn't want to live the rest of my life regretting something so rare and that would be worse torture than the last four years."

On her rivalry with Meares:
"We had a good, solid hug and chat about our rivalry. I don't think there are two others like us."


Men's Keirin

The final track event of the games was the men's Keirin, were Chris Hoy would get a chance to go for his second gold of the Games, and become the first Brit to win six gold medals. The extremely popular Scottish rider did this with ease, riding from the front in each of his three races. In the final he went to the front with a lap and a half to go, holding off a late challenge by Maximilian Levy (Germany) in the final straight to take a very popular victory. Levy was second and there was a tie for third, with Teun Mulder (Netherlands) and Simon van Velthooven (New Zealand) finishing at exactly the same time. Both were awarded bronze medals.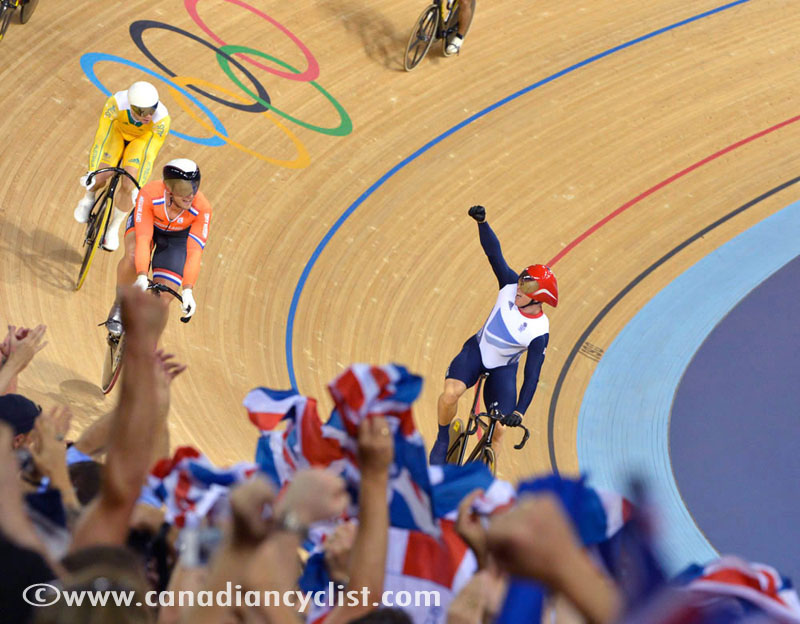 Hoy celebrates winning the Keirin and his 6th gold medal


Chris Hoy:

"In the semifinal I gave a little bit too much too soon when I went over the top, and Jan van Eijden (Great Britain coach) and Iain Dyer (coach) said to me: 'you have to hold something back for the last lap'. So when I took the front in the final I wasn't going 100%, I was 95% and when I came into the bell (lap) I just caught out of the corner of my eye Jan jumping up and down going absolutely mental and that's when I realised that was the time to go."

"Something must be happening behind me (I thought), because he was quite animated. I just opened up the taps and gave it everything. I could see his (Maximilian Levy) wheel coming past me and I just thought: 'I can't let his back wheel come past, if that happens it's all over'. I just drove like I've never driven before on the last bend. He stopped accelerating past me and I held him and he started to come back to me."

On the crowd reaction to him winning the Keirin final:
"You hear that roar, you know that you've won, I shut my eyes when I lunged for the line, I didn't want to look, I didn't want to check because for all I knew it could have been someone else coming fast on the inside. So I just drove all the way to the line through the bike and then heard this massive roar."

On the reasons why Great Britain has enjoyed such success:
"As a team we turn the mirror on ourselves. If we don't perform well, instead of looking at other people and asking what they are doing, we look at ourselves and ask what we can do differently. It's a combination of everything, it's attention to detail. They say it's the home advantage, the fact that we turn up for the Olympic Games absolutely perfectly. It's the equipment, the technology, the measurement in training. It's hard to explain, this is a very measurable sport where you can measure everything. So you're trying to control these variables."

On whether he will retire following the Glasgow 2014 Commonwealth Games:
"The dream scenario is to have that as my swansong, but it's a big ask, it's two more years. I'll take two months off the bike completely and we'll see. I'd love to be there."

On how the home Olympic experience compares to other Olympics:
"They're so different because you're sitting in your apartment in the sport village and it's like you're a sports fan, watching the BBC, watching the coverage day in, day out. All you're missing is a beer and a bowl of crisps; it's perfect. And then, all of a sudden, you think: 'well I'm part of this'. You look out your window and there's thousands of people walking around and you can see the Olympic Stadium and the torch, you have a great view of it all. In previous Games, you live in this bubble and you don't know what's happening at home and you fly back to a great reception but until you get home you don't appreciate what's been happening, but here we're part of it. You get to enjoy it so much more, it's been by far the most enjoyable Games, it's been a friendly Games, a fun Games, even for those that haven't performed well."


Canada's Joseph Veloce finished fourth in the first round repechage and did not advance.

Joseph Veloce:

"The experience as a whole has been great. I've learned a lot. I came here, I feel like I had good form, ultimately it did not go the way I wanted. I just need more experience racing keirins to get tactics down and hopefully improve for next time."

"The last international keirin I did was in September or October, so it's been nine or ten months since I've ridden the Keirin. Hopefully in the future I get to ride some more and build the tactics through those races."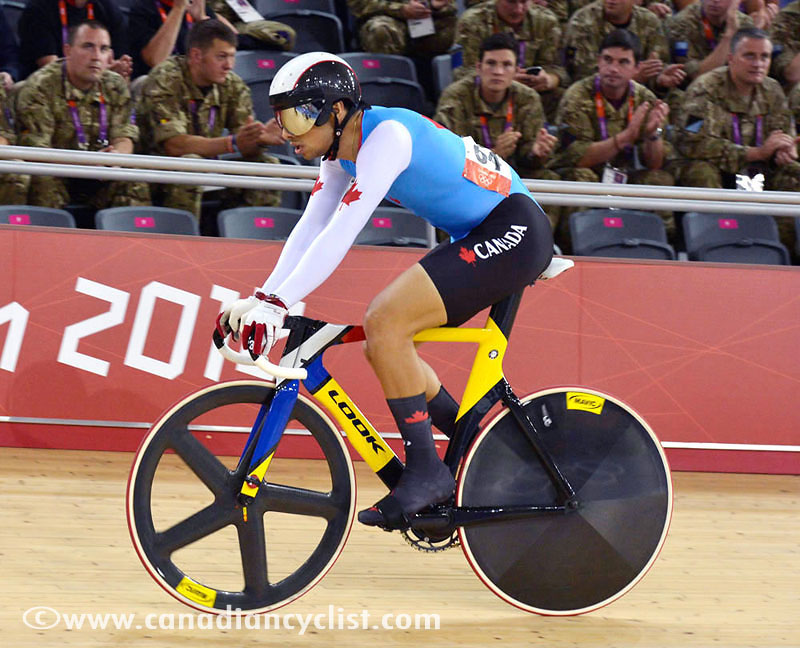 On how he practises:
"I watch a lot of videos, picture what I would do in certain races, but other than that you race one or two races a year, maybe three if you're lucky, so it's all I can do."

On what it is like racing the Keirin:
"It goes by so quickly. It's one of those races where you have a split second to make a decision and there are people all around you. You just got to go with your instinct and hope for the best."

What did you learn

"You have to be patient, but you have to really commit when you make the move. In the first race I hesitated just a little bit. In the second race I got boxed in, I just gotta work getting outta those situations."

Where you nervous in the first race?

"I think on the start line, yes, but once it got rolling I was focused on the race and I forgot about everything else. I didn't even notice the crowd."

"In the second race I knew I had to conserve energy and started riding on the blue line too early. The goal was to try and to stay down as long as possible. I got caught up a bit [in traffic] coming around the last corner and had nowhere to move."

Fatal error
: Uncaught Error: Object of class PDO could not be converted to string in /home/canadiancyclistcom/canadiancyclist.com/public/modules/news.php:528 Stack trace: #0 /home/canadiancyclistcom/canadiancyclist.com/public/modules/news.php(517): getrelatedgallery() #1 /home/canadiancyclistcom/canadiancyclist.com/public/dailynews.php(58): getDailyNewsArticle() #2 {main} thrown in
/home/canadiancyclistcom/canadiancyclist.com/public/modules/news.php
on line
528