August 10/12 14:38 pm - 2012 Olympic Games: BMX Final, report and photos

Posted by Editoress on 08/10/12

BMX, the third Olympic cycling discipline of the London Games schedule, concluded today with the semifinals and gold medal finals for both men and women. Maris Strombergs (Latvia) was successful in defending his men's title, while Colombia's Mariana Pajon completely dominated the women's competition. Canada's only BMX competitor, Tory Nyhaug, did not make it past yesterday's quarterfinals for the men.
Women
Pajon was clearly the strongest racer in the women's 16 rider field, winning all three of her semifinal runs. In the final, she took the lead by the first corner and held off New Zealand's Sarah Walker in the single gold medal race. Laura Smulders (Netherlands) took bronze. Pre-race favourites Caroline Buchanan (Australia) and Shanaze Reade (Great Britain) both had good semifinals, but each had a poor start at the gate in the final, and were out of contention by the first turn, finishing fifth and sixth, respectively.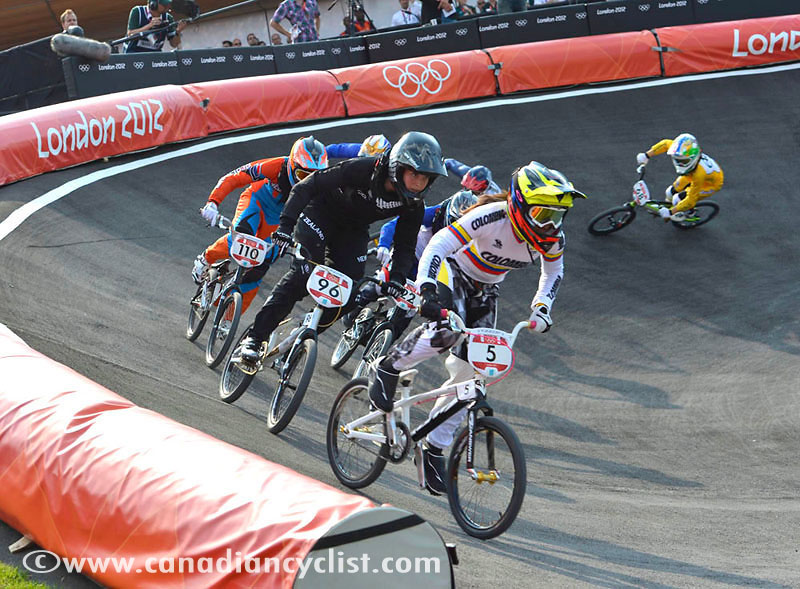 Mariana Pajon out front on final corner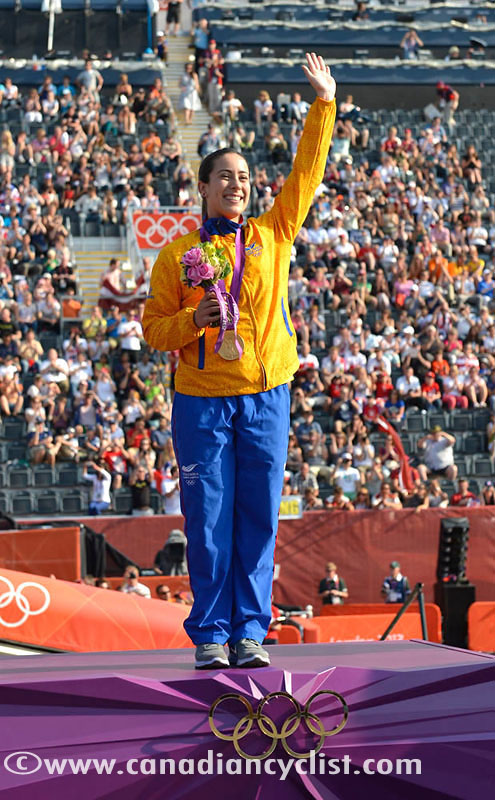 Pajon's Olympic gold was the second ever won by a Colombian.

"I'm very happy and proud. I won't believe it until I wake up with my gold medal after going to sleep with it. This is a very strong moment for Colombia cycling, there's been a lot of support in recent years and that's beginning to give results."

"I believed that I would win three years ago when I wanted to be here. I had a good gate in the semifinals and the final. I wanted to be here and I did it. I can't believe I did it."

"I started gymnastics when I was five, but I started BMX when I was three. I was doing gymnastics, BMX and cart racing. However BMX wasn't at the Olympics and I wanted to be here, then BMX was introduced in Beijing and I started training. I started racing when I was three and I realised I could do this and do it well. I started winning at four with the boys and won my first world title at eight."

"Off the track I'm all woman, but on the track I change completely and I become aggressive and I race like a man. Then at the end of the race I become a girl again and of course I cried. I didn't believe it. I cried lot of tears. This a dream come true."
Men
In the men's semifinals, Strombergs seemed to be holding back, finishing fourth, fourth and second in his runs to qualify third [of four] in his group for the final. Meanwhile, American Connor Fields and Sam Willoughby (Australia) were dominating their semis, each with two wins. However, in the godl medal race it was different story, as Strombergs surged to the front after the first corner. Fields got squeezed out on the first straight, finishing a distant seventh, after he was later taken down in a crash by Andres Jimenez (Colombia). But Strombergs was clear by this point, easily winning while Willoughby made a late move to take silver ahead of Carlos Oquendo (Colombia).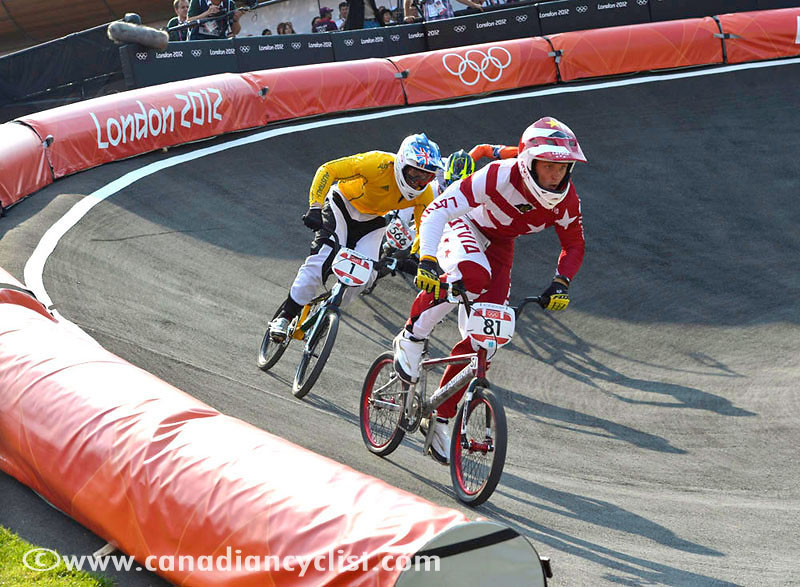 Maris Strombergs leading on final corner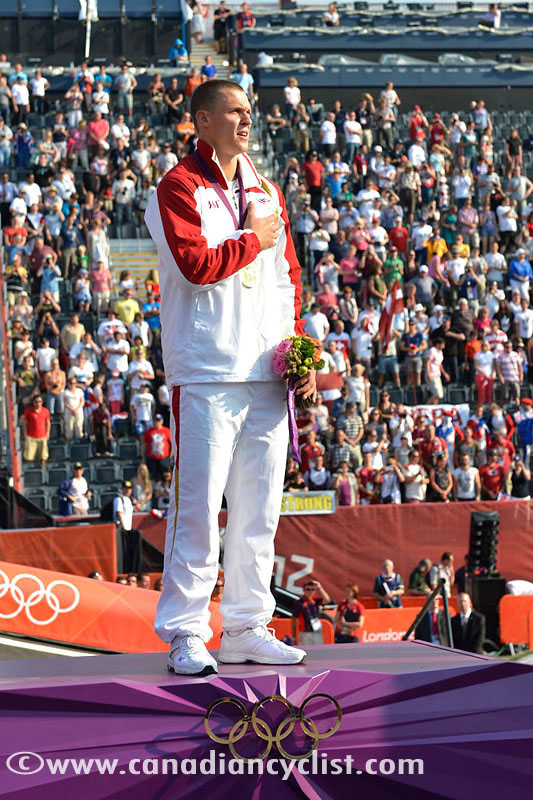 "For myself, is just gets tougher against these young kids," commented Strombergs. "I can see myself out there. I'm one of the old guys in BMX and I'm just 25. When you get older you start thinking more. I think yesterday and today, during the races, the nerves got the best of me but deep down I was still confident and I'm happy that I was able to put together one good race. This one means a lot more to me [than Beijing]. When you grow older you start (to) appreciate things more. So this one is more special."

"When I started BMX, I was crying to be honest. I was five years old when my father took me to the BMX track and when I saw all those big guys jumping those big doubles, I started crying. I said 'No way dad'. But after another month I said to my dad, 'OK, I'll go again' and that's how I started."
LOTS more photos,... click on links below

Fatal error
: Uncaught Error: Object of class PDO could not be converted to string in /home/canadiancyclistcom/canadiancyclist.com/public/modules/news.php:544 Stack trace: #0 /home/canadiancyclistcom/canadiancyclist.com/public/modules/news.php(533): getrelatedgallery() #1 /home/canadiancyclistcom/canadiancyclist.com/public/dailynews.php(58): getDailyNewsArticle() #2 {main} thrown in
/home/canadiancyclistcom/canadiancyclist.com/public/modules/news.php
on line
544