August 12/12 13:26 pm - 2012 Olympic Games: Men's XC report and photos

Posted by Editoress on 08/12/12

Cycling at the 2012 Olympics concluded with possibly one of the most exciting mountain bike races in the history of the sport. Jaroslav Kulhavy (Czech Republic) outkicked race favourite Nino Schurter (Switzerland) after a knock-down, drag-out battle that left both riders collapsed on the ground after the finish. Marco Fontana (Italy), who had ridden with the two leaders until the final half lap, took the bronze medal on a bike with no saddle. Canada's Geoff Kabush finished a strong eighth, while Max Plaxton did not finish after a crash on the first lap knocked him out of contention. [Note: Canadian quotes at the bottom]
Jaroslav Kulhavy outkicked race favourite Nino Schurter to take the gold
The men's seven lap race was expected to be a fast and aggressive battle between Schurter, two-time defending champion Julien Absalon (France) and Kulhavy, and the Swiss rider, winner of the World Cup series already this season, wasted no time - attacked on the start loop to open a gap.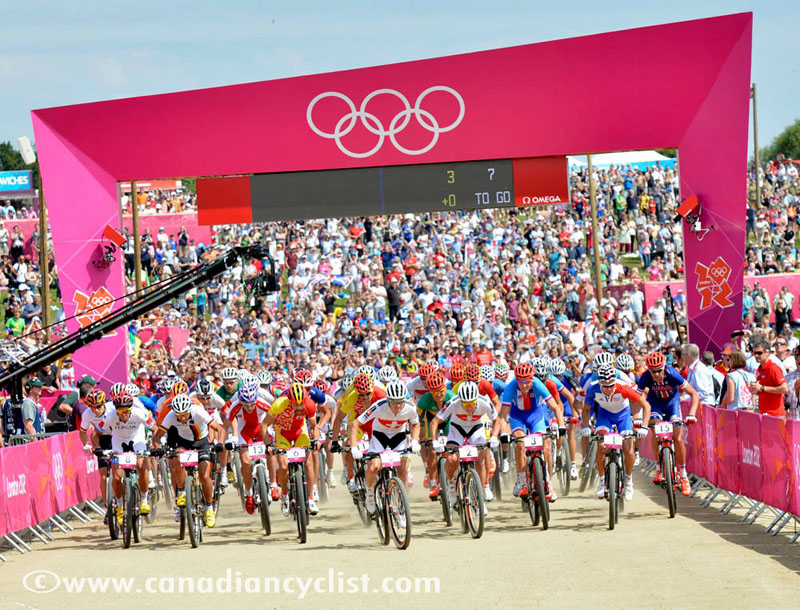 The start
Kulhavy, Absalon, Manuel Fumic (Germany), Fontana and Florian Vogel (Switzerland) quickly joined Schurter at the front, but Absalon was already have problems, and fell back before abandoning on lap two. It turned out that he had a slow leak in his front tire, and got caught behind a crash.

By lap two the final selection was clear, with Schurter, Kulhavy and Fontana having carved out a slight but significant lead on Burry Stander (South Africa) and Jose Hermida (Spain). The two chasers would briefly make contact with the front three on the third and fifth laps, but were quickly dropped again when the pace surged as both Schurter and Kulhavy tested each other out. Fontana was content to follow.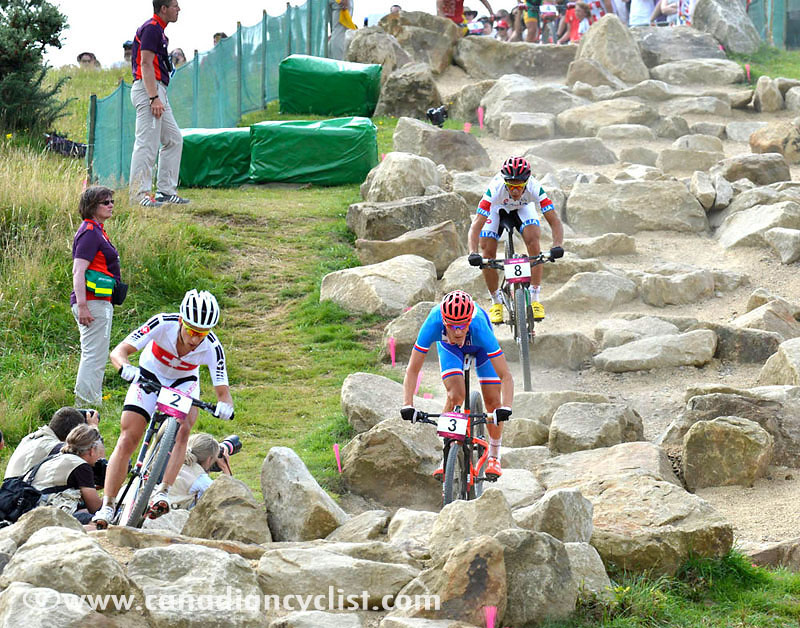 By the penultimate lap, it was clear that either Kulhavy or Schurter would take the Olympic title. Kulhavy was trying to power away from Schurter, because the Swiss rider has a history of winning sprints. But the Swiss rider was able to respond to every attack, and throw in his own jumps to make Kulhavy chase.
On the final lap the two were still together, with Fontana rejoining them and throwing his own attack into the mix. The Italian got a brief lead before first Schurter and then Kulhavy rejoined him. Schurter countered, and only Kulhavy was able to go with him with Fontana falling back to finish alone.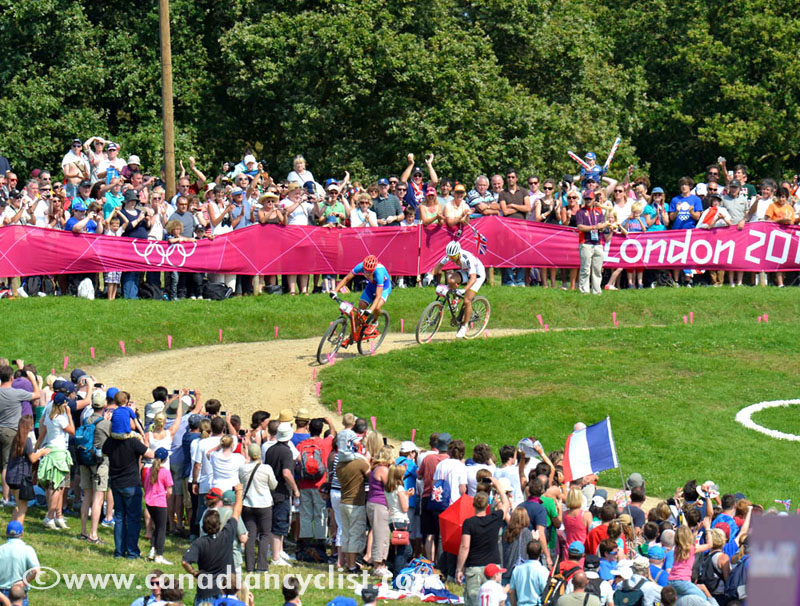 Kulhavy takes the lead with less than 500m to go
Kulhavy then attacked on the final long climb, but couldn't get by Schurter, so the pair entered the last loop to the finish together, looking to set up for a sprint. However, Kulhavy had one more trick up his sleeve, and attacked on the final grade around a long curve, to head into the final descent and last two corners in the lead. The final straight was only 50 metres, so Kulhavy's lead around the last corner was enough to allow him to hold off Schurter at the line. Neither rider had the energy to put their arms in the air and just rolled a few metres before staggering off their bikes and laying down.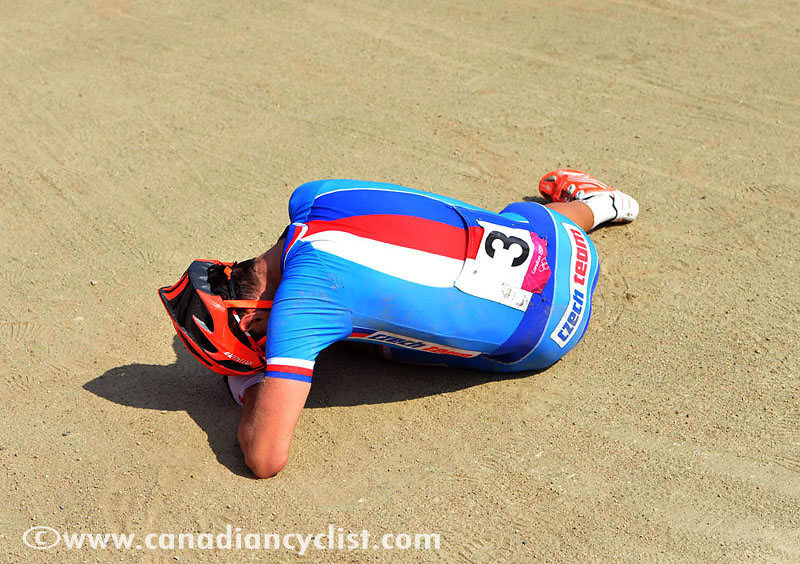 Kulhavy seemed stunned by his win, after struggling in the early part of the season, "I am really happy, because last year was amazing, but I did everything for this race. I had to try to attack on the top of the course. I tried on the second hill before the finish, but we were still together. That last chicane was the last moment for an attack, and I was ready for it. It turned out to be the most important moment of the race."

Schurter commented, "It was a great race, my strategy quite good, I was attacking from the first lap, always riding in the first two positions. At 200 metres before the finish line, I almost thought 'I can win this race.' At the second last corner Kulhavy just passed me and it's hard to close the race at that point."

"It was the perfect race, I have to be happy now with silver, Kulhavy was super-strong, he deserved it. The whole race has gone through my head and I analysed a lot of what was wrong and right, my goal was to run the perfect race and I would say it's one of my best performances and I just got beaten by a strong rider. I would say it was a big fight, a big show for our sport and now I have to be happy about my silver."

Julien Absalon spoke after about his DNF:

"The first lap was the worst thing that could happen to me, because I did hard work for four years to be 100% today, and to have a mechanical problem is the worst luck, so I am very disappointed. I had a puncture at a bad moment. It's hard to finish my last Olympics like this. I was in good shape but, after one lap, I was in (27th) place, 55 seconds behind. I didn't have any chance to reach the podium."

"For sure, I felt some pressure, but my mind was tranquil. I was feeling OK and I came here with two medals. If I won here today, it would have been a great finish. That's our sport and it's a mechanical sport - and that's the risk."



Geoff Kabush:

"It only comes around once every four years. I've had some good luck and some bad luck (at Olympics) and, as you see yesterday [with the Canadian women], you never know what's gonna happen."

"I started third row but I had a decent start, and moved into the mid teens. I got a little angry at a couple guys on the first lap who cutting right in front on some of the descents. One guy who jumped in front and walked down the waterfall, and I got a bit gapped off there. I made a good push and moved to the top ten, then had a little fall (third lap) and then regrouped, got in with Todd (Wells). Just decided to conserve and save for that push at the end. Was able to push back up for a top eight finish. I could see the time gaps to the front were small, but its a short fast course and hard to make up that time, I made the most of it."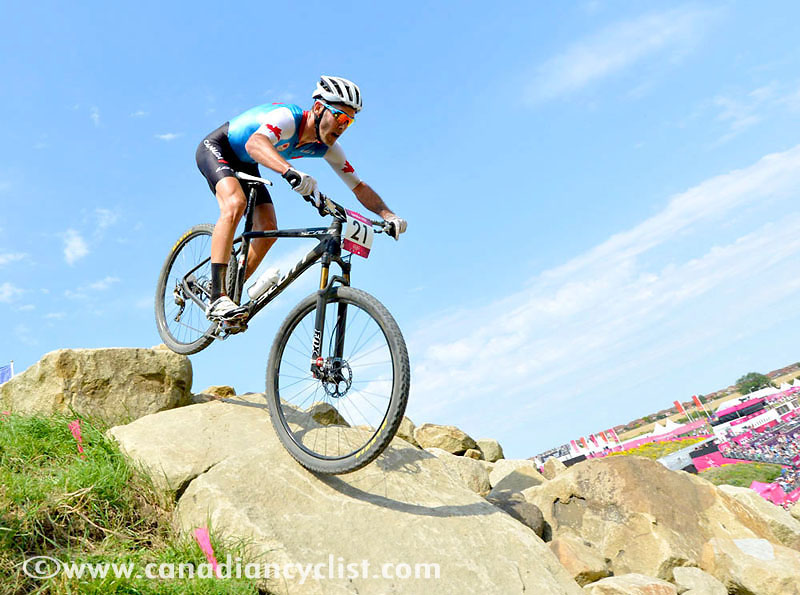 Geoff Kabush
"I'm really pleased with Canadian Cycling and the preparation they came in here with . It felt really comfortable. I felt good on the start line, confident. It was certainly a tight race out there. So many variables, just a few things can really change the complexion of the race . I was dreaming big....come home with a gold medal ... take away an eighth though, I'll be satisfied with that, sure."

"We were really well prepared. Being from Canada, the technical aspects have always been one of my strengths. We were really prepared for every scenario, here with the heat. Cold water every time through the feedzone when we came round every six or seven minutes. The staff were really well prepared. I have no regrets, I had everything I needed for success. What I was maybe lacking was maybe a little bit of pep to get up there with the leaders. But I'm satisfied with top eight."

"What I know is [in] mountain biking, we're not racing around on the track, we are in the rain or (going) up and down. Every mountain bike (course) in the World Cup is a different set of conditions and challenges. You can never take anything for granted. I have no regrets about our preparation, which has been incredible compared to the last time around in 2008. We've had a lot of process and made a lot of changes, so I really feel the preparation has been perfect. It is just the nature of mountain biking, there are so many variables, things can go wrong, with the course and changing conditions. Just the luck of the draw, you never know what is going to happen."

What's in your future?:
"I've never been having more fun on my bike. The last couple years has been a lot of development on the sport side of things, but it has been really exciting and motivating for me. I have a contract for a couple more years with my team, so I will definitely be racing elite for that long. I'm having fun and feeling motivated, so you never know how long I'll be around."

Too early to think about Rio?
"I'm definitely not ruling that out. As long as I'm having fun, and have the motivation and drive ... it takes a lot of commitment, but I've never been having more fun or had more motivation than I do right now so I will take the most out of every year I have left."

National Coach Dan Proulx

"This is a fantastic results for Geoff (Kabush) He's a big game hunter and he showed it again. Every time it is an important competition he rises to the occasion. A very strong showing today. Max had a tough time, touched a wheel at the start. I have not actually caught up with him, but yes, touched a wheel at the start and went down. later on had to DNF. Unfortunate for Max, but I know he has learned a lot from the experience and I know it is only going to benefit him in Rio."

Women's race: What happened?

"It is a pretty unrelenting environment at the Olympics and a lot of things have to come together foe the day to go properly. I know Catharine worked bloody hard for this, as did Emily. It is just one of those things. You don't know exactly what exactly cards are going to be dealt to you until you get there."

"Catharine had a strong first part of the race and was in the mix, then struggled in the middle. She tried to come back strong late in the race, but it's a tough environment, and the girls are all racing at the top of their game. There's no margin for error. Emily was courageous, and I think showed the true Olympic spirit, by finishing under difficult circumstances. Nothing but proud of Emily, she did an awesome job. It is a really good experience for Rio, and beyond."

Did you get an inkling that Catharine was in trouble at Val d'Isere?

"She just didn't feel well in Val d'Isere. We were very optimistic about her form. The day before the race she said she felt awesome, her sensations were good on the bike. On race day it just wasn't there. It is one of those X factors, that we have to go back and evaluate, try to figure out what exactly went wrong on the Olympic day. With Catharine she's a problem solver, and a very tough competitor and we'll go through everything to try and get this right so that other races like this she'll come out on top."

"We're hopeful for Rio with Catharine, and I guess she will be making those types of decisions soon, but right now we are just focused on analyzing the performance and figuring out the factors that will lead to success in the future."


Jacques Landry, High Performance Director

"Definitely a good outcome today. Geoff rode a strong race from the start. He had a bit of maneuvering around some guys, and speaking with him he had a good solid ride. We were looking at a top ten and he achieved that."

Sum up the overall for the Games - two medals was your hope/expectation

"As I said before, anything less that two medals would be a disappointment, and we are disappointed with that, but it doesn't take away the fact that everybody gave their everything, gave their hundred percent. The staff have been great, super. Super support staff, super coaches (who) did everything they had to do. The athletes gave their hundred percent. I am going home with that in mind."

"But also looking at the fact we have a good system in place, and we have to keep on building that system, making it better, more error tight. Now we are looking forward to Rio. The funding will continue and with the funding we will continue building a more solid system. The goal is that by 2020 being one of the top cycling nations, and we are well on our way for that."

Your ranking for this Games regarding performance?

"I would give a rank of seven out of ten. Expectations were a bit higher than that. We haven't really done an analysis on what could have been better. We will do that in the next few weeks and break it down a bit more. Yes, a passing grade but I know we can do better."
Fatal error
: Uncaught Error: Object of class PDO could not be converted to string in /home/canadiancyclistcom/canadiancyclist.com/public/modules/news.php:528 Stack trace: #0 /home/canadiancyclistcom/canadiancyclist.com/public/modules/news.php(517): getrelatedgallery() #1 /home/canadiancyclistcom/canadiancyclist.com/public/dailynews.php(58): getDailyNewsArticle() #2 {main} thrown in
/home/canadiancyclistcom/canadiancyclist.com/public/modules/news.php
on line
528