August 28/12 16:27 pm - True North Project - Redux

Posted by Editor on 08/28/12

In one of our very first reviews, back in the print magazine in 1997, we decided to do a Made in Canada project bike. The idea was to see how much of the bike we could source as Canadian content. The frame was built by Hugh Black at True North, and we were able to access a surprisingly large number of components from Canadian companies, such as RaceFace, Syncros, Allan Metalcraft, Cycle Dynamics and Strange Cycle (sadly, most are gone, or no longer Canadian). You can read the original reviews (PDF) here.
Final

For quite a while, that bike became my regular ride - it fit me perfectly, was light and very enjoyable. However, that was 15 years ago, and time and technology moved on. The True North started to gather dust in the corner of my basement.

Then, I was standing at a trade show, having a casual chat with Joé Layno at Shimano Canada, and somehow we got around to talking about the True North and, from there, the idea grew into a new project: outfitting an older, but otherwise good, bike with modern technology.

It is something that many cycling enthusiasts face: what do you do with your old ride, the one that was previously your favourite? It is not worth much on the used market - even if you could bring yourself to part with it. So, how feasible is it to do surgery?

It turned out to be doable, but much more complicated than we expected.

This was a classic 80mm travel front suspension steel bike made of Reynolds 853 tubing, and there wasn't much we could (or would) do to change that. We thought initially to turn it into a sort of 'urban bush bike' - something that could be used both on the road and for light trail use, but that ran into problems, as you will read below.

Hugh at True North joined the project with enthusiasm, and stripped the bike down to bare metal to make some modifications. The biggest ones were the replacement of cantilever bosses from the rear stays with a disc brake braze-on, and the addition of S&S couplings.

The disc brake compatibility was a no-brainer, since the technology in this area has basically taken over from cantilevers. The S&S couplings were so that the bike could become a travel companion for some of the many trips I take. We also widened the distance between the rear dropouts for modern standards.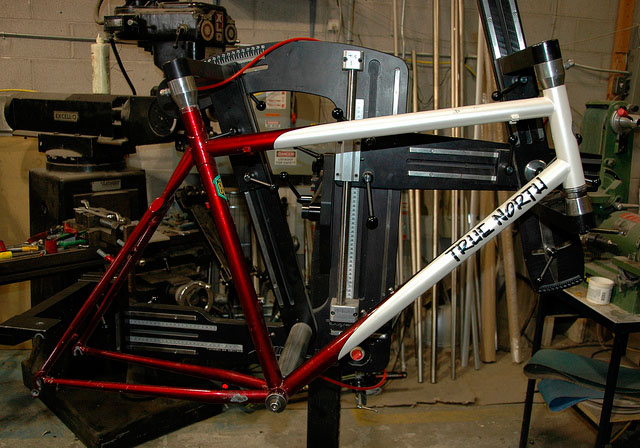 True North frame ready for a freshening up - photo by True North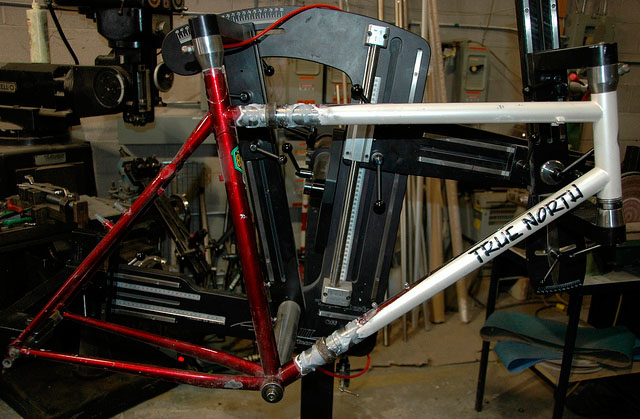 S&S couplings fitted into the frame - photo by True North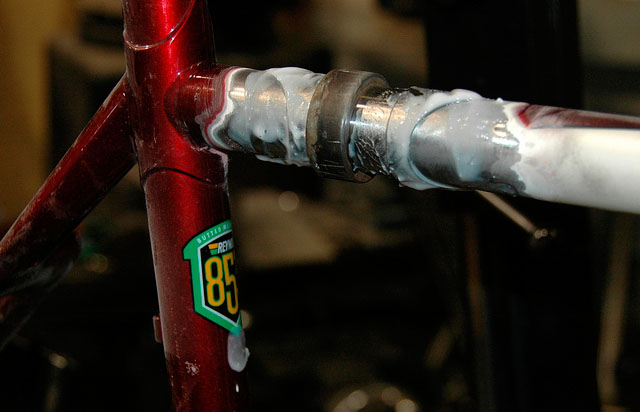 Fluxed up and ready to go - photo by True North
Couplings installed in the frame - photo by True North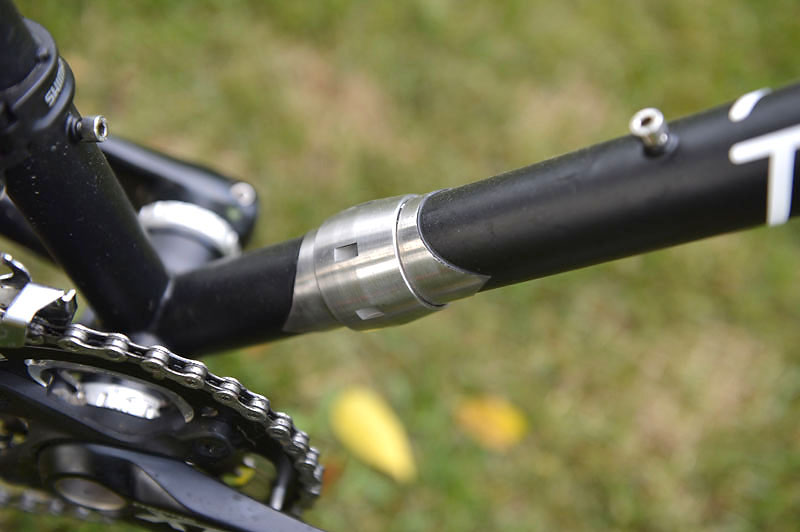 Couplings on finished bike
Since this is a steel bike, the ability to make these sort of changes is vastly easier than it would be on other materials. Hugh was also able to look at how one of his earlier bikes had held up over the years; which turned out to be remarkably well. One of the things he commented on was the wishbone seat stay; it used to be a signature piece, but was so time consuming and complicated that he has since dropped it.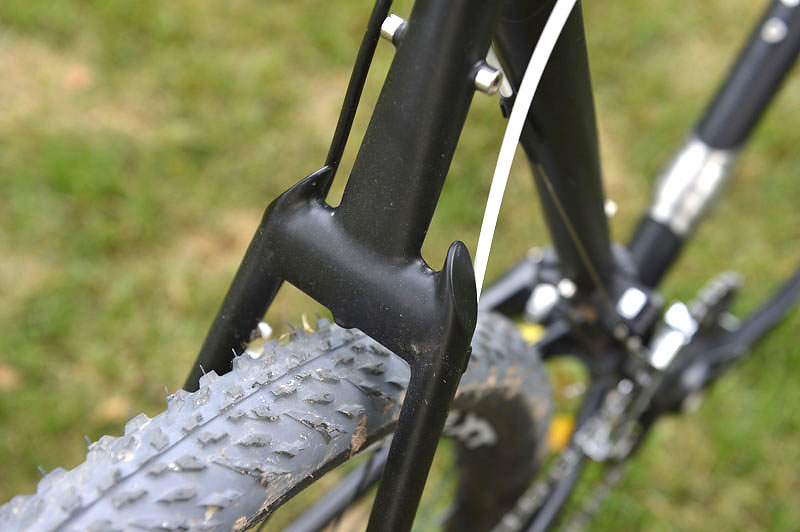 Wishbone seat stay
S&S couplers were first introduced nearly 20 years ago by S and S Machine, and are available as either a new or retrofit option from most top frame builders. The stainless steel lugs (they are also available in chromoly steel and titanium) consists of interlocking tapered teeth on each half that are held together with a locking. For most bikes, the top and downtubes are cut and the lugs are brazed or welded onto each section. A complete set adds about 230 grams to frame weight, and the joint, under testing, has been found to be stronger than the original tube. Hugh says that a significant number of his clients now request S&S couplers.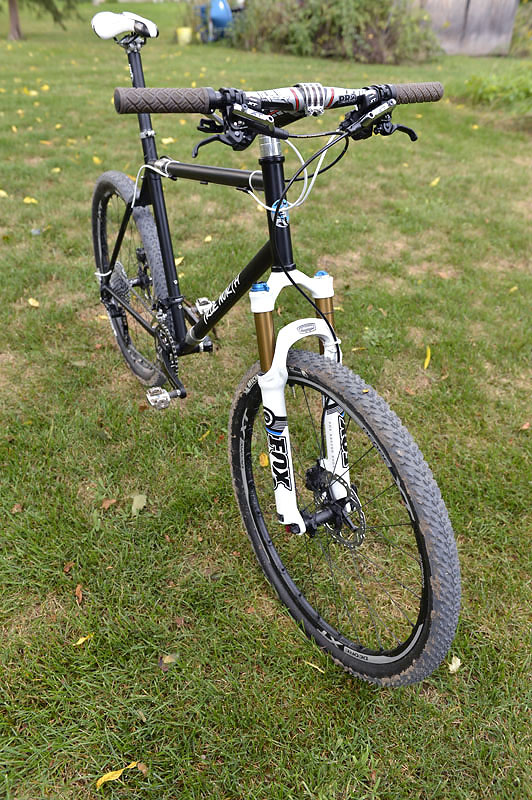 Once the frame mods were completed and the frame had been repainted (to a very nice, understated matt black finish), it was turned over to Shimano Canada, along with a disc compatible Fox FIT RLC fork, courtesy of Outdoor Gear Canada. We increased the fork travel to 100mm - partially because the availability of 80mm forks is shrinking steadily. Even more so, is the availability of a fork with the old standard one inch diameter steerer column.

The choice of fork also signalled what would become the bugbear of this project: compatibility. Until we undertook this project, no one had quite realized, in a literal sense, what a change has taken place in our industry. While a 40 year old bike and a 20 year old one share many similarities in thread pitches, tubing diameters and spacing, that has all changed in the past 10 to 15 years.

Our original plan, to turn the bike into an urban bush bike, involved installing a single chainring together with Shimano's new Alfine 11 speed internal rear hub system and going to 29er wheels. This would give a wide range of gearing without the hassles of derailleurs for travelling. All well and good until we gave Shimano's tech guy, Ben, a nervous breakdown trying to make the spacing work. Simply put, it didn't work (without masses of custom work).
Right: A Fox RLC shock replaced the old Rock Shox Judy XC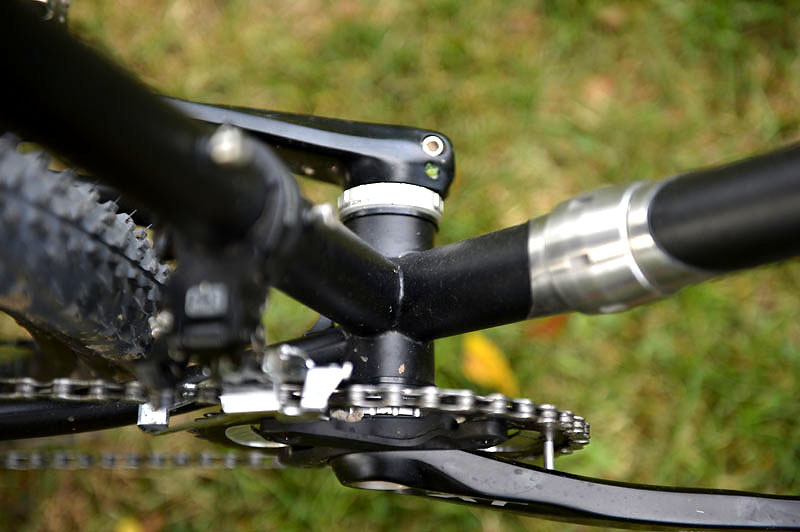 Spacers had to be added to the BB
Fifteen years ago, standard spacing for the rear dropouts was 126mm, and for bottom brackets was 68mm wide. Newer cartridge BB units go from 73mm all the way up to 92mm, while standard rear dropout width is 135mm. Crank designs have also changed considerably, and the 29er wheels would not fit with proper clearance.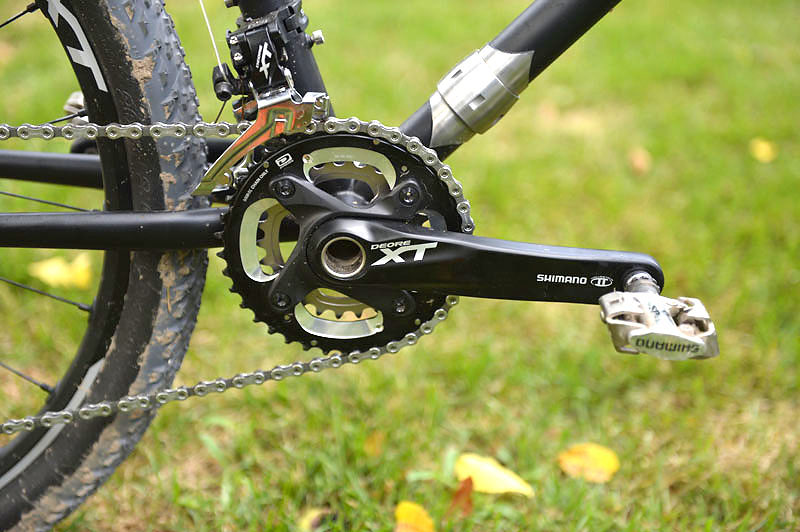 The bike was kitted out with Shimano XT, courtesy of Shimano Canada
Altogether, these factors led to severe chainline problems, especially when coupled with the use of a disc brake. Suffice it to say, we had to abandon this idea. [Note: This isn't to say that we couldn't have made it work eventually, but it was getting to the point that custom work would be required, which defeated the purpose of the project]

We eventually went with a strict swap to the new Deore XT group (partially because Ben was getting ready to throw things...), and still had to do some bottom bracket spacing to make it work. The Deore XT group we have already reviewed (see 2012 Shimano Deore XT M780 Review).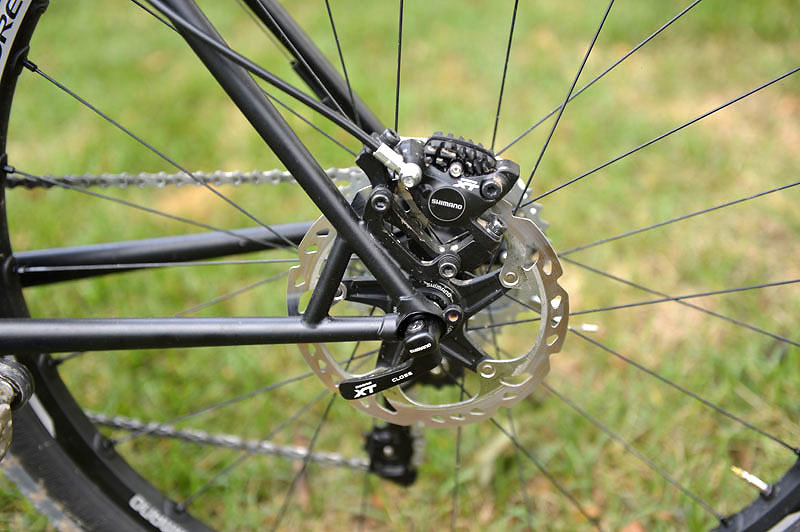 Hugh Black added a rear disc brake braze-on with a brace tube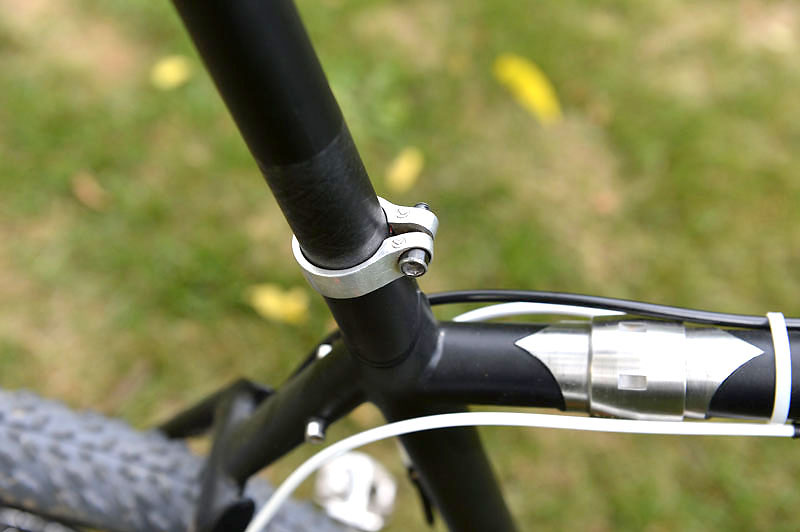 The seat collar was the only old part to make the upgrade (mainly because we couldn't find another one that would fit)
By the time we were done, the bike weighed in at a shade over 13 kilos (29 pounds), which is about 600 grams more than the original. Keep in mind that we added disc brakes and couplings, plus the original had some (for the day) pretty trick stuff on it, like ultra light Hügi wheels.

What we ended up with, is an up-to-date custom steel bike. I had not ridden this bike for a few years but, after the rebuild, I took it out for a ride on the trails that I originally rode it on, and it was like coming home. All the original characteristics that I liked about the bike - nimble but stable handling, good climbing - were all still there. The addition of disc brakes and modern shifting technology only added to the rideability of the bike. This is still a great bike, even after 15 years.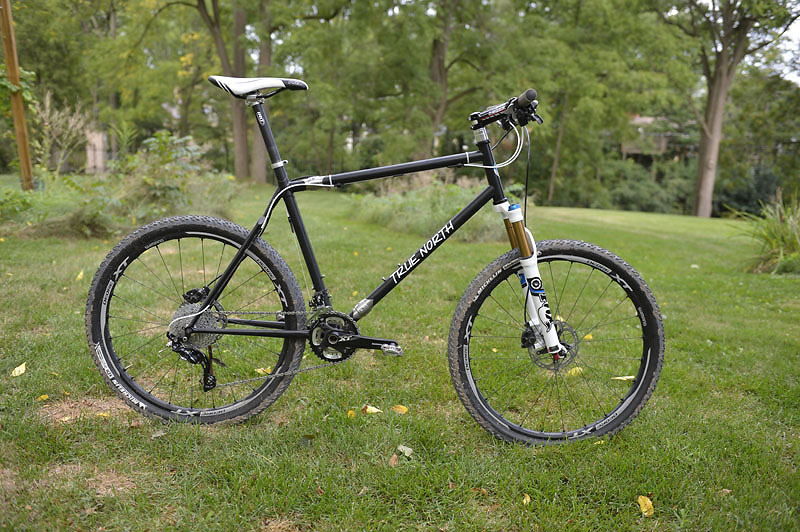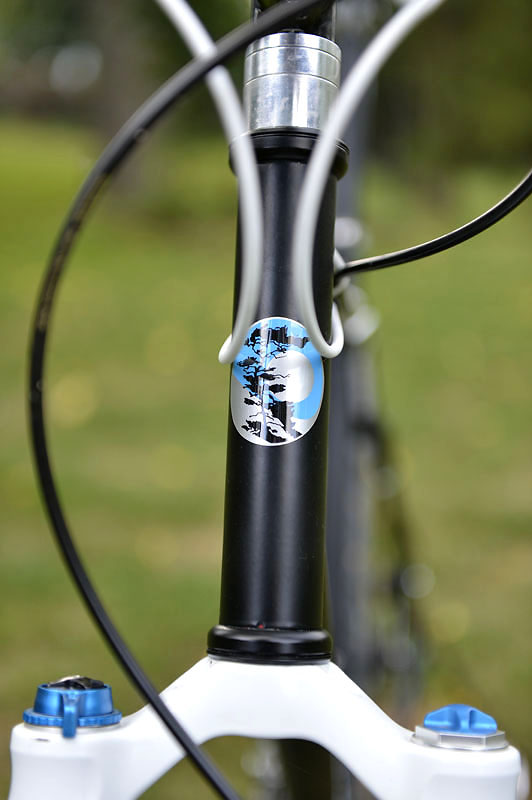 So, in that sense, the project was a success - we were able to update an old bike to modern spec and come up with one you would still want to ride. The downside was the amount of effort and compromise we had to undergo to get there. This was not a cheap project, with an estimated cost approaching $4000. For that, you could buy a new XT bike from a number of brands. Of course, it wouldn't be a custom bike that fits you perfectly, and it wouldn't have the travel couplings but, on a cost basis, it would be hard to justify.

That is, until you include the memories, and the satisfaction, of resurrecting an old but still capable friend. That is beyond price.
All photos in larger format
Right: The True North head badge has been updated in 15 years