September 17/12 15:25 pm - Road World Championships: Junior and U23 Men's ITT report and photos

Posted by Editoress on 09/17/12

The first day of individual competition at the 2012 Road Worlds saw the awarding of world titles for the Junior and Under 23 men in the Individual Time Trial events. Norway's Oskar Svendsen took the Junior title and Anton Vorobyev of Russia the Under 23 title. Hugo Houle had the highest Canadian placing of the day, with 13th in the Under 23 men.

While the courses were different from those used a day earlier in the Team Time Trial, they did share one significant feature - the final climb up the Cauberg in Valkenburg. The Cauberg climb is famous in cycling, as the concluding section of the Amstel Gold race (there is a permanent finish line on the road at the top of the climb). For the Worlds, the races do not conclude at the top, but continue 1.5 kilometres further to finish on the flat. However, it still plays a tremendous role in deciding the top placings.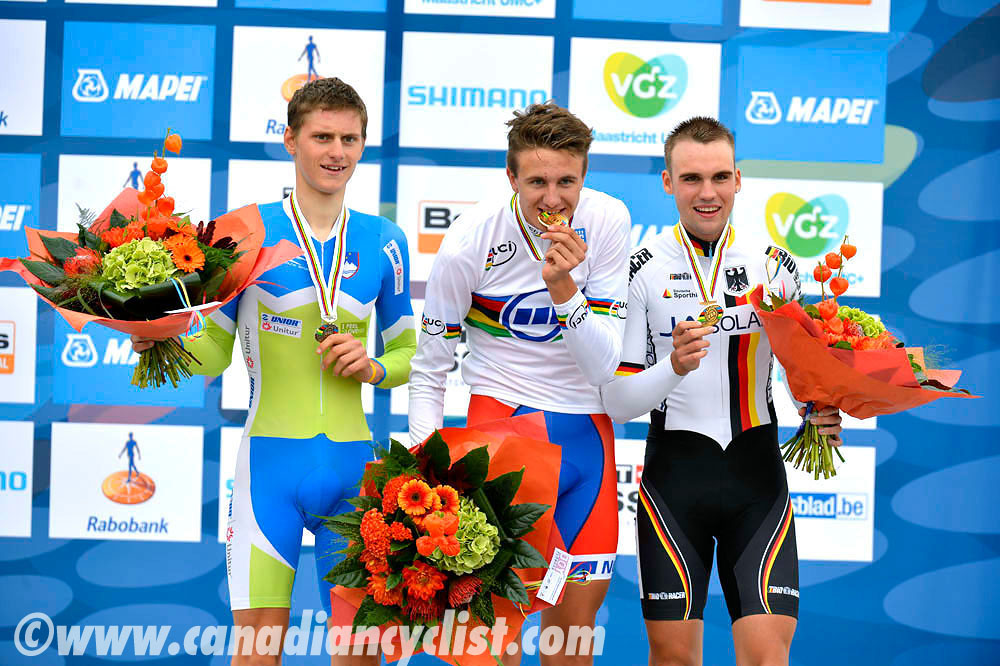 Junior podium: Matej Mohoric, Oskar Svendsen, Maximilian Schachmann -more photos at bottom of page
Both the Junior and Under 23 men had a decision to make on how to ride their races: go out hard and hope they didn't blow on the Cauberg, or conserve a little bit for that climb. In the Junior men's 26.6 kilometre race, conservation proved to be the winning tactic, with Svendsen ninth and sixth fastest at the first two splits, before pouring it on in the final kilometres, to win by seven seconds over Matej Mohoric (Slovenia).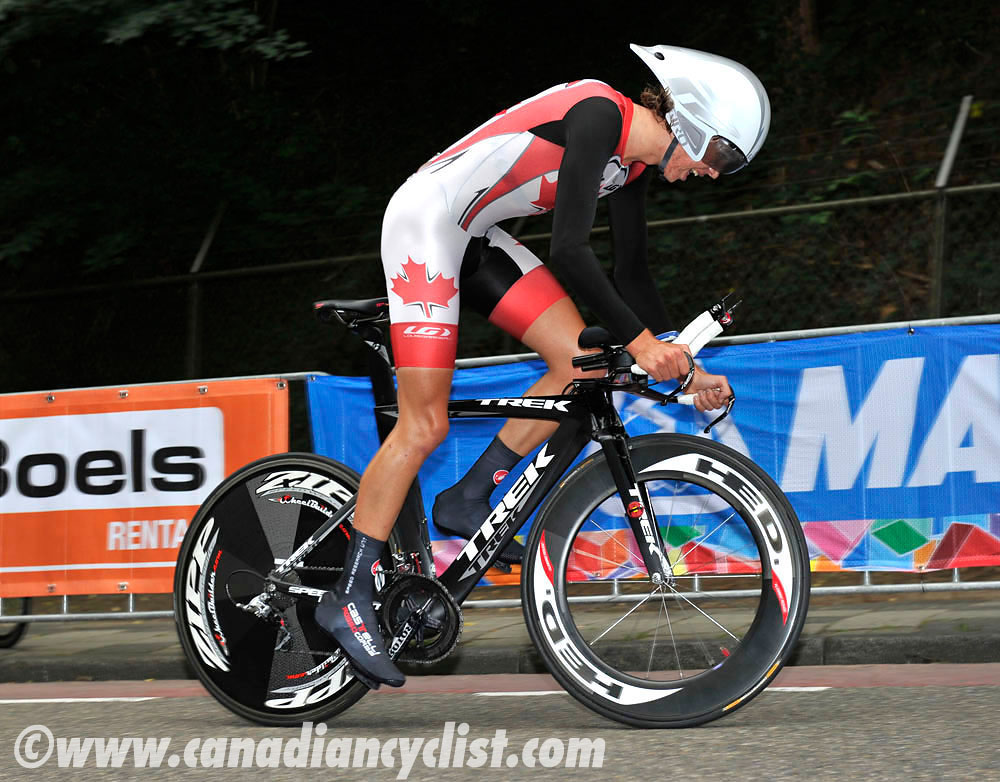 Nigel Ellsay finished 31st -more photos at bottom of page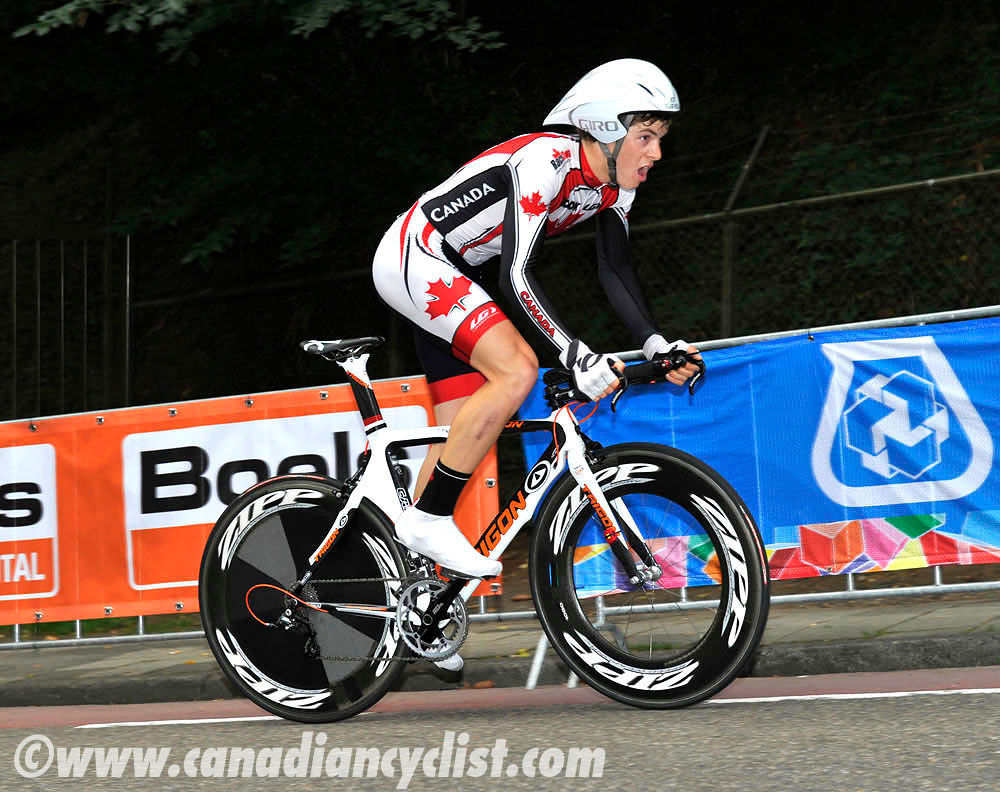 Ben Perry, 37th -more photos at bottom of page
Mohoric was likely too conservative - 28th at the first split, he had too much ground to make up. The bronze medal winner, Max Schachmann (Germany), proved that going out fast was not the successful move - he was second fastest after the first split and in the lead after the second, and then faded in the final kilometres. Canada had two riders in the Junior race - Nigel Ellsay in 31st and Ben Perry finishing 37th. (Note: We have an interview with Ben Perry at the bottom, in which he also discusses signing with the Lotto-Belisol U23 team)

The Under 23 men's race took a completely different plot, with the top finishers all among the leaders at every stage. Vorobyev was clearly in a class of his own - first at every split and winning over Australia's Rohan Dennis by an impressive 44.39 seconds. Dennis' team mate, Damien Howson, took third at 51.12 seconds.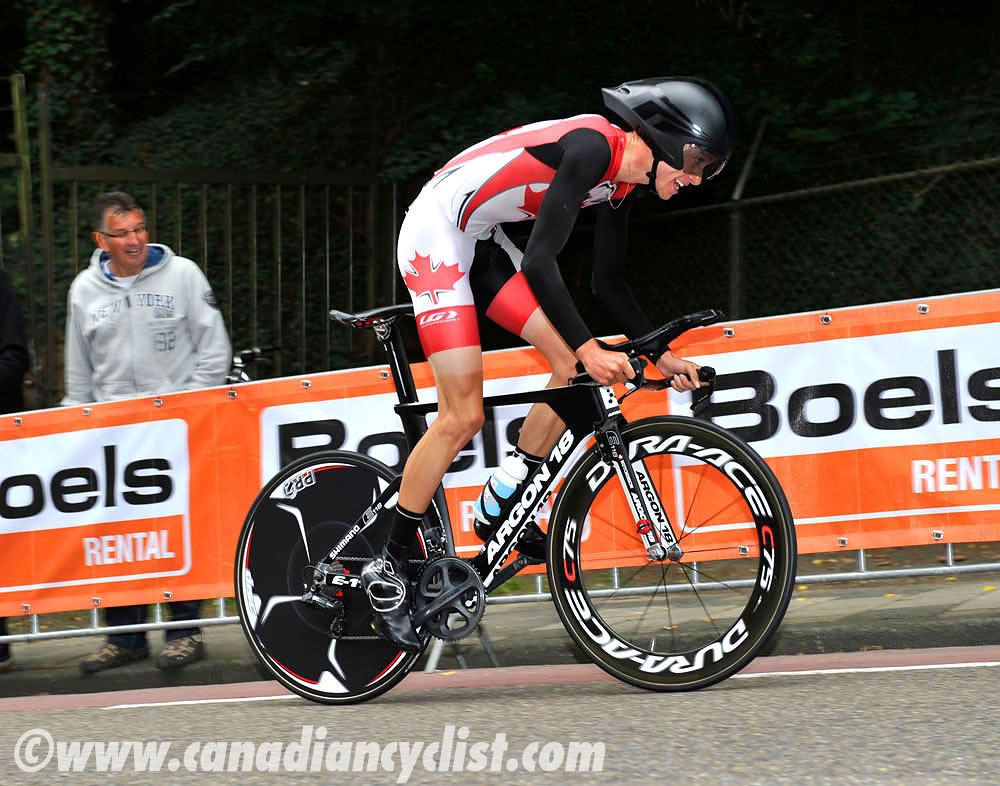 David Boily- more photos at bottom of page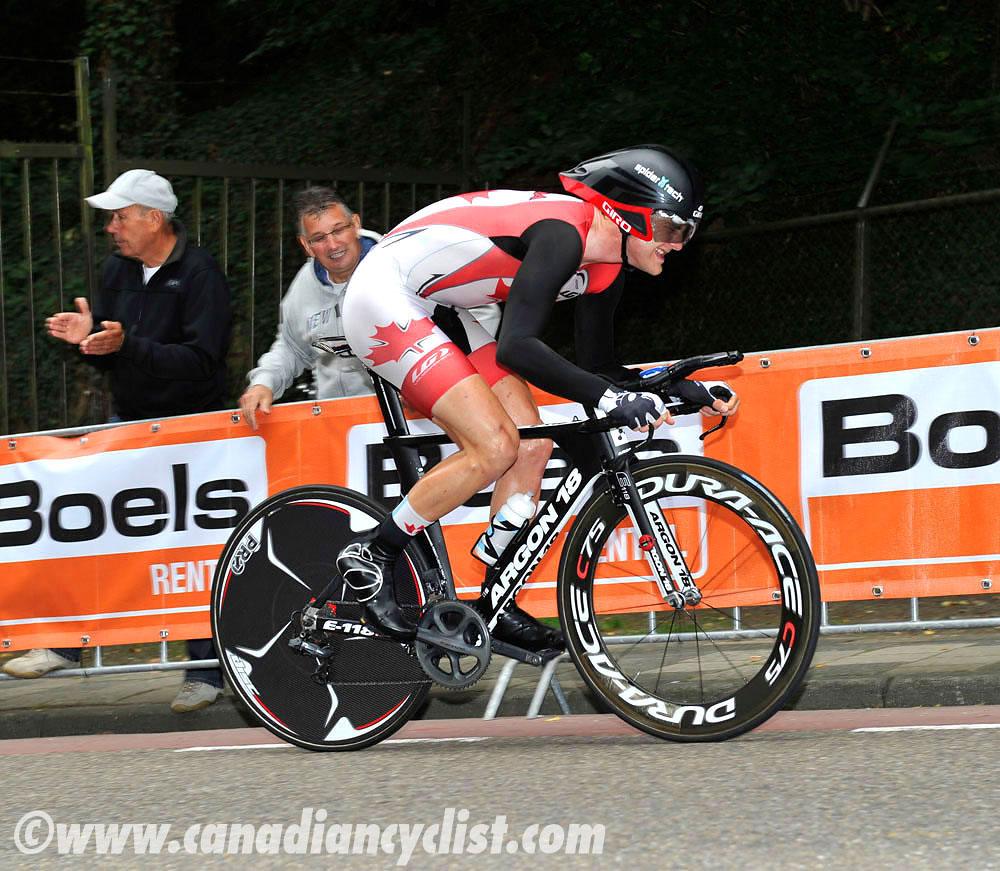 Hugo Houle -more photos at bottom of page
Houle, after a slower start that put him in 22nd at the first split, gradually ramped it up, moving to 16th at split two and then 13th by the finish, 1:59.72 down on Vorobyev. David Boily rode a consistent race to finish 41st, 4:16.33 down on the winner. (Note: We have an interview with Hugo Houle at the bottom)

Results
Junior Men
U23 Men


Ben Perry - 37th, Junior Men




Hugo Houle - 13th, Under 23 Men


Fatal error
: Uncaught Error: Object of class PDO could not be converted to string in /home/canadiancyclistcom/canadiancyclist.com/public/modules/news.php:528 Stack trace: #0 /home/canadiancyclistcom/canadiancyclist.com/public/modules/news.php(517): getrelatedgallery() #1 /home/canadiancyclistcom/canadiancyclist.com/public/dailynews.php(58): getDailyNewsArticle() #2 {main} thrown in
/home/canadiancyclistcom/canadiancyclist.com/public/modules/news.php
on line
528