January 2/13 9:23 am - MIVA New Year's Day 15km Time Trial

Posted by Editoress on 01/2/13

Despite the clear skies, only two showed up for the first time trial of 2013.

Patrick Burnham was first to arrive, albeit with rear tire trouble. Luckily organiser Peter McC. had put his awesome new foot pump in the trunk to show turn marshal Dave Kenny and Patrick put it to good use - once the inflate nozzle's peculiarities had been figured out.

Next to arrive was Bill Hutchinson, who was nursing a torn hamstring and had just showed up to view the proceedings. Then Leigh Blaney came cruising back from the turn, having decided to do a secret, pre-event 15km to see how the festive season had affected her. She too, decided not to compete as her time revealed that some serious training was in the near future.

Last on the scene was Jason Hare who had that morning run the Westwood Lake trail and brave the chilly lake waters.


With the two competitors ready, the event started almost on time, with Dave, acting as official holder before disappearing up the road to marshal the turn Usually, traffic on Nanaimo River Road is very light but today there were quite a few half tons and SUV's on the road, most speeding and the driver of one of these vehicles had taken it upon him/herself to throw both the turn cone and the caution sign into the bush in true red neck fashion. However, Dave found the right place to stand as the turn was newly-marked. and all was well.

Patrick finished first, just 31 seconds ahead of minute man Jason who had made up most of his advantage before the turn.

In the post race draw Jason won the skin suit, which will doubtless stand him in good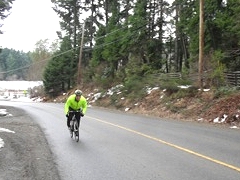 stead for the coming season.

Thanks to Bill and Leigh for coming out to spectate, to Dave for continuing to be the consummate volunteer (and official photographer) and not least to Jason and Patrick for actually coming out to compete.
1 Jason Hare (MIVA - M2), 0:28:04
2 Patrick Burnham (MIVA - S3) 0:29:23
Courtesy Peter McCaffery
top right: Jason at the turn, Centre: Patrick, bottom: L to R: Jason, Peter, Patrick