January 16/13 13:03 pm - Argos-Shimano 2013 Team Launch

Posted by Editoress on 01/16/13

The 2013 Argos-Shimano team was recently unveiled in Altea Hills, Spain, site of the team's winter training center on the warm and sunny Mediterranean coast. Both the men's and women's riders will once again race Felt F-series and DA-series bikes throughout the season, which promises new challenges ahead with the squad's newly gained World Tour status.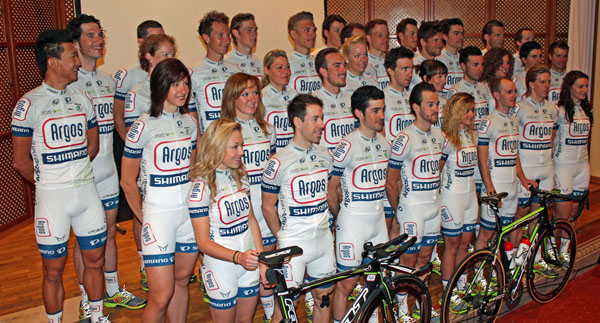 After a highly successful 2012 season which saw John Degenkolb win 12 races, including five stages in the Vuelta a España, and Marcel Kittel collect 13 wins, the team was chosen by the UCI to make the jump up to WorldTour status. This means the men's team will have automatic entry to the most prestigious events including grand tours, spring classics and other major stage races and one-day events.

"This World Tour license is a reward for the combination of a strong group of riders and innovative coaching staff who have managed to get into the World Tour through their own efforts," said the team's general manager Iwan Spekenbrink. "It's greatly satisfying to work with a team that's growing mainly through developing itself."

"The 2013 launch was a tremendous event. It was great to meet with all of the returning riders and sponsors, as well as connect with new ones", said Doug Martin, Felt's Sports Marketing Director. "This team has so much talent and buzz around it, and with the addition of North Americans Tom Peterson and Frank Parisien - both of whom have past experience with Felt and said how happy they were to be back with us - we feel as though anything is possible."

The ages of the 28 riders on the men's team make Argos-Shimano the youngest team in the World Tour and Spekenbrink said he expects continued growth for his squad in 2013. Spekenbrink also credited the team's sponsors, including Felt, for the team's development, saying, "They have enabled us to achieve this and really believe in using a sustainable policy like ours in building a top sporting organization."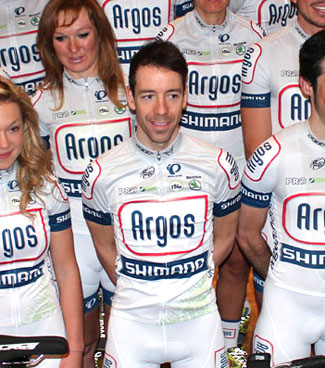 The 2013 World Tour season gets underway next week with the January 20-27 Santos Tour Down Under in Australia.

Riders from thirteen countries make up the men's and women's 2013 roster:

Men: Warren Barguil, Thomas Damuseau, Yann Huguet, Thierry Hupond, Matthieu Sprick (FRA), Nikias Arndt, John Degenkolb, Johannes Fröhlinger, Simon Geschke, Patrick Gretsch, Marcel Kittel (GER), Roy Curvers, Tom Dumoulin, Koen de Kort, Ramon Sinkeldam, Tom Stamsnijder, Albert Timmer, Tom Veelers (NED), Tobias Ludvigsson, Jonas Ahlstrand (SWE), Reinardt Janse van Rensburg (RSA), Luka Mezgec (SLO), Tom Peterson (USA), Cheng Ji (CHN), François Parisien (CAN), Bert de Backer (BEL), Georg Preidler (AUT), Will Clarke (AUS).

Women: Charlotte Becker, Elke Gebhardt, Marlen Jöhrend (GER), Janneke Busser, Willeke Knol, Kelly Markus, Amy Pieters, Esra Tromp, Kirsten Wild (NED), Lucy Garner (GBR).