January 24/13 10:46 am - Matt Hadley Race Report from TransAndes Chile

Posted by Editoress on 01/24/13

Canadian rider Matt Hadley is racing the TransAndes Chile with Benoit Simard on the Xprezo MTB Team, and sent us the following report after stage 3. They have won all three stages for the two-man team category. We are posting results in Daily News.

Hi everyone,

Benoit Simard and I are racing at TransAndes in Chile for Nativo Concept clothing and Xprezo bicycles. It has been a great experience thus far, starting with arriving early and doing some fun rides with the locals near where I raced the Pan Ams a few years ago in Santiago. From the Chilean main city, we drove south to Huilo Huilo for the race start. Huilo is a UNESCO biological reserve that has hotels and hanging bridges that look like an Ewok village from Star Wars.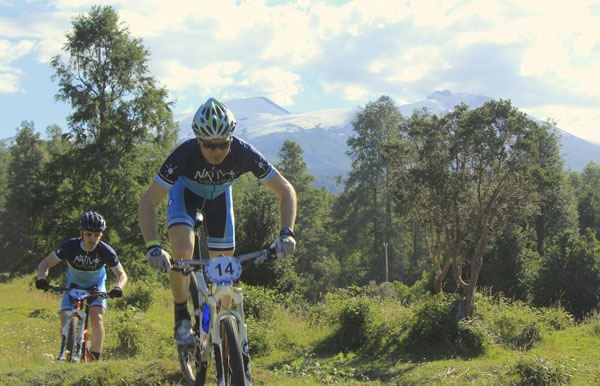 Stage 1 started out fast with everyone with fresh legs. Benoit and I had a good clean start and got into the woods with only three solo racers in front of us. We worked together with them along the flats, but when we hit the climbs they took off, as they are skinny South Americans who live for climbs and are in mid season race form, whereas we are coming off cross country skiing and the occasional trainer workout!

The stage had two big climbs, the first was 10 km and a great switchbacking grade that brought us up to the top of a mountain where we could see the snow capped volcanoes around us. The second climb was steep and hot and right up one of the volcanoes, almost to the snow at 1500m. It was 35 degrees in the shade; so 55-degree temperatures change from when I left Canada!

We pushed really hard on the day to see how much time we could get on the next teams, and Benoit was cramping pretty hard on this last climb. From there we went into some fun singletrack for a 45 minute descent. We both had a few spectacular crashes over the bars, but didn't get hurt at all. Mine, I got caught in some sand and went sideways, t-boned a log, and landed in the bushes with my bike hanging in the trees above me. Benoit's were on tight corners and he always was able to leap over the bars and run it out.

We finally got the cramping under control and finished stage one in 1st place for the open men teams, and 2nd overall, 68km, 2070m of climbing, 3hrs 47min.

Stage 2 was much easier, as we had a pretty solid lead, and most of the climbs were more gradual and in the shade. Our biggest obstacles were avoiding cows, sticks, and oxen. The cows were big, with horns, and didn't want to move. The sticks were on the trail and I got a wedge shaped one stuck between my tire and the arch of the fork that stopped me right up and I catapulted over the bars at 20km per hour. I did the tuck and roll and didn't get hurt.

The Oxen were on the super fast downhills with a yoke between them for hauling trees, so they were slow to get out of our way and hard to go around. The hardest part of the stage was the last 10 km of gradual downhill horse trail, which had massive holes in it the whole way from their hooves. We were very happy for our 650 wheels (which seem great) and our Xprezo full suspensions.

We finished 1st for our category and 2nd overall, 65kms, 3hrs 27 min, and 1890 m of climbing.

Stage 3 was mostly open road, and we worked hard to stay with the lead group over the first 5 km climb. It was followed by 20 km on the flats, so we drafted as much as possible, and then we hit the climb. The climb was relentless for 1.5 hr and we were lucky it was cloudy, as the whole thing was in the open. We got a little too comfortable as part way up Nicola and Juan, the second place team caught us. We rode with them for a while chatting and checking out the waterfalls and volcanoes, and then put the hammer down to get a gap. We dropped them pretty quickly and put 5 minutes into them over the rest of the climb and down the super fast downhill. We caught two solo racers on the downhill, and almost closed the gap to a third by the finish.

We finished 1st in our category and 5th overall, 72 kms, 3hrs 9min, 1800m of climbing.

Overall the race is great! Great authentic home cooked food, beautiful scenery, good riding, good organization, starting on time, and lots of friends to hang out with. We have three more days of racing, and I will try and update when possible.
Matt Hadley
Xprezo Mountain Bike Team