February 2/13 20:30 pm - Cross Worlds: U23 Men report

Posted by Editoress on 02/2/13

Dutch dominance continued in the U23 race at the Cyclo-cross World Championships in Louisville, Kentucky, with Mike Teunissen eking out a hard-fought win ahead of Belgian rival Wietse Bosmans. If you weren't Dutch or Belgian you were out of luck, as the two neighbouring countries split the top-ten positions between them.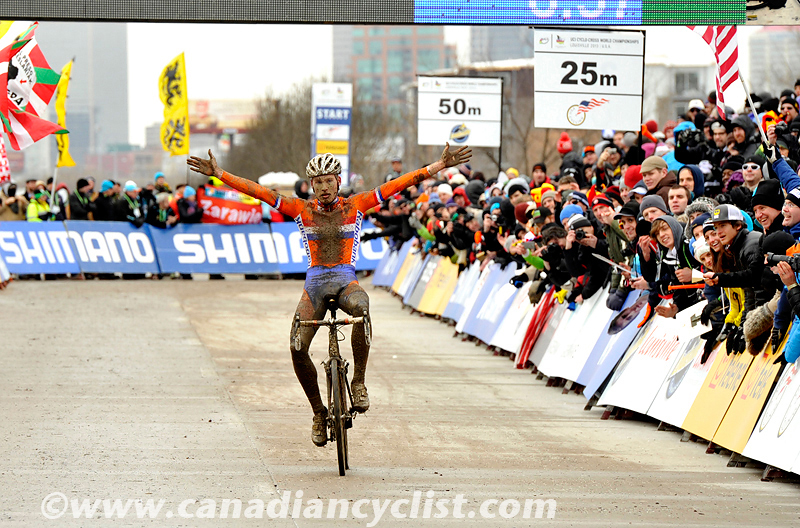 Mike Teunissen
With 2012 U23 world champion Lars van der Haar of the Netherlands moving up to the senior ranks, the race was wide open for a new champion. Teunissen and compatriot David van der Poel appeared determined to ensure the jersey stayed in country, leading off the start with a swarm of Belgian blue jerseys on their heels.

Bosmans took over on the second lap, and appeared to be on his way when he finished lap three with an 11-second lead over teammate Wout van Aert. A crash late in the lap saw Teunissen drop back to sixth, but he recovered and managed to fight his way back to the head of the race.

The Dutch-Belgian alliance of Teunissen and Bosmans crossed the line together after five laps, with van Aert a handful of seconds in arrears. It was status quo for the sixth lap and a sprint for the world championship seemed a distinct possibility.

Teunissen had a different strategy, however, and attacked hard at the start of the seventh and final lap. For a time, Bosmans valiantly held the gap at only a few seconds, but eventually the elastic snapped and Teunissen was on his way to a rainbow jersey.

Bosmans had to settle for second, with van Aert holding on for third, but it was little consolation for the Belgians. Teunissen jumped into the arms of his waiting support team, a broad smile breaking his mud-splattered face.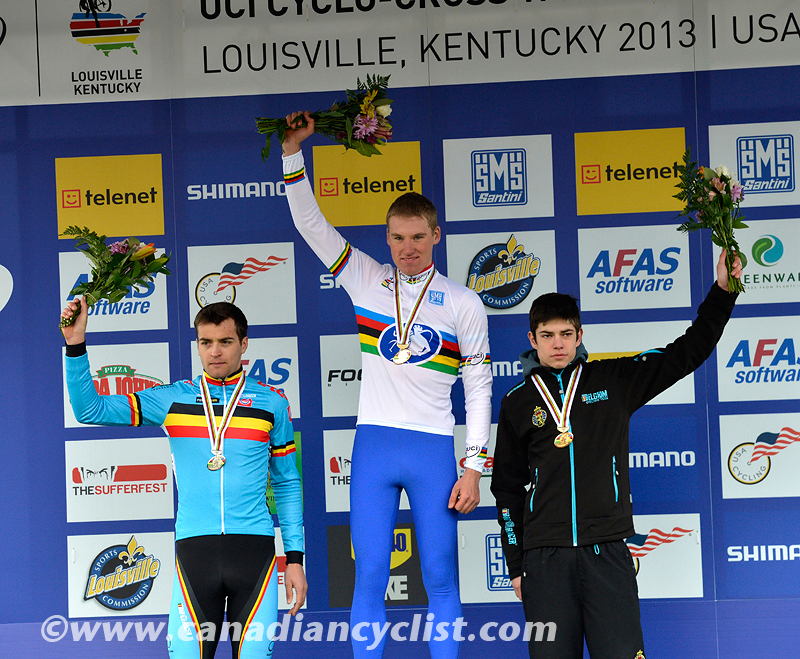 Wietse Bosmans, Mike Teunisse, Wout van Aert
It started out not too bad, but it just continued to get muddier through the race.The Canadian quartet struggled in the race, with Evan McNeely in particular having a rough ride. A third row starting position went for naught as he was swamped on the opening straight. McNeely chased hard and was riding as top-Canadian in the mid-20s when he crashed on the second-last lap and was forced to withdraw.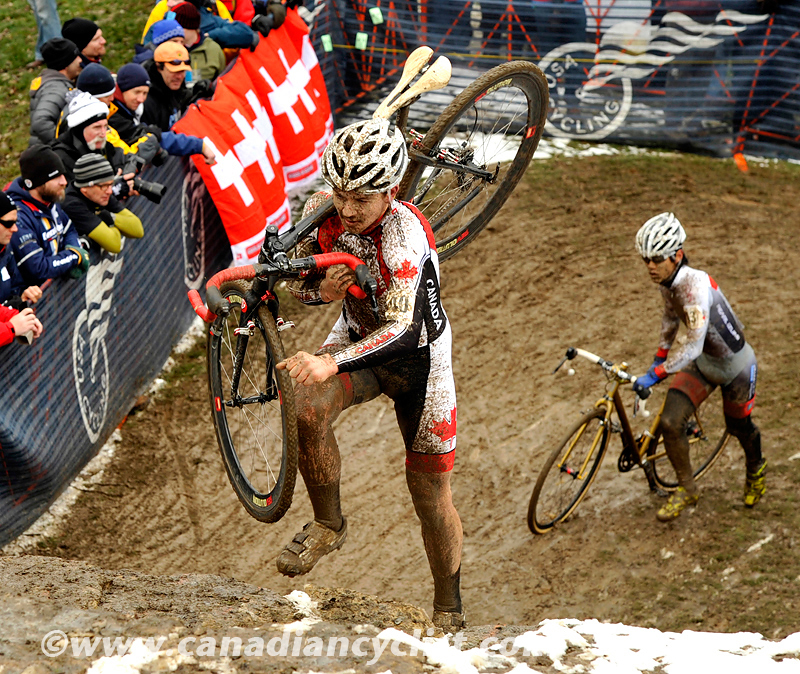 Michael van den Ham
Michael van den Ham secured Canada's highest place in 31st, as the Edmontonian accomplished his pre-race goal of finishing on the lead lap.

"It started out not too bad, but it just kept getting muddier and muddier every lap. I was hoping for a little bit more snow, but it turned out not too bad. All my best results this year have come in the mud, so i'm pretty happy with it. It was unbelieveable, there were so many people out there, shouting for Canada, and even shouting my name. It really just pushed me to go that little bit harder."

[Note: We have an interview with Michael which has been posted separately]

Halifax's Andrew L'Esperance also avoided being pulled, securing 35th, while Conor O'Brien of Ottawa came home in 38th.

The muddy conditions posed no deterrent to L'Esperance. "I had no problems staying motivated today. It's world championships, the biggest race of the year. I was on the gas the entire way, trying to reel people in, trying to ride my best and stay smooth. Technically the course was fine for me. I rode well. The high level of racing that goes on here is probably the hardest thing."
Emil van Dijk wrote this report
Fatal error
: Uncaught Error: Object of class PDO could not be converted to string in /home/canadiancyclistcom/canadiancyclist.com/public/modules/news.php:544 Stack trace: #0 /home/canadiancyclistcom/canadiancyclist.com/public/modules/news.php(533): getrelatedgallery() #1 /home/canadiancyclistcom/canadiancyclist.com/public/dailynews.php(58): getDailyNewsArticle() #2 {main} thrown in
/home/canadiancyclistcom/canadiancyclist.com/public/modules/news.php
on line
544