February 5/13 22:00 pm - A First-Timer's Perspective on the World Championships

Posted by Editoress on 02/5/13

"That which does not kill us makes us stronger."

Philosopher Friedrich Nietzsche probably never did any race reporting, but his quote crossed my mind as I lay awake in bed, the night after the 2013 Cyclo-cross World Championships in Louisville, Kentucky, my first Worlds as a journalist.

My foray into cycling journalism began, as many things do, by chance. A little over a year ago I was watching a 'Cross race not too far from my home. A couple of fellows were taking pictures of the riders, and I asked one of them if he was also going to write a report about the race. He said no and, on the spur of the moment I decided that I would.

Since then I've covered provincial and national 'Cross championships, as well as a handful of provincial mountain bike races, but nothing even remotely close to the level of importance associated with a world championship.

Given my limited experience, it was reassuring to have a veteran journalist to rely on. My editor, Rob Jones, has been around the block more than a few times, and there's little if anything he hasn't come across before. Louisville was his 48th world championship, and his calm demeanour gave me a sense of confidence.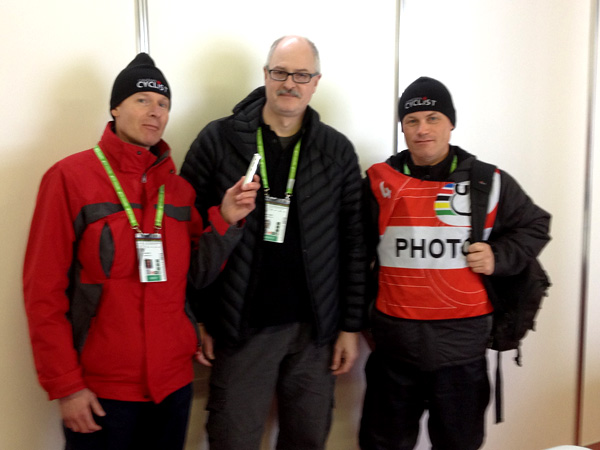 Emil, Rob and Jon
The Canadian Cyclist crew gathered early on race day at the media centre, a converted rowing club boathouse, for pre-race instructions. Tracy Harkness, CC publisher and Rob's better half, would be the anchor, stationed at the media centre and keeping the Twitter world up to speed with the race action. Rob and fellow photographer Jon Safka would be criss-crossing the course capturing the action.

My job, on the other hand, seemed pretty easy. Rob asked me to wander around the course and keep an eye on the action, as well as take pictures and talk to any Canadian spectators I happened to come across. It was also my duty to collect finish-line quotes from as many Canadian riders as I could.

First up was the Junior Men's race. The ground was still frozen and covered in snow, so I felt this was going to be a high-speed affair. The favourite, Mathieu van der Poel, was soon out front and on his way to a second rainbow jersey. For me, however, the story was Logan Owen, the hometown hopeful. After a bad start, he began to make his way through the field.

The energy that followed Owen around the course was like a wave. Now don't get me wrong; the crowd was not a partisan bunch. They were cheering for everyone. But when their favourite son came into view, the fans went ballistic; a deafening roar that made the hair on the back of my neck stand on end.

That's when it hit me. This wasn't just another bike race. This was THE bike race. These racers were striving for a higher honour: the opportunity to be recognized as THE BEST IN THE WORLD on that particular day. The crowd was willing them on to that special status, and I had better do my part and report it accurately and eloquently.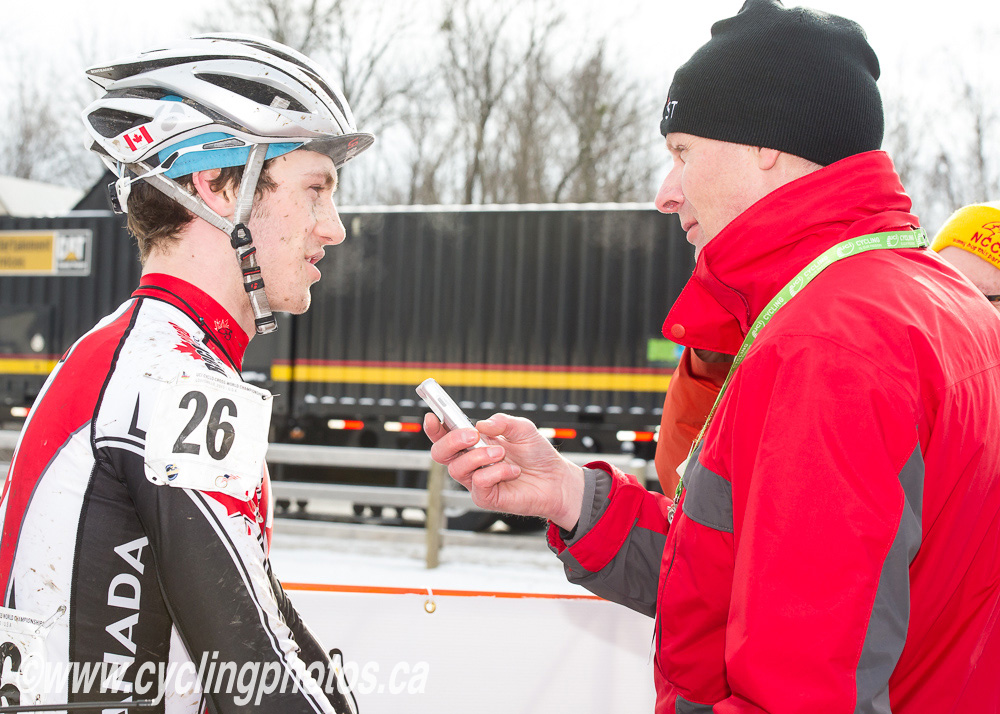 Emil interviewing Peter Disera
From that point onward it was non-stop. Keep an eye on the action, talk to fans, and interview riders. The pace of it all was overwhelming, but there was no time to reflect on what I was witnessing. When the final race was over and the last quote collected, I headed back to the media centre. I grabbed a plate of food and took a seat opposite Tracy, preparing to transcribe quotes and begin writing reports.

For the second time that day, emotions manifested themselves in a physical reaction. I was dazed, unable to concentrate, on the verge of losing it. Tracy gave me a confident smile, I took a few deep breaths and gradually regained my bearings. Rob and Jon returned from the podium ceremonies, and we settled in to sift through photo galleries and translate what we had seen into words.

More than 12 hours after our day had begun, we finally turned off our laptops and trundled back to the hotel. My first Worlds had been a trial by fire. Some weaknesses were exposed, but I had survived. I don't know when my next Worlds will be, but it will be a long time before I forget my first.

Editor's Note: We would like to thank Emil for his assistance in covering this event. As he mentioned, I have been to a lot of these, and it is good to get a reminder of how special the world championships are.