February 15/13 13:47 pm - Argon 18 Sponsors National Cycling Centre Hamilton

Posted by Editoress on 02/15/13

Argon 18 is pleased to announce its new partnership with the National Cycling Centre in Hamilton, Ontario. This three-year agreement was signed in Montreal on Wednesday, February 13th, at Argon 18's headquarters in Montreal. Argon 18 Vice-President Martin Rioux hosted a delegation from the NCCH that included Rick Lee, head coach at the Centre; Steve Grundy, in charge of sponsorships; and racers Simon Fothergill and Jordan Broad, all of whom had made the trip from Ontario to mark the beginning of a remarkable collaboration.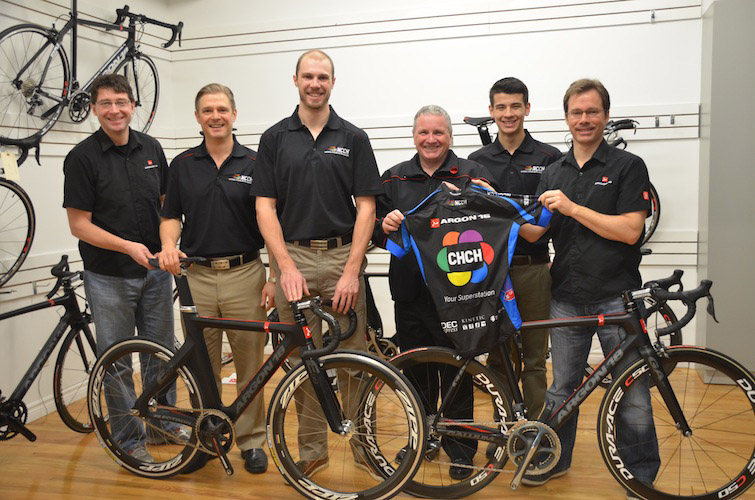 From left to right: Jacques Philie (ARGON 18 SALES DIRECTOR CANADA), Steve Grundy (NCCH SPONSORSHIP OFFICER), Jordan Broad (NCCH rider), Rick Lee (NCCH HEAD COACH), Simon Fothergill (NCCH rider) and Martin Rioux (ARGON 18 VICE-PRESIDENT).
"We are proud to associate with such a high-quality organization as the NCCH," commented Martin Rioux. "Back when my brother Gervais and I were racing, we were very thankful for the sponsorships and support we were offered and now we're happy to return the favour with a sponsorship program of our own."

Argon 18 has been designing and manufacturing high-performance bikes since 1989. The NCCH will benefit from the company's vast experience and technical innovations prowess, given that the agreement provides for the supply of Argon 18's Electron, Electron Pro, Krypton, Xenon, Gallium Pro and E-114 models. As Martin Rioux points out, "It's important for Argon 18 to call on these promising young athletes for their feedback on bike performance, as this information is then integrated into our ongoing product development."

This dovetails perfectly with Argon 18's mission of developing and building bikes that exhibit an optimal blend of performance characteristics. Argon 18 is proud to join forces with the NCCH, which has a clear mission to identify and develop talented riders while instilling a high standard of ethical values.

"We are very pleased with this partnership," says Rick Lee. "We have a unique program that offers our 150 riders an exceptional opportunity for both athletic and personal growth and development."

"This isn't just another bike deal for a race team. This is about two organizations with common values working together to build a world class youth development program," says Steve Grundy, NCCH sponsorship officer. The NCCH will also soon benefit from the new indoor velodrome to be built for the 2015 Pan-American Games.

Under the leadership of Lloyd Fairbairn, its president, the NCCH boasts a long track record of bringing young riders to a high level of accomplishment, with 22 of its athletes having garnered medals in national-level competition. Saskia Kowalchuk, Canadian junior women's time-trial champion for 2012 and Benjamin Perry, a rookie recruit with the pro Belgian team Lotto-Belisol are but two NCCH success stories. Argon 18 will be offering the National Cycling Centre Hamilton and its athletes the finest equipment available for their continuing development and success.