February 16/13 11:12 am - Team Medique powered by Silber Investments Announces 2013 Roster

Posted by Editoress on 02/16/13

Team Medique is an initiative of Toguri Training. "Our goal is to help young riders get to the next level by providing a challenging calendar, access to training facilities, training camps and support throughout the season," says Director Sportif Scott McFarlane.

"2012 was our first year of operation. This year we increased our budget," added Team Manager Clodine Gilbert. "[We] made alliances with physiotherapist Stephane Lamy (Montreal Impact; Canada's Davis Cup team) and nutritionist Anne Guzman," said McFarlane. "The goal is to provide comprehensive support for riders who excel on the bike and who are great ambassadors for the sport."

Four experienced riders announce their return with Team Medique For 2013. Team Medique retained its core riders - William Blackburn (Lasalle), was our Captain and finished second at the St-Basile road race. Robert Ralph (Montreal) won the McGill University criterium. James Piccoli (Montreal) was third overall at the Charlevoix Grand Prix, and was selected to the provincial team at the National Championships. Scott Loong (Montreal) raced sporadically last year as he finished Law School, and is looking forward to racing more in 2013.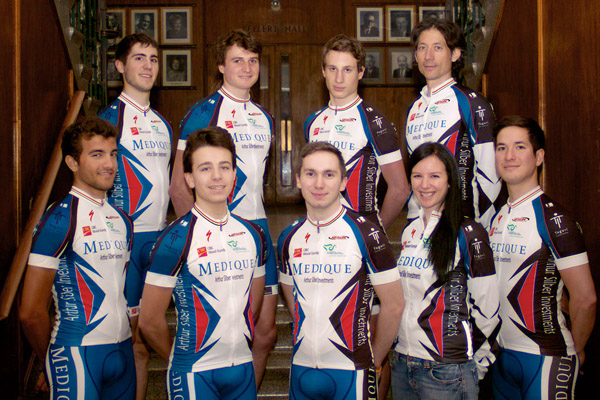 Team Medique welcomes some new riders for 2013. Elliott Doyle (Alma), the 2012 Junior Champion of Quebec. As a Junior, Olivier Delaney (Laval) was a National Team member, and as a first-year Senior he came fifth at the Grand Prix de Gatineau. Nicolas Masbourian (Montreal) came second as a Junior at the Quebec Championships. David Onsow (Dorval) was captain of the Junior National Team at the Abitibi stage race and in his first-year senior finished ninth at the Ottawa Grand Prix. In his final year as a Junior, Benjamin Chartrand (Montreal), represented Canada during a European campaign in Belgium and won numerous races, including the Grand Prix de St-Basile, Stage 2 of the Green Mountain Stage Race and the Roanoke Twilight Criterium.

"I'm looking forward to 2013 because our new recruits have raced at the highest level, and are able to perform in all disciplines," said Captain William Blackburn.

The team wishes to thank its sponsors: Medique, Arthur Silber Investments, Toguri Tranning Services, CIBC Wood Gundy, Buandrie Blanchelle, and PSB Boisjoli.ca. We also want to thank our generous suppliers and supporters: Specialized, Cycle Neron, Biemme and VéloGazette.ca.

For more details, visit the team website at www.teammedique.com