February 20/13 10:49 am - Cycling Canada Maps Out Path to Rio & Beyond

Posted by Editor on 02/20/13

Last week, our national federation, Cycling Canada, announced that the Board of Directors had completed the strategic planning process for the next four year Olympic cycle (see Daily News: Cycling Canada Announces Strategic Plan for 2013-2016).

One of the biggest parts of the strategic plan concerns the High Performance program, which covers Canada's national team across all Olympic disciplines - Road, Track, Mountain Bike, BMX and Para - as well as national championship and international level events. The High Performance program is also the recipient for the majority of the funding Cycling Canada receives from Sports Canada and Own the Podium.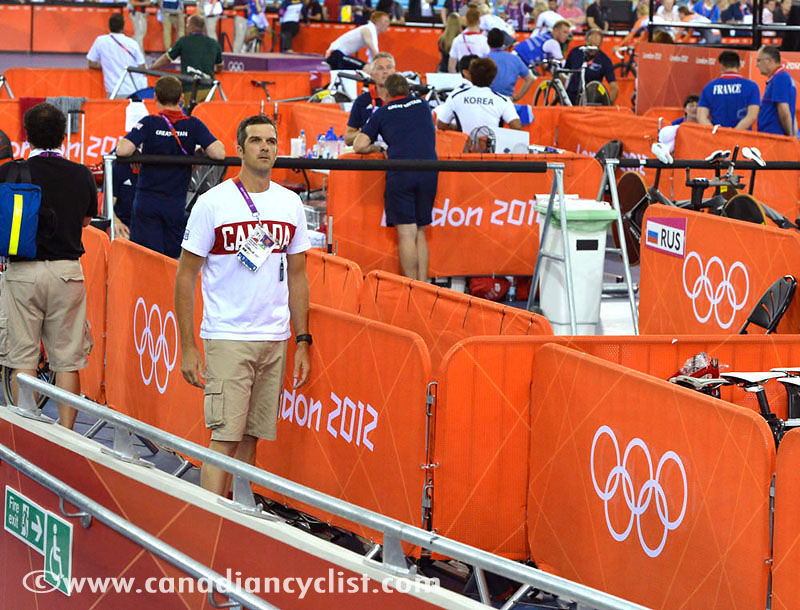 High Performance Director Jacques Landry watches the Women's Team Pursuit Final in London
Jacques Landry, the High Performance Director, is the person who oversees this entire program, and we had a long conversation with him about the Quadrennial (often called a 'Quad') that just finished and what the plan is for the next four years leading up to the Rio de Janeiro Games in 2016.

The Past Quad (2009-2012)

Landry came into the Canadian system as the High Performance Director after the 2008 Beijing Games. Of course, he had been a Canadian rider (representing Canada at the 1996 Games), but built his credentials working for the New Zealand federation.

According to Landry, this past quadrennial had a significant focus on building a structure.
"If you look at the overall, the last four years we had to build up a system coming out of Beijing. A lot of things had to be put in place. One was hiring proper coaches and having good technical leadership through coaches. And then building out the programs to better support the athletes. Another thing was identifying the athletes that were leading up to London, and then supporting them through programming. The other thing we had to build out was the sports science and sports medicine program. That is another component of high performance."

Landry points to the success of this initiative with athletes such as Tara Whitten and Zach Bell on the track, the the women's Team Pursuit squad and Catharine Pendrel in mountain bike. "The women's Team Pursuit only came on the Olympic program in 2010, and we had already started the ball rolling in 2009, and then once it came onto the [Olympic] program, we started investing more into it. The Team Pursuit was seen as the underdog [compared to the Omnium], but came up and proved that it was worthy of the investment."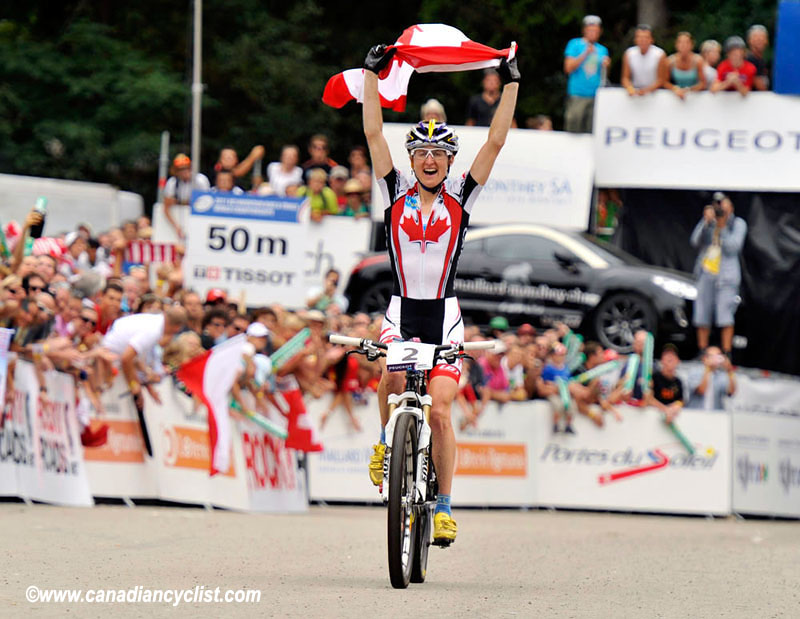 Catharine Pendrel winning 2011 World Championships

"In Mountain Bike, Catharine Pendrel was targeted for a podium [in London]. It didn't work out, but through the Quad we were able to show consistent improvement and results, partially due to the coaching and technical assistance she received."
"BMX was sort of the black sheep for us in the last four years. We only qualified one spot for the Games with Tory Nyhaug, and unfortunately with injuries leading up to the Games he wasn't at 100%. The fact that he even showed up on the line was nothing short of a miracle, given that he lost his spleen [in a racing accident] in May."

"Road is a bit harder to quantify, but if you are looking forward, the biggest contribution we were able to make was on the development side; to give opportunities to the Boily's, the Boivin's, etc., on the men's side. On the women's side we were able to give opportunities to the riders when their trade teams weren't able to support them."

"On the Para side, we lost pretty much half the team from the previous Quad [2005-2008], so it's been a program of building up until London with new athletes. The advantage of Para is that you can detect and develop a world champion in six months. An example of that would be Marie-Eve Croteau, who came in six months before the 2011 world championships and donned the rainbow jersey. Now at the Paralympics, because of the combining of categories, we weren't as competitive in some categories as at world championships, where the categories were separated.:

"Nevertheless, at the Para Games we managed to get two medals. But from my evaluation, two short of where we should have finished off. On the Able side [non-Para], based on the possibility of four or five potential medals we came out with one, and that's about a 20% conversion rate. However, those are great results, when you compare what we got in Beijing [none] and the previous Quad."

The New Quad [2013-2016]

Once the Olympic and Paralympic Games concluded, Cycling (like every other sport) began preparing their post-Games analysis, and submitting their plans for the next four year cycle to Sports Canada and Own the Podium (OTP). This went on through the Fall, with Cycling finishing the submission and presentation phase shortly before the end of the year.

"Performance-wise, there's a few things OTP looks at when funding the different sports. There's obviously performance, and we came out of the Olympics with a bit less in medals than we planned on. But the other thing they look at is system development; whether or not an NSO [National Sports Organization] has been able to build up their system."

"We came into Own the Podium with the philosophy that from Beijing on we were in the 'Infancy' phase of building our system. Now as we go on from London to Rio we are looking at the 'Adolescence' phase, and we're still building the system, we still have to tweak some areas. We're concentrating on enhancing the daily training environment of our groups of athletes; we're looking at putting in more coaches, so enhancing the technical leadership of our system; and we are identifying new talent, because we have more ability to drill down into the development areas."

"So with OTP we approached it as 'We are coming into our Adolescence phase, with the goal of hitting the Adult phase for the 2020 Quad.' If you look at Cycling Canada's vision, we want to be a top cycling nation by 2020, so that's how we packaged it to OTP."

"When you look at the benchmarks over the last four years, we are pretty close to achieving all of our benchmarks every year, year in, year out, which is a measure of how things we have put in place are actually working. So past performance is one factor, but OTP looks at other factors as well."

"So the funding will be in place for the next four years to continue to enhance our system. Funding wise, we have moved up from a Tier 3 to a Tier 2 status. There are some sports that have fallen off the face of high performance in Canada, unfortunately, but we are one of the sports that have shown progression, so that is why we have received enhanced funding. When you look at core funding from early in the [previous] Quad, we have increased our funding by about 20%."

"I think we have the means to meet our objectives, and we'll complete it by acquiring more intellectual and technical knowledge. We have all the pieces of the puzzle and now we have to put them in place leading into 2016."

Focus Shifts Away from Road and Onto the Track

Despite not having a UCI regulation track in Canada, much of Cycling's success in the past Quad came on the track, with Tara Whitten winning three world titles, Zach Bell taking two Worlds silver medals, each winning World Cup titles, the women's Team Pursuit squad winning bronze at the Olympics and Monique Sullivan finishing in the top-6 at the Olympics in the Keirin.

The addition of an indoor UCI track in Milton, Ontario, by September of 2014 - which Cycling Canada fought very hard for - means that the high performance focus will shift heavily towards the track, with the Road program becoming more of a support system.

"Our emphasis for the next four years will be to look at where the medals lie. Right now, for the next four years, our focus is on the track events. There's a lot more medals up for grabs on the track, it's more measurable - we can actually plan a lot better, as we saw with the Team Pursuit, and even the Omnium to a degree."

"We were able to come out of the last Quad on the track, despite not having a 250 metre track of our own, with an Olympic medal and a few world championship jerseys. And now we are going to have our own track in September of 2014. So, imagine what we will be able to do when we start building out that program."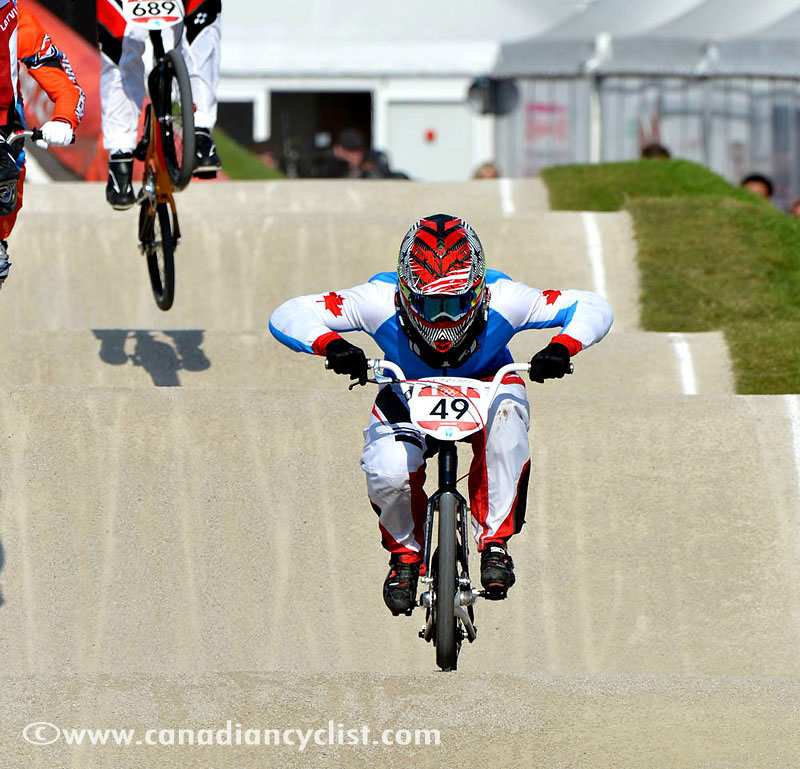 Tory Nyhaug (Canada) at the London 2012 Olympic Games
"So, for the next four years we have told OTP that one of our focusses will be there. BMX is also on the rise; we see the numbers in BMX are improving across the country, we've hired a new head coach [Ken Cools] who's going to be working for the next two years on talent ID across the country, working with provinces to build up the technical expertise in the provinces and the critical mass of athletes who are able to compete in Supercross."

"Road is the area where we have shifted our focus. Road is still part of our program, but to a certain extent we are shifting to Road being subservient to our track program, to the endurance track program. Much like the top cycling countries - Australia and the UK - did that shift about two cycles ago."

"That's how you get your track endurance riders to get the volume [of training] during the road season, and then shift over to specialized on the track during the track season. So as we move into this Quad, the road program will be more tailored to our track endurance athletes."

"We had Richard [Wooles - previous National Track Coach] step down from the national track program, and he will be working with Cycling BC, building up their capacity to develop athletes. We had seen that coming. We have Tanya [Dubnicoff], who has been working as the Women's Track Endurance Coach, and we will be looking for hires moving forward now that we have confirmed funding."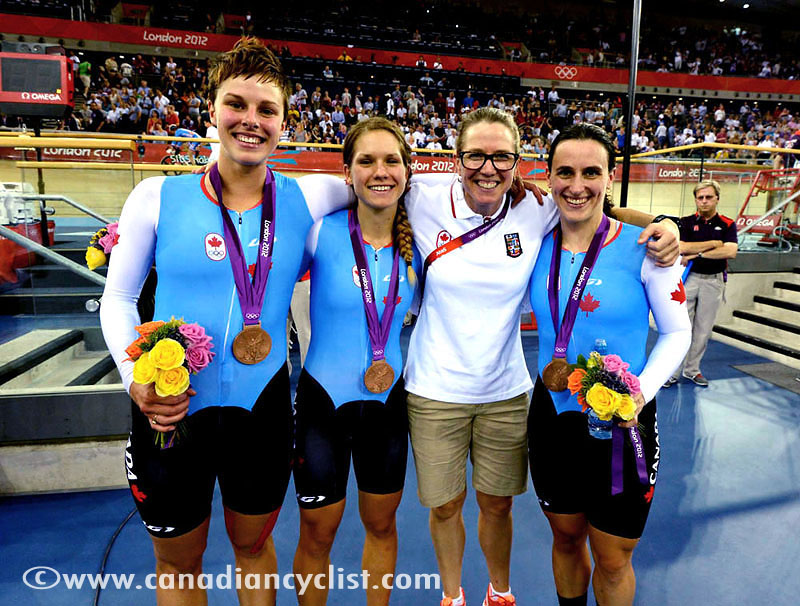 Team Pursuit medal winners and coach: Gillian Carleton, Jasmin Glaesser, Tanya Dubnikoff, Tara Whitten
"One hire will be a Sprint Coach; this person will work with our identified athletes in the Sprint program on the men's side, but there is also the women's side for the women's Team Sprint. The Sprint Coach's first goal will be to identify talent and develop it."

"We also need to be looking towards 2020, and developing more athletes on the track side, so we'll be looking for a track development coach as well. We hope to have both a Sprint Coach and a Development Coach on staff by April, so we can start rolling out some programs. All of these staff, and the sports science people, mechanics, etc., are all being told that they have to be prepared to move to Milton for September 2014. We'll be able to build out a good network, that will be able to support our athletes, with optimal expertise, on a daily basis. That will definitely be a key asset to our medal performance hopes for Rio."
Milton Velodrome interior
Milton Velodrome exterior

In the other disciplines there will not be as much change.

"Mountain bike will basically be status quo, continuing on with our identified athletes. Emily Batty and Catharine Pendrel will be our top riders on the women's side, and Geoff Kabush will be continuing on, and Max Plaxton is also one of our targeted athletes. Dan [Proulx - Head Coach for Mountain Bike] will be continuing on with his program, but we have the liberty now of going down into the development area. Ian Hughes [Mountain Bike Development Coach] will have more of a role in the next few years to work with the provinces, to build out the technical expertise and identify athletes, like Ken Cools is doing in BMX."

"The Para program in the next few years will be the same thing; talent ID and development for the first couple of years of the Quad. So a lot of it will be helping the provinces, giving them the tools to develop talent, and to have more opportunities for Para athletes to be able to compete on the Road. As you know, Para athletes don't actually have that many opportunities to compete, and that's a gap we have noticed and want to work, so before they get to major events they have had a chance to work on tactical and technical skills to be able to perform better at the international level. We will have to cut away a bit of the fat of the Para program to focus on the athletes that we feel will be there in 2016, so that our coaches focus on those athletes moving forward to Rio."

However, the Road program may see some shrinkage.

"Right now, the Road is still touch and go, with regards to coaching. Luc Arseneau, who's a development coach, is a shared asset with the Atlantic Centre, and will continue on with his role. As it relates to others [Women's coach Denise Kelly and Men's coach Gord Fraser], we are still looking at the numbers. As it looks right now there is not necessarily a need to have two full time coaches on the men's and women's side, so there may be some scaling back, or rejigging of the road program. So it's too early to say at this point, but there may be some changes in responsibility for coaches."

Jacques Landry also said that there will be some restructuring of the High Performance administration. With the loss of both the Road and Track Coordinators - who have moved on to other career opportunities - there will have to be some new hirings, however, the jobs are changing.

Landry, as High Performance Director, will be spending more time in the field, servicing and supporting coaches, and keeping involved in programs. Cycling Canada will be hiring a High Performance Manager, to take care of more administrative duties. This person will look after those duties across multiple disciplines, rather than some of those functions being carried out at a Coordinator level.

The Road and Track Coordinator positions will be amalgamated into one (given that Road will now be aligned with Track), as will Mountain Bike with BMX. Other changes include providing Performance Development Manager Mathieu Boucher with two Coordinators - one focussed on Events (such as National Championships) and the other for Development programs (the NCCP coaching program and the LTAD - Long Term Athlete Development - program). All of these hirings are expected to take place over the next few months.

Finally, we asked how these changes are going impact on some of the development support that Cycling Canada has provided in the past - bringing Junior and U23 riders to Mountaon Bike World Cups, or running U23 and Women's projects out of Belgium on the Road side.

"We will be continuing with the Mountain Bike programs. There is enhanced funding on the Mountain Bike side to continue supporting Juniors, U23 and non-supported [by smaller trade teams] Elite riders."

"For the Road it's going to be scaled back to a certain degree. Already the messaging that's going out to our athletes on the Road is that there is an advantage to doing more track, because there will be more support through that. So there will continue to be some Road initiatives, but we will be giving a bit more advantage to athletes who have demonstrated interest in racing on the track."

"We will not be having a women's project until Gatineau, in May. In the women's program, most of our women are on trade teams right now, so there is not as much of a need. And the women who are not on trade teams are not yet at a level to be able to benefit from having an opportunity to race in Europe right now, they're not there yet."